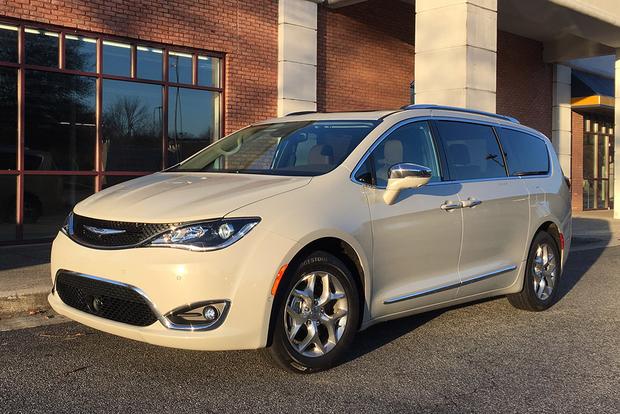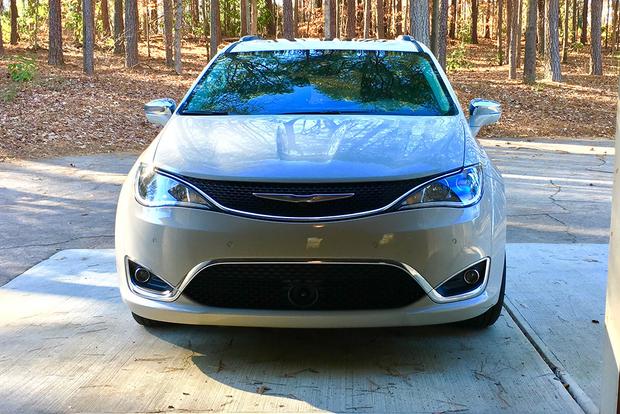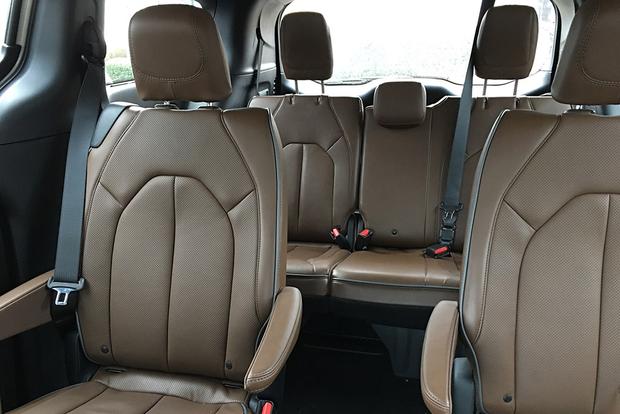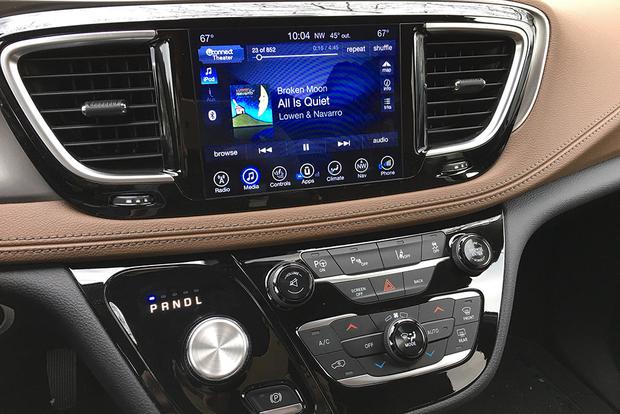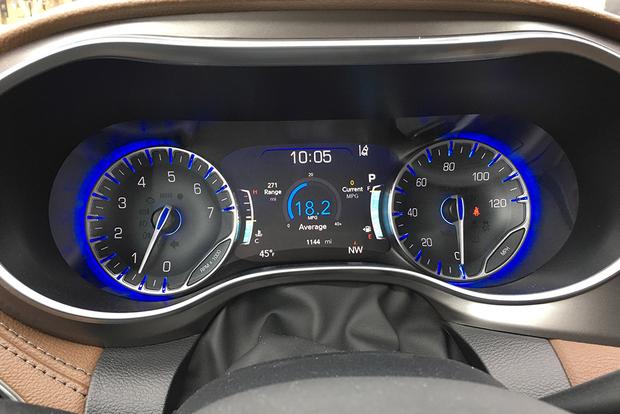 Minivans are boring; minivans are stupid. Right? Certainly you've heard all the arguments against minivans. I know I have. But Chrysler's not ready to give up on the super-useful, kid-hauling, seat-folding, "he's making faces at me" family car that some think should have died in the '90s along with acid-wash jeans, Ross and Rachel and Rico Suave.
And that's exactly why we're adding a 2017 Chrysler Pacifica Limited to our long-term fleet of test vehicles. Plus, our managing editor Tara is a huge fan of all things '90s, including NKOTB and the quintessential '90s automotive brand Saturn (her first car was an SC2 with a CD player and a sunroof).
Not-So-Mininvan Look
Another big reason for our interest in the Pacifica is the look -- it just doesn't look like a typical minivan. We're also impressed with the fact that the Pacifica is an Insurance Institute for Highway Safety Top Safety Pick+ when equipped with the available advanced SafetyTec package on the Limited Trim (for vans built after August 2016).
Credit to Chrysler: They were right to kill the Dodge Nitro, the PT Cruiser and the Dodge Intrepid. I'm certain Chrysler did their homework on minivan sales and came to the realization that there's money to be made if they can sell X amount of vans at a specific price, but I can't help thinking they're holding onto the minivan for more philosophic reasons, too -- they all but invented it and rode it to success. Chevrolet tried with the Corvair Greenbriar, but it never really caught on like the Dodge Caravan did 20 years later.
Just looking at the Pacifica, you can tell designers and engineers at Chrysler took a seriously fresh look at the whole idea of the much-maligned box-on-wheels minivan, starting with the fact that it doesn't look like a box at all.
The new Pacifica looks smaller than the outgoing Chrysler Town & Country, but Fiat Chrysler reps say it's not. The Pacifica is slightly shorter than the Town & Country, but it's wider and taller, resulting in more usable interior space. Taller? Yes, but it doesn't look like it, because designers did a great job of disguising the proportions with an arched pillar in the rear and a gently sloping roof. Also, the extra width gives the illusion that the van is lower. Narrower vehicles can look taller -- especially with those dopey, upright, flat-sided rear windows and side doors.
The Going Rate
Our tester is a Pacifica Limited that includes some pretty high-end features like LED running lights, a huge 3-panel sunroof, Nappa Leather, a built-in vacuum cleaner, heated front and rear seats, a heated steering wheel and Stow-N-Go seats that allow you have a totally flat van floor without having to remove any seats.
It's about a $43,000 van. Before you get all worked up about the price, you should realize that's the going rate for nicely equipped new minivans. Base price for a 2017 Chrysler Pacifica LX is below $30,000. At the very top of the heap, there's an even more expensive version of the Pacifica than the one we have: a plug-in hybrid for about $44,000, something no other automaker offers.
For comparison, the top-of-the-line Honda Odyssey Touring Elite is about $46,000, and the Toyota Sienna Limited is about $43,000 but is based on an older design with some recent cosmetic updates. Although it seems a little on the pricey side, a loaded Pacifica is actually kind of a bargain based on features, price and thoughtful items such as Stow-N-Go seating.
Options
As much as we really wanted a cool-looking black van, we didn't want cleaning the Pacifica to become our new hobby. Plus, a black car in the middle of an Atlanta summer is not pretty. We opted for Tusk White exterior paint (which is kind of a gray color) and a Black/Deep Mocha leather interior. Both are available at no extra cost.
We added two option packages. First was the Advanced SafetyTec Group, which includes adaptive cruise control and a 360-degree parking camera (a must-have) and Chrysler's Full-Speed Forward Collision Warning-Plus, which will warn you of an impending front-end collision and intervene if you don't act. The package also brings lane-departure warning and correction, rain-sensing wipers and ParkSense front and rear park assist with automatic braking. This package costs $1,995.
The second option package is the Uconnect Theater and Sound Group for $2,795. This includes dual rear 10.1-inch flip-up touchscreens with in-car apps that allow second-row passengers to play games and watch movies. Movies or other video content can be played via a DVD/Blu-ray slot or via a USB port up front. Second-row passengers can also charge their devices with a dedicated USB port for each screen. With just 1,000 miles on the odometer, I can tell you this feature is already worthwhile. This option package also includes a 20-speaker Harman Kardon audio system. If you want all the video features without the 20-speaker audio system, you save $800 by just getting the Uconnect Theater package.
A 3.6-liter V6 and 9-speed automatic transmission are standard. The Environmental Protection Agency estimates that the 2017 Pacifica will average 18 miles per gallon in the city and 28 mpg on the highway, or around 22 mpg combined.
The total price for our Pacifica including options and shipping is a little over $48,000.
We've already added about 1,000 miles to the Pacifica's odometer by taking it to and from the airport countless times for family visits over the holidays. We also packed every seat for a neighborhood Christmas-light tour and then headed to Medieval Times for a kid-friendly New Year's Eve.
The one thing I've noticed so far is that the van has excellent highway manners and an ultra-useful power-folding third-row seat that splits 60/40. We'll have the van for a year, so check back for more updates.