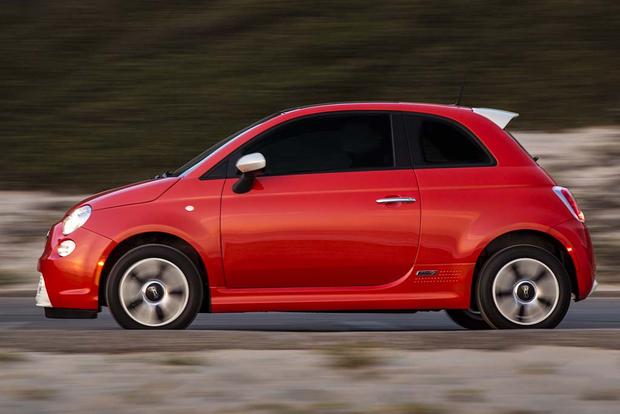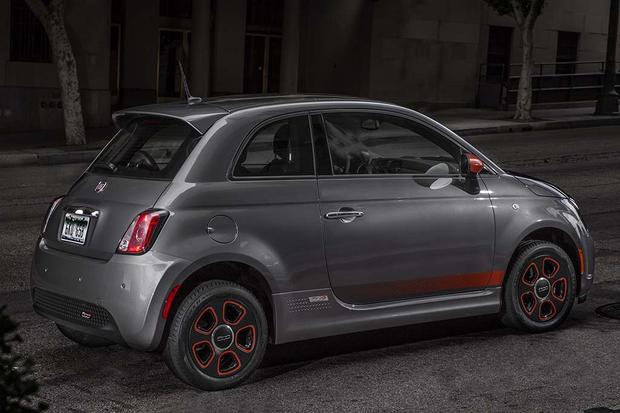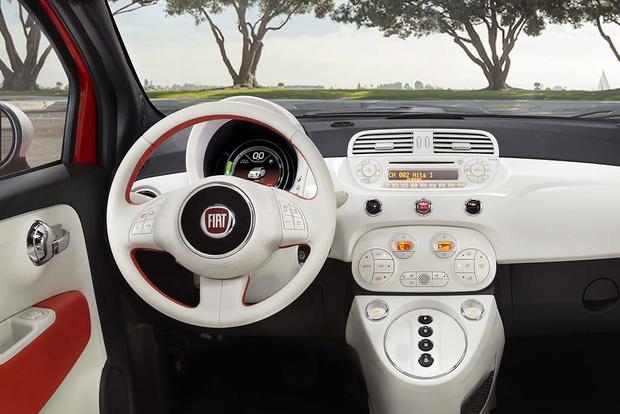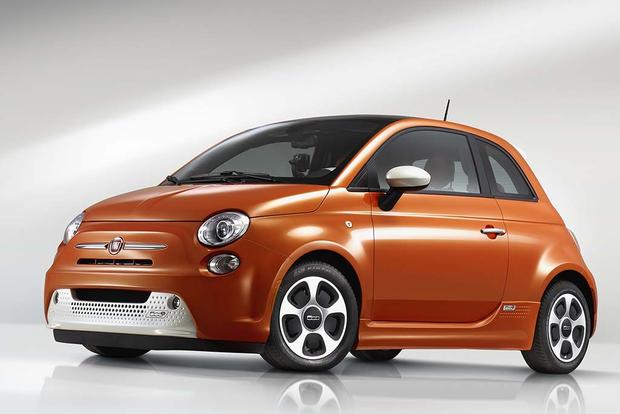 It's hard to find a vehicle that combines driving enjoyment, fuel efficiency and a fashionable look at a rock-bottom price, but that's exactly what the 2017 FIAT 500e promises. In fact, it promises even more than that, touting the style and driving experience of a standard FIAT 500, plus a fully electric motor and zero emissions. Sounds perfect, right? Well, not quite.
The biggest one is that the FIAT 500e is only sold in California and Oregon -- a slap in the face to FIAT loyalists elsewhere who want to flex their green-car muscle. The other issue is that new electric car competitors like the Chevrolet Bolt, Kia Soul EV and Hyundai Ioniq Electric are far superior vehicles. There's also the price. The 500e comes in around $33,000 with shipping, which makes it twice as expensive as a standard FIAT 500. Of course, it's eligible for up to $14,000 in incentives and lease rates can be laughably low, so price is actually more likely to be a good thing when all is said and done.
So the 500e is far from the perfect EV, but this stylish little green car choice is nevertheless worth a look for those in the Golden and Beaver states.
What's New for 2017?
Like other 500 models, the 500e adds a built-in touchscreen and navigation system for 2017, which is an upgrade from last year's TomTom unit.
What We Like
Great handling; fashionable styling inside and out; lots of standard equipment; huge incentives and low lease rates make it cheaper than it seems
What We Don't
Only sold in California and Oregon; rivals have much more space and go farther on a charge; cramped headroom with sunroof
How Much?
$33,000
Fuel Economy
The FIAT 500e offers one engine: An 83-kilowatt electric motor with a single-speed transmission. Power is rated at 111 horsepower. The Environmental Protection Agency rates the 500e's fuel economy at 112 miles per gallon equivalent (mpge) in combined driving. Importantly, the 500e boasts an 84-mile range and a 4-hour recharge time when using a 240-volt power supply. While good in the past, that range is now merely average.
Standard Features & Options
The 500e is offered in just one trim level, which starts around $33,000 before sizeable federal and state incentives. Standard features are generous for a subcompact car, including keyless entry, a navigation system with a new 5-in touchscreen, leatherette upholstery, automatic climate control, cruise control, Bluetooth phone and audio connectivity, a 6-speaker Alpine stereo, steering-wheel audio controls and rear parking sensors. The only options are a sunroof and an eSport appearance package, which gives the 500e a sporty look.
Safety
The 2017 FIAT 500e boasts several standard safety features, including 4-wheel anti-lock brakes, rear parking sensors, stability control, front side airbags, side-curtain airbags and a driver's-knee airbag.
In federal government crash tests, the FIAT 500e has yet to be tested. But gas-powered 500 models, which should perform largely the same, received four stars overall -- a figure that breaks down to four stars in front and rollover tests and five stars in the side-impact assessment.
In crash testing carried out by the nonprofit Insurance Institute for Highway Safety, the gas-powered 500 earned generally Good ratings, save for a troubling Poor score in the firm's newer, more stringent small-overlap front crash test.
Behind the Wheel
The FIAT 500e seems to make no major compromises for its all-electric capabilities. In fact, it's the rare car that's actually been improved by its conversion to electricity. It's surprisingly quick off the line and very quiet -- the regular 500 is neither of those things. The 500e is also surprisingly composed in turns, offering a tight, sporty feel, especially for an electric car.
In terms of appearance, the 500e is also highly similar to a typical FIAT 500. There are only a few distinctive upgrades on the outside, while interior revisions primarily revolve around added standard equipment and the addition of four center-mounted buttons in place of the gear lever. There's also an instrument-panel readout for battery level, power flow and other important EV items.
In terms of space, the 500e is much smaller than other EVs. However, compared to the regular 500, it doesn't suffer too badly for carrying around a bunch of batteries. The battery pack does chew into rear seat legroom, but as there wasn't much to begin with, we doubt that'll be an issue. More importantly, unlike other EVs based on gasoline cars, the cargo capacity is diminished only slightly. True, there's still not a lot relative most cars on the road, but as this is a hatchback, you still get a reasonably versatile space when the rear seats are folded.
Other Cars to Consider
2017 Chevrolet Bolt -- The Chevrolet Bolt is arguably the most appealing EV on the market, boasting a massive 238 miles of range, a spacious cabin and surprisingly sharp driving dynamics.
2017 Hyundai Ioniq Hybrid -- Although it can't go as far as the Bolt, the new Ioniq Electric nevertheless tops most other rivals with its 124 miles of range. It also offers commendable interior space and a more conventional body shape.
2017 Kia Soul -- The Soul also goes a bit further than the norm, and like the 500e, boasts a funky design available in fun colors. Unlike the 500e, it has a huge cabin that rivals a small SUV. Ample feature content rounds out its virtues.
Used BMW i3 -- BMW's little i3 is a perfect car for any urban commute. It's also neatly futuristic with its carbon fiber structure, eco-friendly cabin materials and a funky design that's oddly cool. It's available with a gasoline extended range model too. It's more expensive than the 500e, so a used model will most likely be in order.
Autotrader's Advice
Live in California or Oregon. Or at least move there. If you don't, you can forget about the 500e. Otherwise, with only one trim level to consider, there's not much to recommend beyond thinking twice about the optional sunroof -- it seriously robs front headroom.