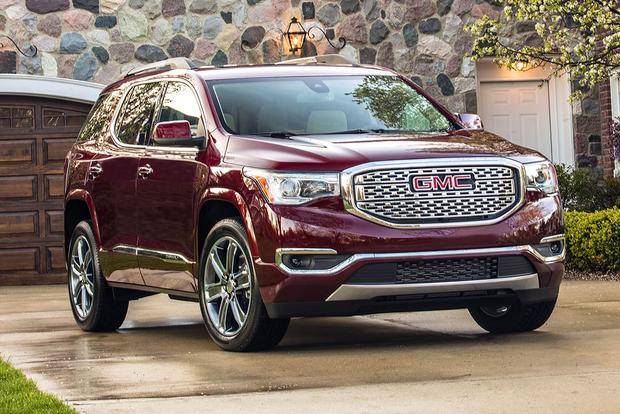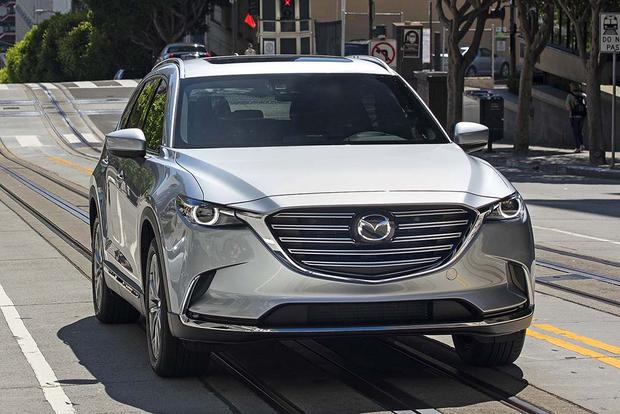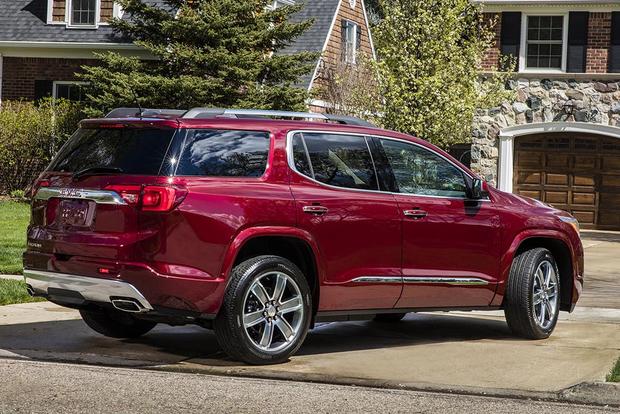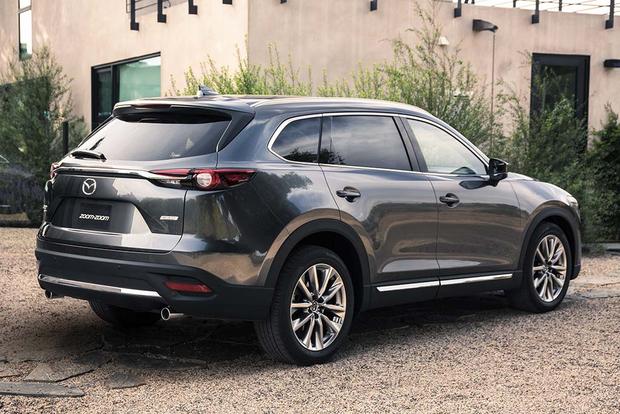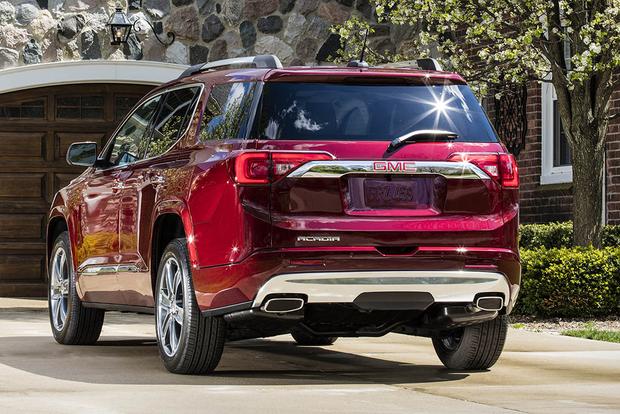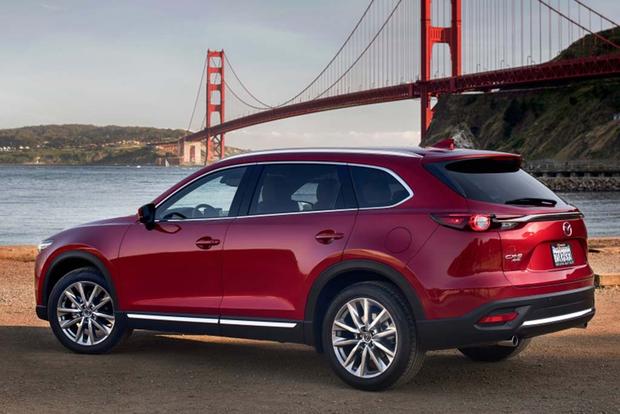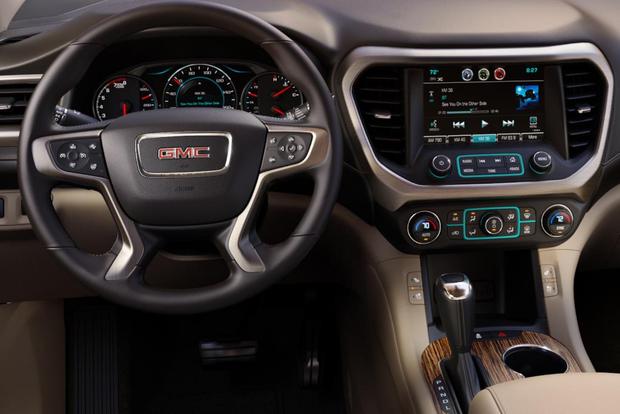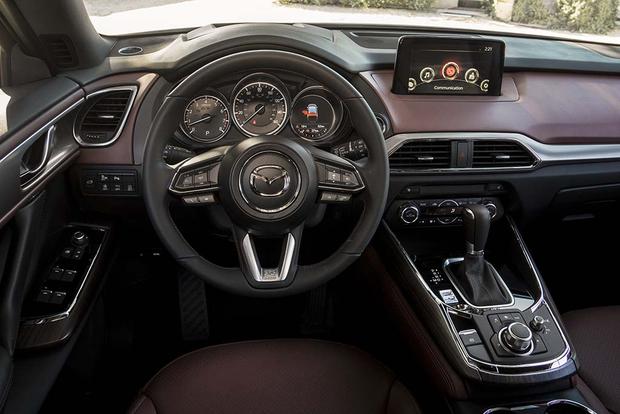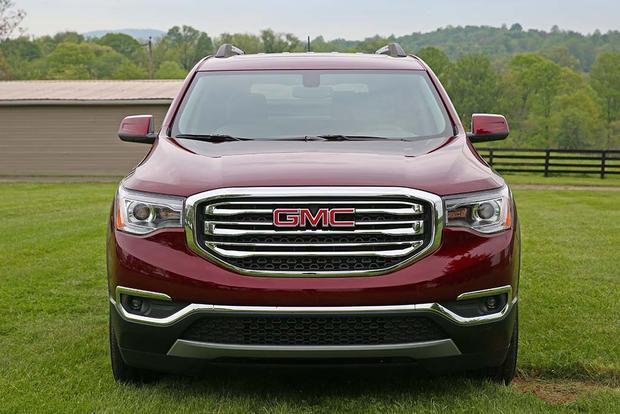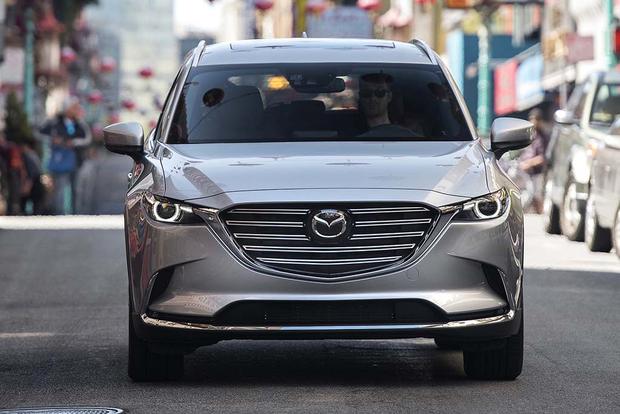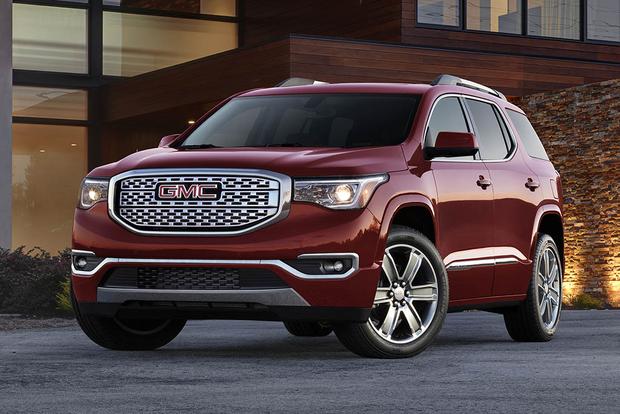 The 2017 GMC Acadia and 2017 Mazda CX-9 are the two most recently redesigned 3-row family crossovers. One represents a radical change from its successful predecessor, while the other is very much an evolution. Let's take a look to see which of these two SUVs might be a better choice for your family.
2017 GMC Acadia
The previous Acadia was a popular model, but GMC nevertheless made fundamental changes for 2017. Principally, it's substantially smaller -- more than 7 inches shorter, 3 inches narrower and 6 inches lower. It's subsequently about 700 pounds lighter as well. On the one hand, that grants it less passenger and cargo space than before, but it also makes it more maneuverable, efficient and comparable to its many competitors.
2017 Mazda CX-9
The CX-9 received its big changes for 2016. Though its design and driving experience represent very much an evolution of its stylish, fun-to-drive predecessor, its more efficient engine, higher-quality cabin, improved safety and bolstered feature content make Mazda's biggest vehicle more desirable. In fact, here are 8 Ways It's Perfect for Carpool Duty.
Reliability
Both the Acadia and CX-9's recent redesigns mean there's no reliability data yet for those specific models. Their predecessors were sold for an exceedingly long time, however, and on the whole, the Mazda CX-9 was considerably more reliable. Brake problems after several years seemed to be its only notable issue. By contrast, older Acadia model years received below-average ratings in most respects. These might've been early teething problems, or a sign one should be concerned once the warranty expires.
Fuel Economy and Performance
Every Mazda CX-9 comes with a turbocharged 4-cylinder engine that produces 227 horsepower and 310 lb-ft of torque. The latter number is really the one to pay attention to, as it indicates how strong the CX-9 will feel when pulling away from a light, speeding up on a highway or moving away with a full load. It also boasts good fuel economy estimates, with the Environmental Protection Agency indicating an all-wheel-drive CX-9 should return 21 miles per gallon in the city, 27 mpg on the highway and 23 mpg in combined driving (2016 estimates). That's the best fuel economy in the class and it's even a bit better with front-wheel drive.
Really, the CX-9's engine represents a middle ground between the two Acadia options. The Acadia's base 2.5-liter 4-cylinder returns similar EPA fuel economy estimates as the CX-9 does, at 21 mpg city/25 mpg hwy/23 mpg combined. However, it isn't turbocharged and only produces 193 hp and 188 lb-ft of torque. That's a difference you can most definitely feel, especially when loaded with passengers and cargo. Having said that, if you'll mostly be driving the Acadia around town and your loads will be limited, this engine actually generates sufficient power and its transmission is smartly tuned to upshift and downshift at appropriate times to maximize that power. It also grants the Acadia a lower base price.
There is a V6 engine upgrade, however. It produces 310 hp and 271 lb-ft of torque -- one of the most robust outputs in the segment, and given's the Acadia's weight, we would expect it to be one of the quickest 3-row SUVs as well -- and that's including the CX-9. Of course, the V6 does take its toll on fuel economy. An all-wheel-drive Acadia V6 returns 18 mpg city/25 mpg highway/20 mpg combined. According to the EPA, that could equate to an average fuel cost difference of about $250 per year compared to the CX-9 and 4-cylinder Acadia.
Safety
The Acadia has the slightly stronger lineup of safety features, with OnStar emergency services and a special airbag in between the front seats standing out beyond the two SUVs' common front side airbags, full-length side curtain airbags and stability/traction control. The GMC also reminds you to check to see if you've left anything in the back seat, which may ultimately save the lives of children and pets but will definitely annoy after it goes off for the umpteenth time with nothing but air and empty seats to check.
Both cars are available with blind spot monitoring and rear-cross traffic alert systems on midgrade trims, while more advanced features like lane-keeping assist and forward-collision warning with automatic braking are standard on upper trims.
Neither vehicle has been crash tested by a third party.
Interior Quality and Space
Neither the Acadia nor the CX-9 is the most spacious 3-row crossover, but we think the GMC might be a bit more useful. Mainly, its more squared-off rear allows for greater headroom for third-row occupants. Full-size adults can more comfortably fit back there as long as those in the second row kindly slide their seats forward a bit. Indeed, although the Acadia doesn't have nearly as much room as before -- especially in regards to the reduced width, which eliminated its third-row middle seat and 8-passenger capacity -- it's still a pretty comfortable vehicle for six and actually better than the GMC Yukon.
The CX-9 offers plenty of room, especially in its second-row, but it's better suited for kids and its third row feels more confining regardless of your age or size. This would be the trade-off for this Mazda's good looks and the general sensation that you're not driving a typical mom-and-dad mobile. One other note: The CX-9 only offers 6-way driver-seat adjustment versus the Acadia's more common 8-way. It may be harder to find a comfy driving position in the Mazda.
As for materials quality and construction, both vehicles seemed comparably strong after back-to-back weeks spent behind their wheels. Indeed, neither of their impressive cabins seems to trail a competitor's in this regard, either. We're especially fond of the two-tone color schemes offered in both, though the GMC offers them throughout more of its trim-level range. There's also a more luxurious Acadia Denali trim available.
Technology
The GMC Acadia is available with more tech features than the CX-9 is, and they're easier to use. Of particular note is the standard onboard WiFi, Apple CarPlay and Android Auto functionality, which aren't even offered on the CX-9. The GMC can also be equipped with five USB ports -- including two in the middle row and one in the third -- which should be a big hit with the kids. Now, to be fair, the CX-9 still has four USB ports in all but the base trim, which betters most other competitors.
The Acadia comes standard with a 7-inch touchscreen interface known as IntelliLink, which can be upgraded to an 8-in screen. In either instance, you should find it easy to reach and figure out. Its large virtual buttons are especially appreciated. The CX-9 relies on a dash-mounted screen and a knob-button controller on the center console reminiscent of some luxury brands. Functionally, the interface works okay and when stopped, the screen can be operated by touch, but its audio controls frustrate and its available navigation software is rudimentary.
Driving Experience
If you're trading in a car, especially a smaller, sportier one, the Mazda CX-9 should be very appealing. Its responsive steering, controlled body motions and all-around feel arguably make the CX-9 the best large crossover to drive. Its ride is also impressively damped, keeping body motions controlled while delivering a comfortable ride over bumps.
The Acadia's agility is substantial improved from that of its jumbo predecessor, yet still maintains a comfortable ride (that gets even better with the optional continuously variable damping). Its steering and handling aren't as sharp, though, and although the Acadia is comparable to a Honda Pilot or Toyota Highlander (and maybe even preferable in some ways), it can't quite match the Mazda.
Value
The Acadia has a lower base price than the CX-9, plus those previously mentioned extra tech features. Then again, it also has considerably less standard power, a fact that generally keeps the GMC's price lower as feature content rises. Add the V6, however, and the GMC gets a bit more expensive. Essentially then, the two cars offer similar value at purchase. Resale value and reliability may alter this over time, however.
Autotrader's Advice
Both the GMC Acadia and Mazda CX-9 are very desirable large family crossovers that represent strong alternatives to the popular Honda Pilot and Toyota Highlander. In general, the Acadia has a few more desirable features, it's a bit easier to use and has more usable space. The CX-9 offers a better balance of performance and fuel economy, is more car-like to drive and is arguably better looking. We highly recommend test-driving both.