Editor's note: You may want to read more of Autotrader's model vs. model comparison car reviews as well as the 2017 GMC Acadia review, the 2017 Toyota Highlander review and Buying a Used Toyota Highlander: Everything You Need to Know.
The 2017 GMC Acadia has been completely redesigned for 2017 — and we do mean completely. It's substantially smaller and lighter than before, but that speaks more to how jumbo its predecessor was. In reality, the new Acadia is more similar to one of its key competitors: the 2017 Toyota Highlander. Let's see how they compare.
2017 GMC Acadia
GMC has reduced the new Acadia's size by more than 7 inches in length, 3 inches in width and 6 inches in height. Consequently, it's also 700 pounds lighter. Those significant reductions improve handling, maneuverability, acceleration and fuel economy and even make it possible to offer a base 4-cylinder engine. On the other hand, third-row and cargo space are down considerably. See all 2017 GMC Acadia models available near you
Note that the previous Acadia is still sold for 2017 as the Acadia Limited.
2017 Toyota Highlander
As we detailed in our 2016 vs. 2017 Toyota Highlander comparison, Toyota's 3-row family crossover received several key updates for 2017. We suggest reading that to get the full story, but in short, its styling, engine and feature content have been updated. See all 2017 Toyota Highlander models available near you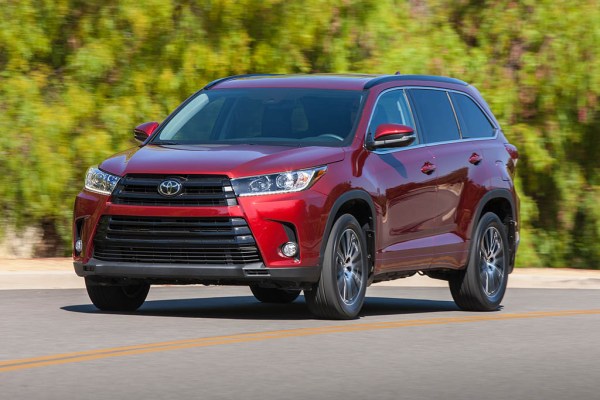 Reliability
The 2017 Highlander's new engine and transmission could certainly perform different than its predecessors, but beyond that, there's little reason to doubt the Highlander will continue to be one of the most reliable vehicles on the road. The 2017 Acadia is too new to have any reliability data, but older model years of its predecessor received below-average ratings in most respects, as well as many owner complaints. This might simply be a result of early teething problems, or it could be a sign that owners should be concerned once the warranty expires.
Fuel Economy
Because the 2017 Acadia weighs so much less than its predecessor, it now comes standard with a smaller, more efficient and cheaper 2.5-liter 4-cylinder engine that produces 194 horsepower and 190 lb-ft of torque. If most of your travels are around town and don't routinely involve lugging around full loads of adults, teens or cargo, this powertrain should do you just fine. We were actually shocked at how well it got the Acadia moving. Its fuel-economy estimates from the Environmental Protection Agency (EPA) are 21 miles per gallon in the city, 26 mpg on the highway and 23 mpg in combined driving with front-wheel drive. Opting for all-wheel drive has a negligible effect on gas mileage.
If you think your needs will require or at least benefit from extra power, the available 3.6-liter V6 produces an ample 310 hp and 271 lb-ft of torque. That's actually a lot more than the big old Acadia's V6. And despite its considerable acceleration advantage over the 4-cylinder, the Acadia V6 manages to return an EPA-estimated 18 mpg city/25 mpg hwy/21 mpg combined. That equates to an estimated $150 per year in extra fuel costs.
The Highlander also comes with a 4-cylinder engine, but it's a far less attractive proposition. Only available on the base trim level, it produces an unremarkable 185 hp and 184 lb-ft of torque, while returning an EPA-estimated 20 mpg city/25 mpg hwy/22 mpg combined. Interestingly, the new-for-2017 3.5-liter V6, which produces 295 hp and 263 lb-ft of torque, actually betters the 4-cylinder in terms of fuel economy: It returns 21 mpg city/27 mpg hwy/23 mpg combined. In other words, forget the Toyota's 4-cylinder.
You should also note that the Highlander V6 matches the 4-cylinder Acadia's fuel economy, and although it betters the Acadia V6, it does have a disadvantage in terms of power.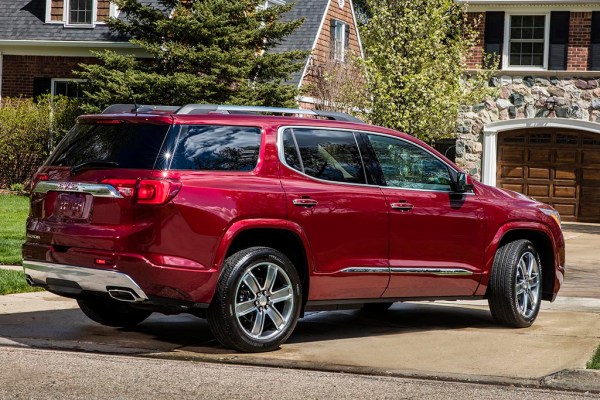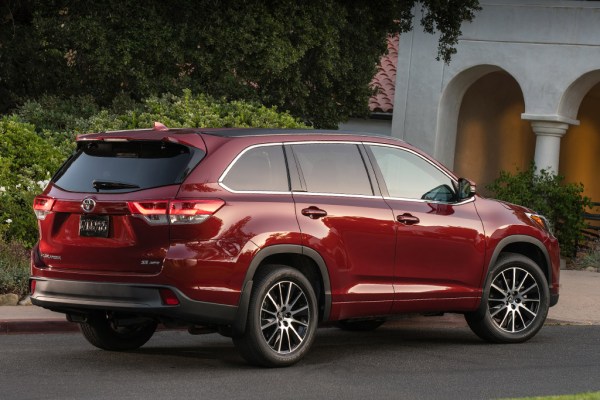 Safety
The 2017 Toyota Highlander stands out by coming standard with the Toyota Safety Sense suite of accident-avoidance technologies. These include a forward-collision warning and automatic braking system that can detect both cars and pedestrians. Other features include lane-departure warning and steering assist, automatic high beams and adaptive cruise control. This is a big deal, since every competitor, including the Acadia, offers these items as options or at least standard equipment on upper trim levels. The GMC, however, does include a special in-board front middle airbag and OnStar emergency communications. Toyota's Safety Connect emergency communications are only available on the top Limited Platinum trim.
The 2017 Acadia has yet to be crash-tested by a third party. The Highlander received the best possible 5-star rating for overall crashworthiness from the government. It received four stars for frontal-crash protection and five stars for side protection. The Insurance Institute for Highway Safety gave the 2016 Highlander its best possible rating of Good in every crash test. Its forward-crash prevention system was also given a rating of Advanced, which is the third of six possible ratings. This may improve for 2017, though, as the equipment is now standard.
Interior and Cargo Space
The 2017 Highlander technically offers seating for eight people, but the third row is so narrow that you'd be hard pressed to fit anyone — including children — in the middle seat. It's really just a token offering. The Acadia, on the other hand, can only sit a maximum of seven (the old model could seat a more respectable eight), but its third row is more welcoming than the Highlander's. Even a tall adult can fit back there, with sufficient headroom and enough legroom, as long as the second-row bench or captain's chairs are slid forward a bit. The Acadia may be smaller now, but it still has plenty of passenger space.
In terms of cargo capacity, the Acadia has gone from the undisputed champion to middle of the pack at best. There's now only 12.8 cu ft. with all seats in place and 79 cu ft. with the rear two rows lowered. The Highlander offers 13.8 and 83.7 cu ft., respectively. That's not a huge difference, though, and neither of these SUVs is as spacious as a Honda Pilot or a Dodge Durango. The Ford Explorer is particularly useful when all seats are in place.
In terms of small-item storage up front, the Highlander is probably a bit better as it boasts a deep center-console bin big enough to conceal a purse or laptop. There's also a tray across the dash to store a smartphone or other items. The Acadia has a much smaller center-armrest bin, but its large forward bin is nevertheless useful for stashing your smartphone.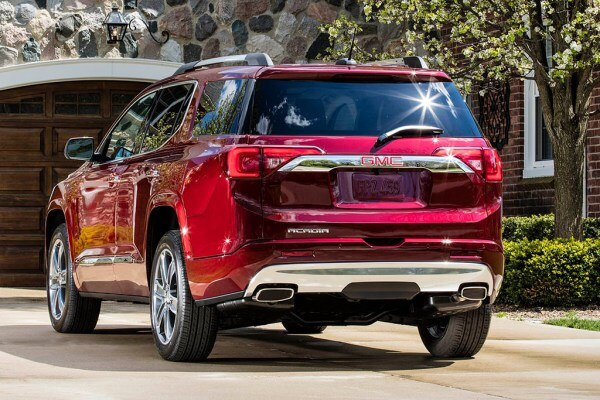 Technology
The GMC Acadia and Toyota Highlander offer some of the easiest touchscreen interfaces in the segment. Both systems are easy to figure out and boast big buttons that don't require excessive attention or dexterity to press. We think GMC's Intellilink system might be a little better from a functionality standpoint, especially with its 8-inch upgrade screen. The Highlander's is also harder to reach.
In terms of tech content, GMC comes standard with more infotainment, including on-board Wi-Fi, Apple CarPlay and Android Auto, none of which are even available on the Highlander. The Toyota, however, provides more standard safety features.
Every Highlander now comes standard with five USB ports — three up front and two in the middle. The Acadia's full array of five ports is optional, but the ports are distributed distinctively throughout all three rows. It's therefore a safe bet that whichever kid gets routinely sent to the caboose will probably give the GMC their seal of approval.
Value
The base Toyota Highlander costs about $1,600 more than the base GMC Acadia. The two are similarly equipped apart from technology, and we'd say the Highlander's included accident-avoidance tech is probably of greater value than the GMC's infotainment add-ons. Now, to get into a V6-powered Acadia, you have to step up to at least the SLE-2 trim and spend at least $37,000. The Highlander V6 starts around $33,600 and can be had with the lesser-equipped LE base trim. If power and capability are your priorities, the Toyota is probably the better deal.
As you add on equipment, the GMC can get pricier than the Toyota. For instance, the Highlander tops out at around $44,000 (not counting the Highlander Hybrid). A loaded Acadia SLT-2 is a bit more than that, while the Acadia's luxurious Denali trim can top $50,000. Is it that much more luxurious than lesser Acadias or the range-topping Highlander? Probably not.
So really, the two vehicles are close, but it's important to consider that the Highlander won't depreciate as much. After about 5 years, it could be worth about $4,000 more than a comparable GMC.
Autotrader's Advice
Test-drive both of these excellent 3-row family crossovers. The Highlander might make a bit more sense given its superior reliability history and value retention, but the 2017 Acadia has it beat in a number of areas that may make it worth the few extra bucks to you in the long run.
Find a Used GMC Acadia for sale