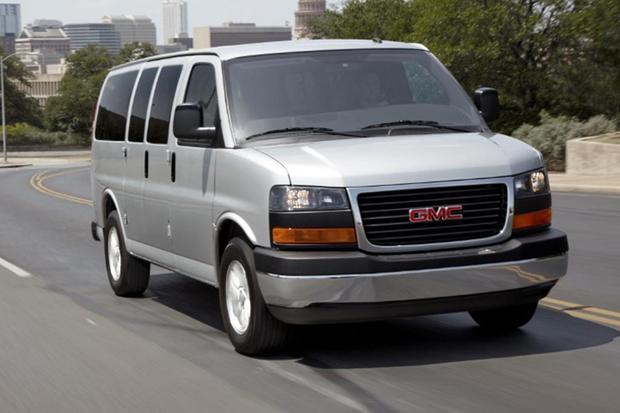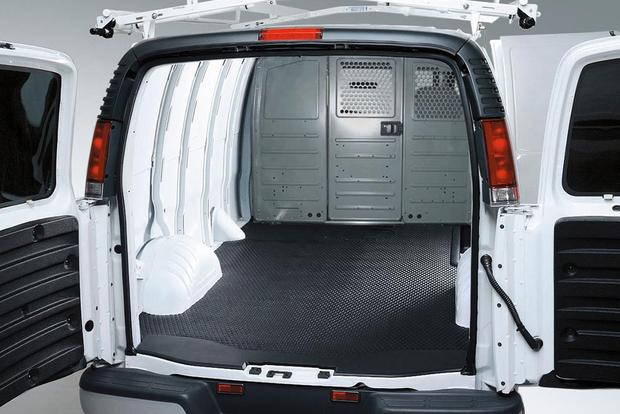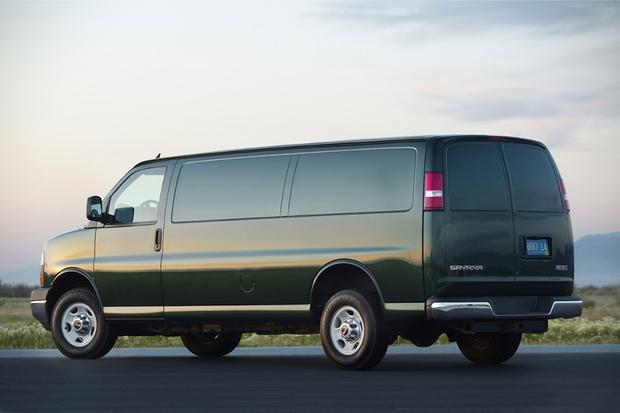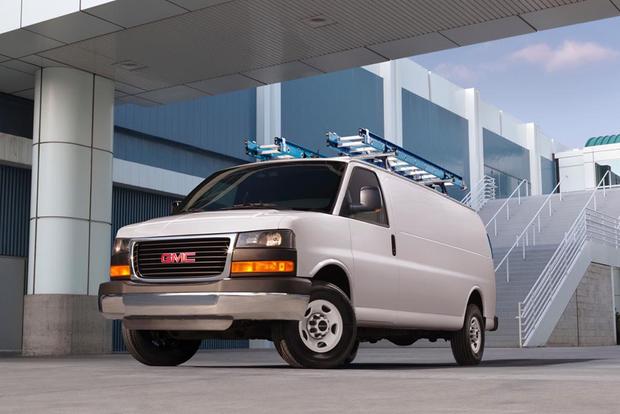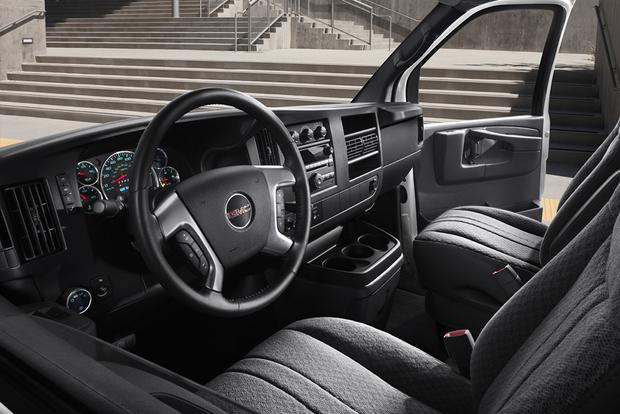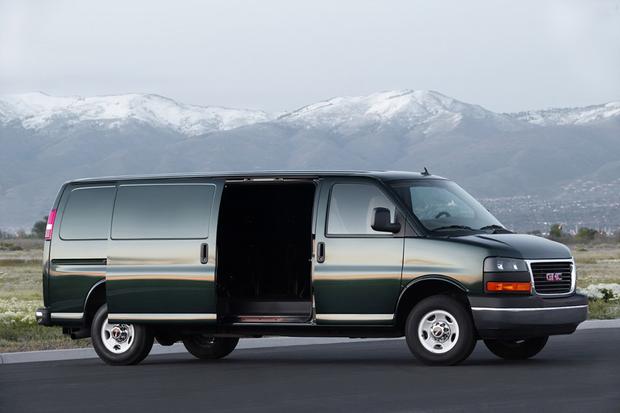 The 2017 GMC Savana 3500 packs the biggest punch for both the commercial user or as the basis for a weekend RV, offering roughly 800 additional pounds of payload capacity over its 2500 sibling. Like all GMC vans, the Savana 3500 employs a fully boxed frame, an available locking rear differential and powerful engine choices -- the result being that it can tow up to 10,000 pounds in the right configuration. By modern commercial van standards, that's huge.
Unfortunately, by modern commercial van standards, the Savana is a dinosaur in virtually every other regard. Capable as it may be, the platform underpinning the Savana dates back to 1996. As a result, it's substantially more ponderous and less maneuverable to drive and isn't available with a high-roof cabin that allows you to walk around upright. It's also substantially less efficient, although its new-for-2017 turbodiesel 4-cylinder does help a bit in that regard. As such, we would highly recommend looking at the Savana's competitors.
What's New for 2017?
The Savana's optional diesel engine now has half as many cylinders. Its 4-cylinder turbodiesel is meant for improved fuel economy rather than enhanced hauling-friendly torque.
What We Like
Relatively huge towing capability; can accomodate up to 15 passengers on extended-wheelbase chassis
What We Don't
Hasn't been completely redesigned since the 1990s; low roof with no higher option; poor fuel economy; sloppy driving dynamics
How Much?
$34,100-$34,950
Fuel Economy
Three engines are offered. Base-level Savana models come standard with a 4.8-liter V8, which makes 285 horsepower and 295 lb-ft of torque. A 6-speed automatic is standard. The Environmental Protection Agency hadn't listed fuel economy estimates for the 2017 Savana 3500 at the time of this writing, but for the 2016 Savana 2500, this engine returned 11 miles per gallon in the city and 17 mpg on the highway. The 4.8-liter V8 will tow 7,400 pounds as a cargo van or 6,700 pounds as a passenger van.
Extra power comes from an optional 340-hp 6.0-liter V8, which enables an increased towing capacity of up to 10,000 pounds in cargo form or 9,800 pounds as a passenger van. The 2500 passenger version returns an EPA-estimated 11 mpg city/16 mpg hwy/13 mpg combined.
New for 2017, the optional turbodiesel engine is now a 2.8-liter 4-cylinder unit that comes with an 8-speed automatic transmission. It produces 181 hp and 369 lb-ft of torque, and although official fuel economy estimates haven't been announced, expect them to be much better than those of the gasoline engines.
Standard Features & Options
The 2017 GMC Savana 3500 comes in three trim levels: a base-level cargo model for hauling large items, and LS or LT trims for carrying passengers. All three are offered in short- or long-wheelbase forms with mandatory rear-wheel drive.
Opt for the Savana Cargo ($34,900) and you shouldn't expect many standard features. The van includes only the basics, such as vinyl seating, manual air conditioning and an AM/FM stereo with an auxiliary audio port. There's no CD player and no power locks, power windows or power mirrors.
Choose the Savana LS ($38,200) and you get a few more features. The most important one is seats: The Savana 3500 Passenger Van is offered in two wheelbases; regular models have a 12-person seating capacity, while the extended-length Savana can carry up to 15 people. The Savana LS also includes power door locks, cruise control, rear air conditioning and GM's OnStar system with built-in Wi-Fi.
Drivers who opt for the upscale Savana LT ($38,500) get cloth upholstery, a compass, remote keyless entry and exterior chrome accents.
In addition to the Savana's standard equipment, many options are available. Extras range from items like power mirrors and windows to high-end features like a reversing camera, a newly updated version of GMC's IntelliLink infotainment system and rear park assist.
Safety
Standard safety equipment includes antilock disc brakes, stability control, front-side airbags and side-curtain airbags that cover the first three rows. A backup camera and rear parking sensors are options.
The Savana has not undergone third-party crash testing.
Behind the Wheel
With a 135- or 155-inch wheelbase and 2-stage multileaf rear springs, the Savana is not designed for maneuverability or comfort. Ponderous proportions typically make for ponderous handling, and in this regard, the Savana delivers as expected. Perhaps you would think this would be par for the course when it comes to cargo vans, but the Savana's substantially more modern competitors are much easier to park and negotiate into tighter spaces.
The Savana's ancient design is also a detriment in terms of interior space. It only has one roof height available, which is considerably lower than the majority of its competitors -- unlike with those, there's no way you'll be standing upright in a Savana. Seat comfort and passenger space are also comparatively poor. In short, rival vans will make your job easier and/or your passengers' trips nicer.
Other Cars to Consider
2017 Ford Transit -- Ford's new full-size van is offered in cargo and passenger configurations. Unlike the Savana, it boasts several fuel-efficient engine choices, modern driving dynamics, tall roof heights and high-tech optional extras.
2017 RAM ProMaster -- RAM's latest take on the full-size van offers huge capability, whether you're hauling people or large items. With diesel engines and European design, fuel economy is also much better than the Savana's figures.
2017 Nissan NV -- Most like the Savana in purpose, the truck-based NV offers better driving dynamics, more body style choices and a more modern design.
Used Mercedes-Benz Sprinter -- The Sprinter offers impressive capability and efficiency in a considerably more modern package than does the Savana 2500, but it's also more expensive. You can consider a used model, keeping in mind that it was also sold as the Freightliner Sprinter.
Autotrader's Advice
Given the Savana 3500's age compared to its rivals, we'd shop the competition. But if we had to pick a Savana, we'd get a fairly basic cargo or LS model with virtually no options. After all, the Savana's primary virtue compared to rivals is its relatively low pricing.