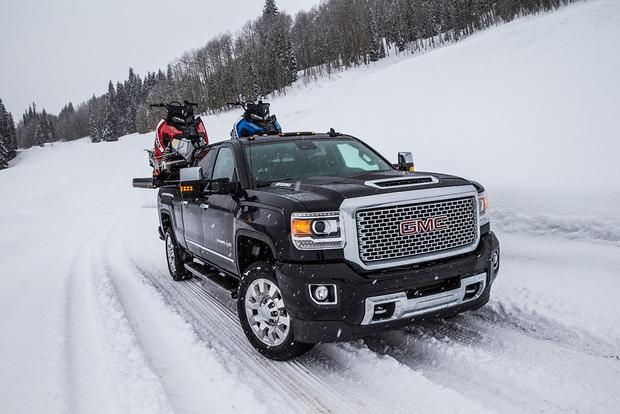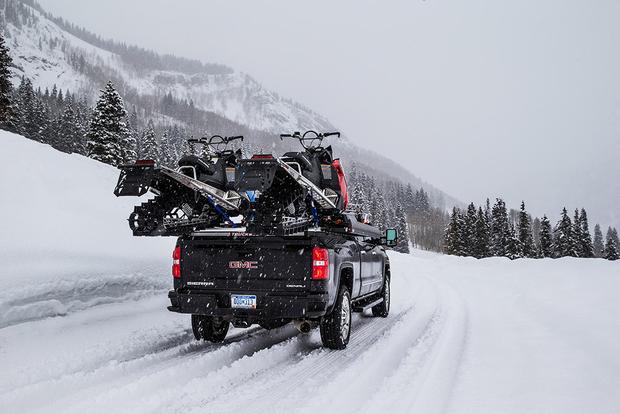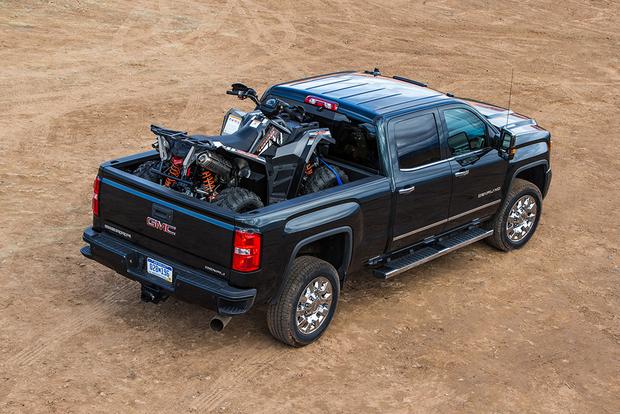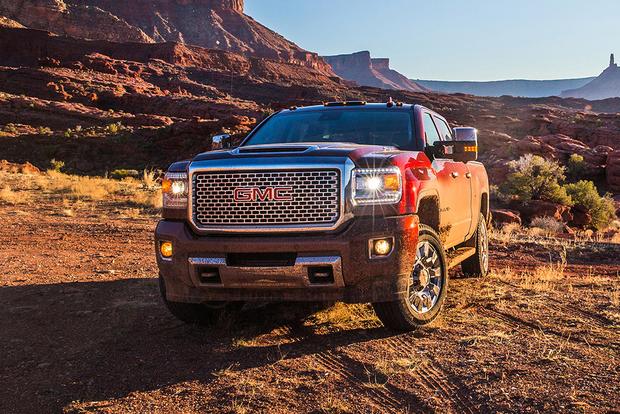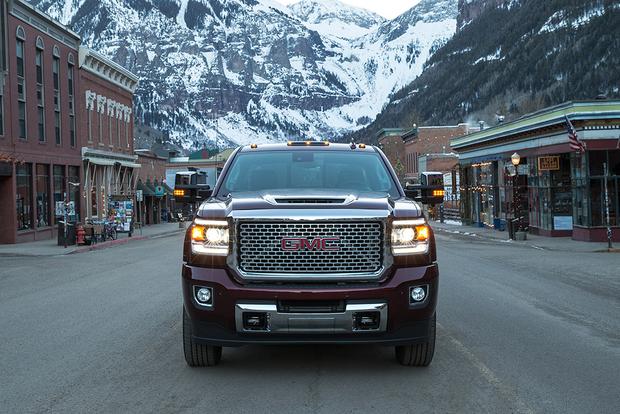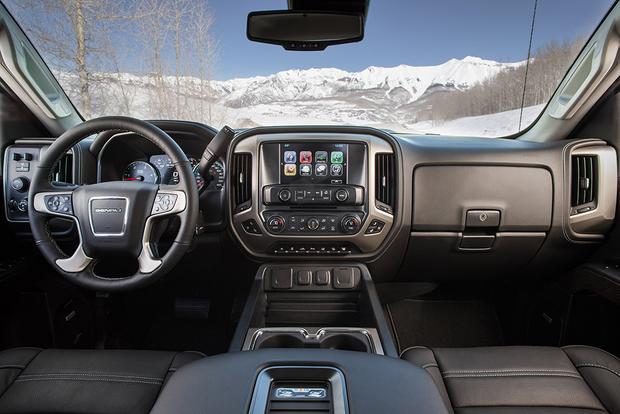 Changes are few and far between in the world of big trucks, so when the 2017 GMC Sierra Denali 2500HD gets a full-blown overhaul of its Duramax diesel, it's a big deal indeed. Although butching up the diesel isn't the only change for 2017, it's what GMC is referencing when saying the Sierra HD is updated.
In fact, if you stumble across one in a parking lot somewhere, don't invest a lot of time crawling over, under, in and around it in search of other enhancements. Other then the functional hood scoop, adding another facet to this brute's face, you won't spot any other modifications with the naked eye ... inside or out.
What that means, of course, is that the Sierra HD remains a hulking beast of a truck whose size, capability and rugged good looks belie its highly civilized and upscale passenger space.
The Big Kahuna
No reason to bury the lede. Providing the lion's share of the excitement in the latest edition of the Sierra HD is its available sixth-generation and much improved Duramax 6.6-liter V8 turbo-diesel engine. It's not surprising that the engine is the focus, since capability is the main reason for owning such a bruiser. Engineers on hand in Colorado, where GMC rolled out this truck for the media, said this powerplant is 90 percent new. A few of the new noteworthy elements are a two-piece oil pan adding to operational quiet, larger oil cooler, stronger cylinder block, stronger crankshaft and pistons, an all-new solenoid fuel system and an electronically controlled, variable-vane turbocharger.
Much more than an affectation, the hood scoop is part of a new cold-air induction system engineered to push cool, dry outside air into the engine to cool engine temperatures and provide better performance under load.
The result of all this new hardware and technology is a 12 percent increase in horsepower to a best-in-class 445 hp, and a 19 percent boost in torque to 910 lb-ft; 90 percent of which is delivered from 1,550 rpm to 2,850 rpm. Despite all this extra grunt, emissions are down by 35 percent.
Peak torque still falls short of the Ford Super Duty by 15 lb-ft, but the GMC pocket-protector types shrugged off that minor caveat, saying they were more interested in reducing emissions than owning torque bragging rights.
A new cold-start system with microprocessor-controlled glow plugs delivers gas-engine-like starts. GMC claims sub-3-second starts in temperatures as cold as -20 degrees Fahrenheit.
To handle the extra 145 lb-ft of torque, GMC also beefed up the Allison 6-speed automatic transmission.
Pull Up
What matters – all that matters, really – in a heavy-duty truck is how much it can haul and tow. GMC afforded the media ample opportunity to do both in Colorado. Whether it was carrying a couple of snowmobiles perched atop a Sierra's cargo box, pulling a trailer loaded with ATVs or towing a 25-ft travel trailer, the Sierra HD relentlessly pulled its load up grades that would give a Sherpa guide pause.
Based on focus groups and surveys of its owners, GMC concluded the maximum towing load pulled by the majority (86 percent) of heavy-duty truck owners is less than 25,000 pounds; GMC chose to cater to the 86 percent.
When talking about towing numbers, there are so many asterisks involved, a contract attorney would throw up his hands in frustration. Although a Regular Cab Sierra 2500 Duramax with a long cargo box can tow more, the towing number for the much more popular Crew Cab with standard box is a maximum of 13,000 pounds. If configured for a fifth wheel, it can pull 14,400 pounds. To achieve the utmost towing capacity in a Sierra HD, the 3500 Dually is good for 23,300 pounds.
What goes up, must come down. A new available smart diesel exhaust-brake feature increases control when descending with a load. Even with the cruise control engaged, GMC has integrated the exhaust braking, as well as auto-grade braking to work with it.
Decked Out
If you want what passes for a bare-bones heavy-duty truck, the price of admission for a Regular Cab Sierra HD with the 360 hp 6.0-liter V8 engine is less than $36,000. Depending on the cab style, adding the Duramax Diesel will set you back in the neighborhood of $9,000. Opting for 4-wheel drive adds $2,955 to the total.
Our test trucks in Colorado were all Crew Cab with a standard cargo box. Half of all Sierra HD trucks sold are in the up-level Denali trim, and 90 percent of all Sierra HD Denali trucks have the Duramax Diesel. It wasn't a surprise then that all the trucks we drove in Colorado were 2017 GMC Sierra Denali 2500HD Crew Cabs with price tags approaching the $70,000 mark.
As might be expected, the Denali grade is loaded to the gills with goodies, such as remote locking tailgate, spray-on bedliner, heated steering wheel, leather front seats, heated/folding outboard power mirrors, dual-zone auto climate control, 8-in color touchscreen, Bluetooth connectivity, IntelliLink interface, 7-speaker Bose audio system with Android Auto and Apple CarPlay, backup camera, 4G LTE Wi-Fi capability, 110V power outlet, remote keyless entry/start, wireless smartphone charging, forward collision alert, front/rear park assist, lane departure warning, Teen Driver with adjustable vehicle settings, and a lot more.
From the Bridge
Climbing behind the wheel of the 2017 GMC Sierra 2500HD provides a commanding view of the surroundings. The fit and finish inside our test trucks was flawless. In fact, the interior, over all, is nearly worthy of a luxury sedan. Seating is comfy enough for cross-country jaunts, and there's scads of legroom. GMC worked hard to minimize the amount of noise seeping into the cabin. At idle, engine noise barely registers.
You won't mistake the ride quality as anything other than a truck, but all in all, it was quite civilized. It pulled the loads it was assigned effortlessly and without drama, whether heading up hill or down. It's just what a heavy-duty truck should be: A workhorse of the first order. And a darn nice one at that.
To gain access to this information, Autotrader attended an event sponsored by the vehicle's manufacturer.