Car Comparison
2017 Honda Accord vs. 2017 Ford Fusion: Which Is Better?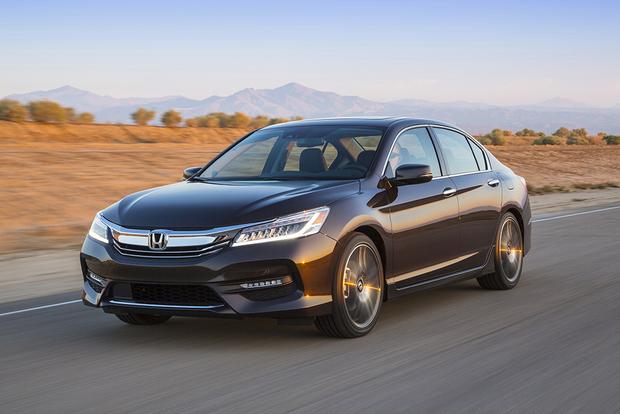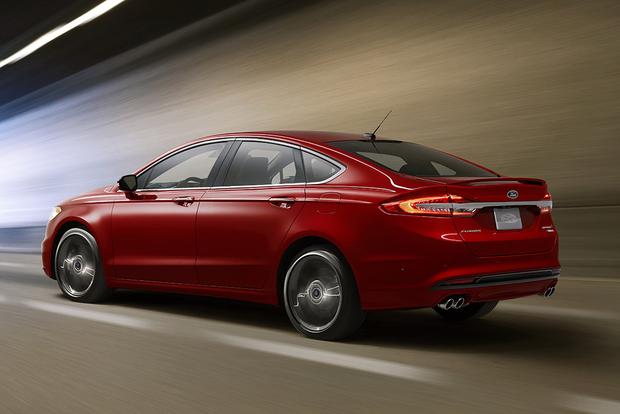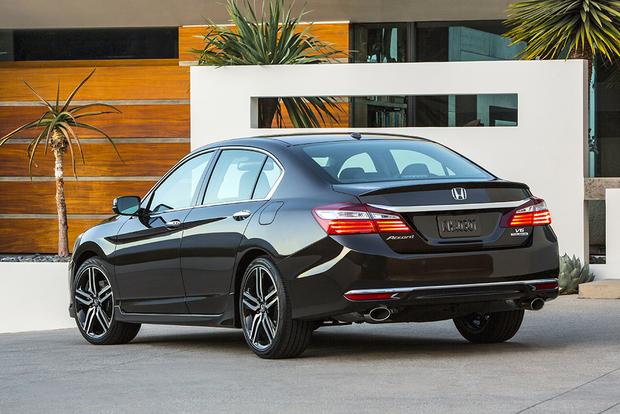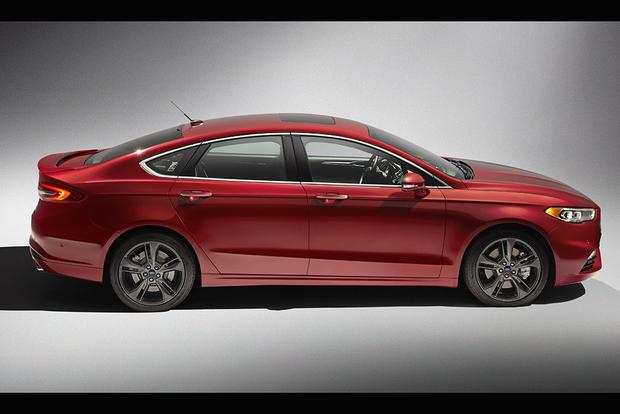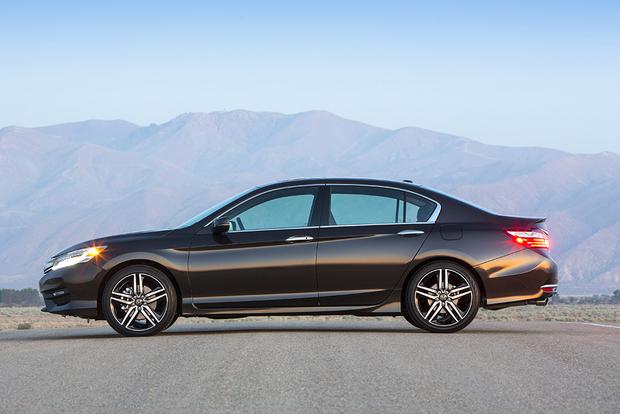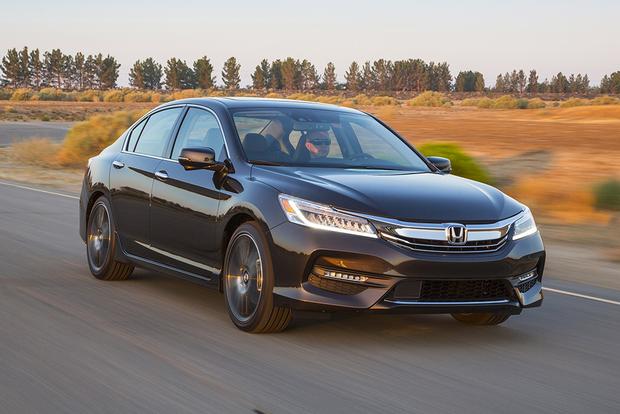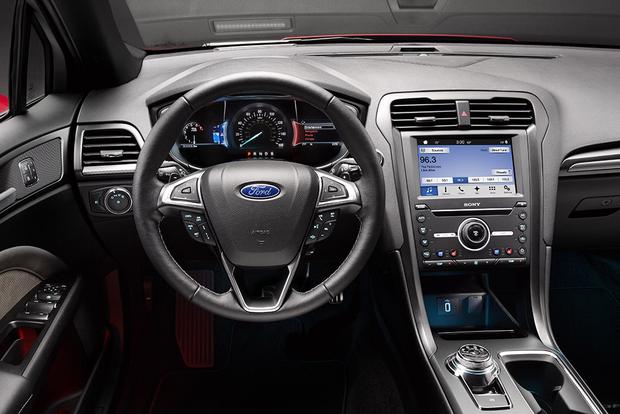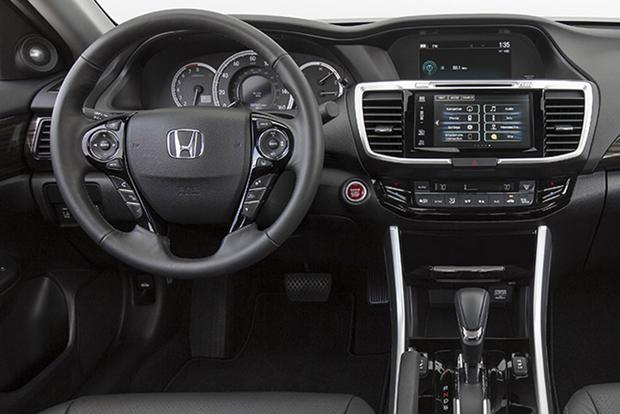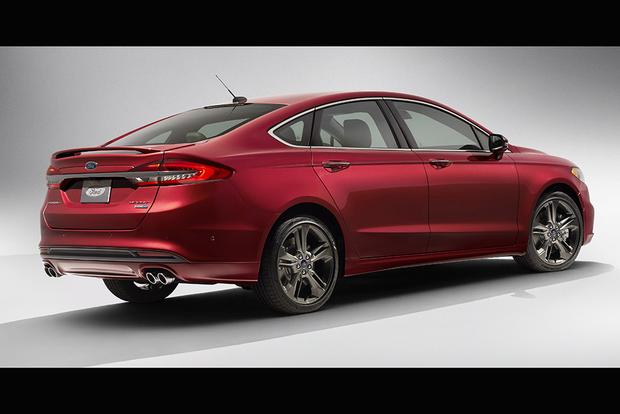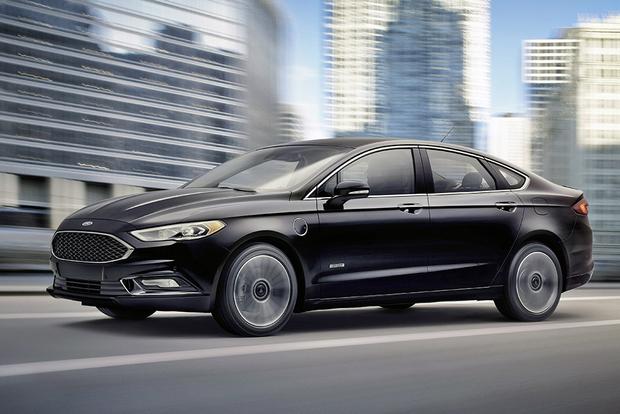 The 2017 Ford Fusion and 2017 Honda Accord aren't just two of the best-selling midsize sedans -- they're two of the best midsize sedans, period. Really, anyone looking for a well-rounded family sedan needs to consider this pair. But let's dig a bit deeper to see which might be better for you.
2017 Ford Fusion
The current-generation Fusion gets its first significant update for 2017, with revised styling, increased interior storage, a new touchscreen interface and additional features. It also boasts a luxurious new Platinum trim and the new 325-horsepower Sport model -- neither of which the Accord can really compete with, so we'll focus on those trim levels that do compete.
To learn more about these changes, read 2016 vs. 2017 Ford Fusion: What's the Difference?
2017 Honda Accord
Apart from a new Sport Special Edition model that adds heated leather seats with red stitching to the existing Sport trim level, the Accord is unchanged after its significant updates last year.
To learn more about what changed last year, read 2015 vs. 2016 Honda Accord: What's the Difference?
Reliability
The Honda Accord has historically been one of the most reliable cars on the road, and according to reliability data and customer complaints, the current version has followed in the footsteps of its illustrious predecessors. Although the Ford Fusion cannot match the Accord here, it has nevertheless enjoyed strong reliability ratings during its time on the market. Some engine problems have been reported in the past few years, but not to a degree that should cause overt concern. We would not hesitate to recommend the Fusion based on reliability.
Fuel Economy
Both the Accord and Fusion are available as hybrids, but let's concentrate on their gas-only versions. And specifically, let's start with the Fusion's engine lineup. Standard on the S and SE trim levels is a 2.5-liter 4-cylinder that produces an unremarkable 175 hp and 175 lb-ft of torque. Its fuel economy of 21 miles per gallon in the city, 32 mpg on the highway and 25 mpg in combined driving is just not good enough -- in comparison to both the Fusion's other engines and the Accord's.
As such, we would highly recommend one of the Fusion's turbocharged 4-cylinder "EcoBoost" engines. The 1.5-liter produces 181 hp and 185 lb-ft of torque -- an output that should make it feel suitably punchy around town -- and returns 23 mpg city/34 mpg hwy/27 mpg combined (all figures are according to the Environmental Protection Agency). The 2.0-liter features a more robust 240 hp and 270 lb-ft and returns 21 mpg city/31 mpg hwy/25 mpg combined.
The volume-selling 2.4-liter 4-cylinder that comes standard on the Accord is more efficient, at 26 mpg city/34 mpg hwy/29 mpg combined. As the ratings indicate, it's a more economical choice if you do most of your driving around town. Its output of 185 hp and 181 lb-ft of torque (the Sport trim gets a smidgen more) results in above-average acceleration. So too does the available 3.5-liter V6 (278 hp, 252 lb-ft), which should be quicker than the Fusion's 2.0-liter despite returning essentially the same fuel economy, at 21 mpg city/33 mpg hwy/25 mpg combined.
Safety
The Accord and Fusion received the same crash scores from the government, with five stars for overall and side protection and four stars for frontal protection. Both were also named Top Safety Picks by the Insurance Institute for Highway Safety, although the Accord got a slightly higher score due to a better headlight rating.
Both sedans are available with the same types of accident-avoidance technologies; however, the availability of those features differs, as does their quality. In the Accord, forward-collision warning with automatic braking and lane-departure warning and keeping are included in the Honda Sensing package, which is optional on all but the LX trim level (and standard on the Touring). The Fusion SE and Titanium trims can be equipped with the Driver Assist package, which includes lane-departure warning/keeping along with blind spot monitoring and rear cross-traffic alert systems that are unavailable on the Accord. However, the Fusion's forward-collision warning and auto-braking system is bundled with adaptive cruise control as a separate option and must be ordered with a broader Technology package. This complicated availability is countered by the fact that Ford's collision-warning system doesn't irritate with constant false alarms, as Honda's does, and has a superior adaptive cruise control system.
Technology
This used to be an Achilles' heel for the Fusion, but the new SYNC 3 touchscreen interface for 2017 means it now has one of the more user-friendly tech systems around. Its large icons and easily understood menus contrast with the convoluted menu structure and confusing dual-screen setup found in most Accord trim levels. This preference reverses in more basic trim levels, however, as the Accord's set of buttons and knobs is simpler to use than the Fusion's.
As for feature content itself, both come standard with the same type of equipment. Opting for those previously mentioned touchscreens brings Apple CarPlay and Android Auto.
Driving Experience
The Honda Accord has long been one of the best midsize sedans to drive, offering a blend of comfort and driver control that's just right for many buyers. Whether you're looking to be engaged while driving or would rather be isolated from the world around you, the 2017 Accord should meet your needs quite nicely. Its smooth and surprisingly powerful engines should be more than enough, and though the 4-cylinder engine's continuously variable transmission may behave differently than you're used to (there's no succession of gears), we don't think it'll be objectionable.
The Fusion feels like a more sophisticated, European-inspired car to drive. That's because it is, as its suspension in particular features the higher-end components expected of the higher-end segment in which the Fusion competes in Europe. Europeans frequently compare the Fusion's equivalent there to lower trim levels of a BMW 3 Series, so we in the United States are the benefactors of this elevated degree of engineering. And what it translates to is a ride that's truly impressive for the way it soaks up bumps while maintaining superior body control over undulations and around corners. Its steering is also responsive and communicative, imparting a greater sense of control and involvement than what you might expect from this segment.
In other words, the Accord is very good to drive, but the Fusion is even better.
Interior Quality and Space
A similar conclusion can be drawn about their cabins. The Accord features materials that are among the best in the segment. Apart from the leather that can be added to the seats and steering wheel (plus a few bits of faux wood), there isn't much separating the lower and upper trim levels -- which says more about those lower trims. Everything is also put together extremely well. The Fusion is even further elevated. Materials are that much richer, and you don't have to get an upper trim level to make it look and feel like an entry-level luxury car.
Either way, these are two of the most spacious cars in the segment. Whether you have full-size adults or a bulky rear-facing child seat, both sedans offer more than enough space. The Accord is perhaps a bit more spacious and comfortable in back, and the Fusion's more aggressively raked greenhouse may make it feel a bit more confining; but really, you can't lose with either.
Value
The Fusion has a lower base price, but that S trim level also has less equipment and a less desirable engine. Adding the 1.5-liter EcoBoost engine requires the SE trim level, which has more equipment than does the base Accord LX. When you start adding desirable equipment like leather seating, heated power seats, keyless start and a better sound system, the Fusion continues to be less expensive -- possibly by more than $1,000. This cash difference should make up for the fuel economy difference, or allow you to select additional options or the more powerful 2.0-liter engine. At the same time, the Accord will depreciate less over time, which may ultimately wipe out that price advantage. Of course, that's less to worry about if you're leasing.
Autotrader's Advice
The Honda Accord is probably the more sensible choice, while the Fusion's good looks and better driving experience should make a more emotional connection. At the same time, the Accord isn't exactly boring and the Fusion offers abundant functionality. Therefore, we feel pretty confident that getting either one will be a great choice.