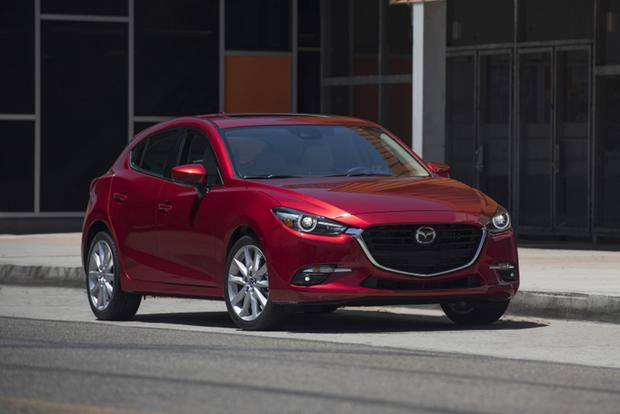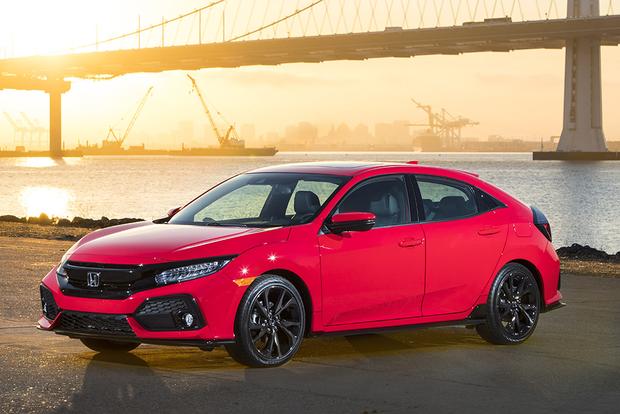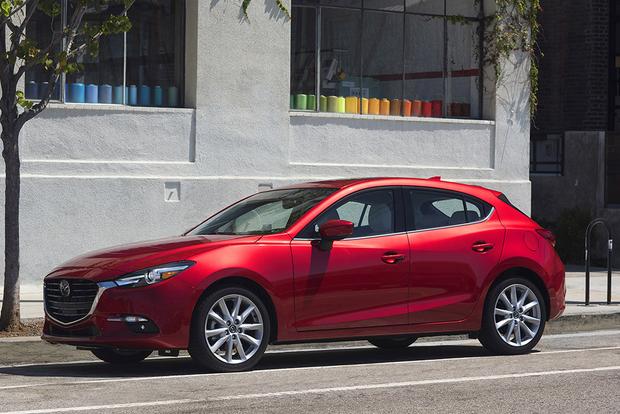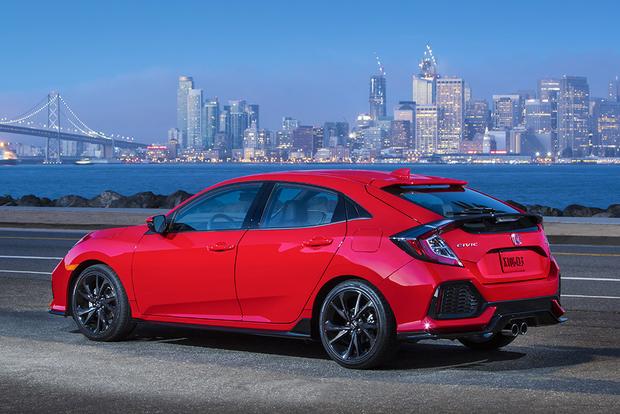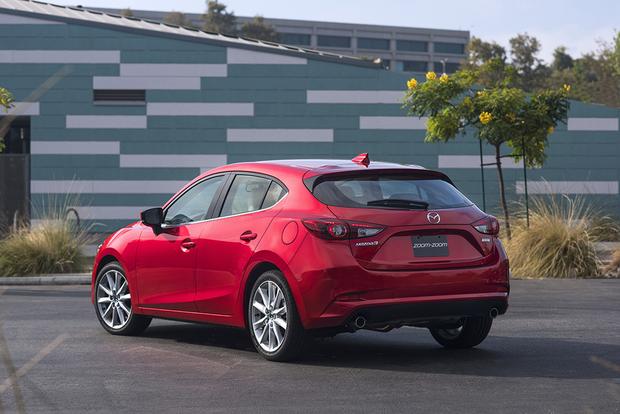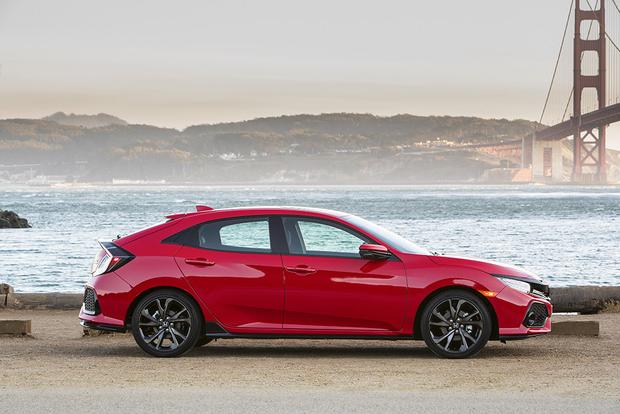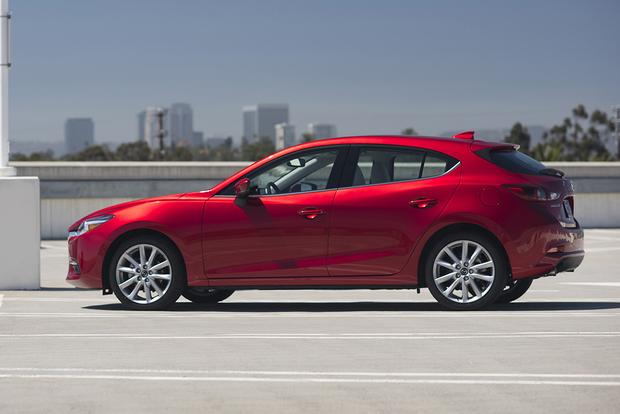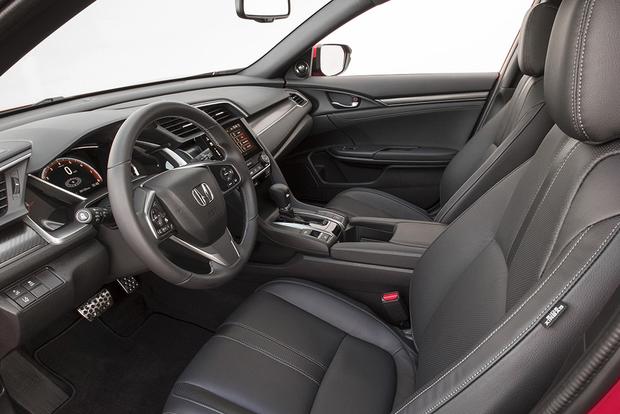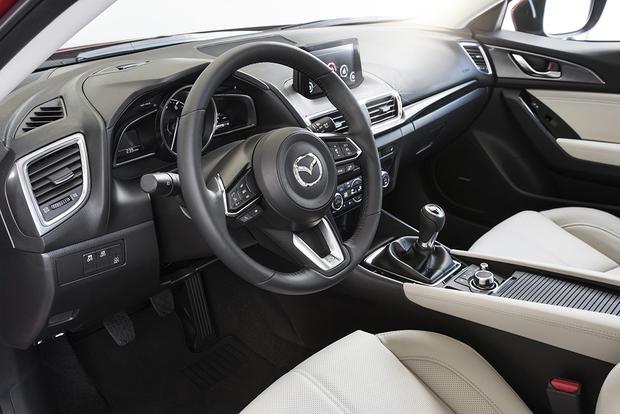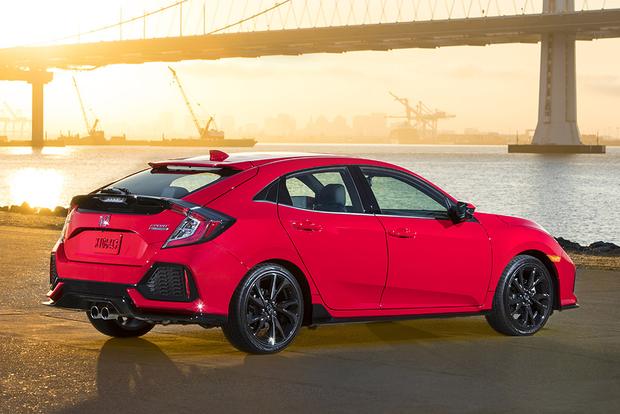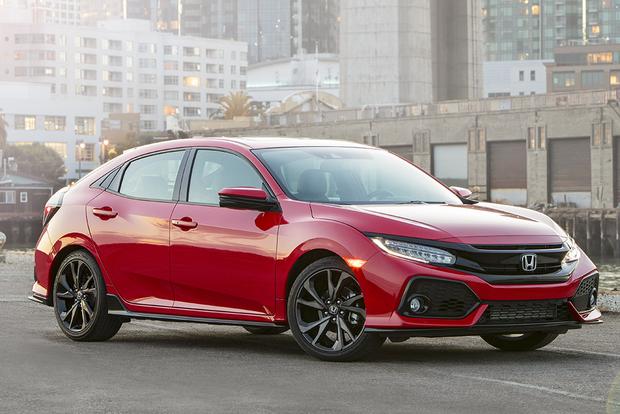 If you're shopping for a compact car, or have between $18,000 and $28,000 to spend, we highly recommend considering the 2017 Honda Civic and 2017 Mazda3. They are the segment leaders in most respects, often representing clear superiority over competing vehicles. Against each other, though? That's tougher to decide, so let's take a look at both to see which might be better for you.
2017 Honda Civic
For 2017, the Honda Civic gains a hatchback body style (read how the Civic sedan and hatchback compare here). Beyond that, another key update for 2017 is that a manual transmission can now be paired with the turbocharged 4-cylinder, though the pairing is restricted to the EX-T and Sport trim levels.
2017 Mazda3
For 2017, the Mazda3 gets a variety of key improvements that help it maintain its competitiveness against the impressive new Civic. The exterior was modestly restyled, while the interior sees a revised center console with more storage space. There's also some additional standard equipment, the suspension has been retuned for a more comfortable ride and a new feature called G-Vectoring Control improves handling.
Reliability
The Honda Civic has historically been one of the most reliable cars, but the most recent version has garnered numerous complaints about its touchscreen infotainment system, including gremlins and inherent design flaws. The Mazda3 hasn't enjoyed the same sort of peerless reliability reputation as the Civic, but it's still better than most, and the current version, which dates back to 2014, doesn't seem to be garnering many owner complaints in any particular area.
Fuel Economy
A major reason why the Mazda3 and Honda Civic are so much more appealing than other compact cars is their ability to achieve superior fuel economy without sacrificing performance. Each is available with different engines, though, so that balance does change depending on which you get.
The Honda Civic LX and EX trim levels (sedan and coupe) come standard with a 2.0-liter 4-cylinder engine that produces 158 horsepower and 138 lb-ft of torque. It's a capable and smooth engine, but its lack of low-end power will make it feel weak compared to the Civic's upgraded turbocharged engine (as well as both Mazda3 engines). However, that 1.5-liter turbo 4-cylinder is more fuel efficient. With the continuously variable automatic transmission (CVT), the Environmental Protection Agency says the turbo will return 36 miles per gallon in the city, 42 mpg on the highway and 36 mpg in combined driving when in the sedan. Opting for the manual only reduces that combined figure by 1 mpg. This is exceptional economy that we've been able to duplicate in the real world, and, even better, this engine achieves best-in-class acceleration by a wide margin. And it actually gets quicker with the hatchback's more powerful Sport trim levels (180 hp and 177 lb-ft).
So, no matter how you cut it, the Civic's turbocharged engine is better than anything the Mazda3 offers. The thing is, though, the Mazda3 is still better than most of its other competitors when it comes to balancing acceleration and fuel economy. Its 2.0-liter base engine (155 hp, 150 lb-ft) returns an EPA-estimated 28 mpg city/37 mpg hwy/32 mpg combined with an automatic transmission in the sedan. The more powerful 2.5-liter 4-cylinder (184 hp, 185 lb-ft), which produces second-best acceleration in the segment, still manages 28 mpg city/37 mpg hwy/31 mpg combined. Opting for the hatchback and/or manual with either engine lowers fuel economy figures by 1-2 mpg combined.
Safety
Both the Civic and the Mazda3 received perfect 5-star ratings in every government crash category, as well as Top Safety Pick+ awards from the Insurance Institute for Highway Safety for their top crash-test performances. The Civic's available forward-collision system received a higher rating for forward-collision prevention, but the Mazda3's still earned an acceptable outcome.
All but the base Mazda3 Sport trim level comes standard with a low-speed forward-collision warning and auto-brake system, while a more advanced system is optional on the top-of-the-line Grand Touring trim, along with lane-departure warning and keeping and adaptive cruise control. In the Civic, those advanced systems are more widely available (optional or standard on all but the base LX trim), but we've found they aren't as seamless or sophisticated in operation as those on the Mazda3.
Technology
Neither the Mazda3 nor the Honda Civic have ideal infotainment interfaces. Every Mazda3 has the same center-console button-knob controller and a 7-inch dashtop screen that can be touch operated when the car is stopped. It's an okay system once you get used to it, but it requires a lot of going back and forth between menus, which can be frustrating. We do like it better than the Civic's touchscreen -- found on all but the base LX -- which is slow to respond and can be confusing when going between menu functions. It's the Civic's primary drawback.
The Civic does come with more tech features, with Apple CarPlay and Android Auto standard on all but the base LX. They're not available on the Mazda3, though Mazda offers a head-up display that Honda does not. Otherwise, the two are similar.
Interior Space and Quality
The 2017 Honda Civic is pushing the definition of a compact car. With its low-slung front seats, it's quite easy for a pair of tall occupants to sit front-to-back in both the Civic sedan and hatchback. The back seat bottom is a little low to allow for sufficient headroom beneath the sloping roofline, but space is nevertheless very good. Using the Civic as a family car is certainly feasible. The Mazda3 may not be quite as good, but four adults can nevertheless be comfortable on board.
Both cars feature high-quality cabins that exceed those of competitors, with the exception of the Volkswagen Golf. Those surfaces that aren't soft to the touch are at least nicely grained. Buttons and knobs move with an impressive fluidity. Between this quality and their impressive features lists, both the Civic and Mazda3 offer pretty compelling impressions of small luxury cars.
The Civic sedan has a larger trunk than the Mazda3 (a midsize-sedan-like 15.1 cu ft. versus the Mazda3's more average 12.4). The Civic hatchback's cargo area has an even greater advantage with the rear seats up (25.7 cu ft. versus 20.2), but the Mazda's less raked hatchback results in a bit more space and versatility when the seats are lowered (47.1 cu ft. versus 46.2). The Civic also has better small item storage up front (its center console is very clever), despite the Mazda3's improvements for 2017.
Driving Experience
The turbocharged Civic is the quicker car and feels like it, especially when passing on the freeway. The sedan's ride is also a little more plush compared to that of the Mazda3, although the sportier Civic hatchback is actually quite similar. And should you want a manual transmission, you'll likely find the Honda's clutch-and-throttle application makes it easier to drive smoothly.
However, the Mazda3 is ultimately the more rewarding car to drive, with superior steering response and an overall feeling that engages the driver, whether puttering around town or moving briskly along a back road. There is a man-machine connection present that even the otherwise compelling Honda Civic can't match. Although the Mazda3 played second fiddle to the Civic in other aspects, here the tables are turned.
Value
The Honda Civic and Mazda3 are priced almost equally to each other, whether you're comparing the most basic trim level, a midgrade trim (Civic EX versus Mazda3 Touring) or fully loaded versions. The Civic's standard alloy wheels, automatic headlights and auto climate control do give it an advantage in feature content on the low end, while the Mazda3 Touring's standard heated front seats, power driver's seat and leather-wrapped steering wheel give it the advantage in between. The two are comparably equipped when loaded.
However, there's definitely a lot of value to be found in the Civic's superior turbocharged engine and its slightly better rate of depreciation.
Autotrader's Advice
If you end up in either the 2017 Honda Civic or 2017 Mazda3, you've made an excellent choice. Ultimately, the Civic might be the more well-rounded pick for more car buyers, but the Mazda3 isn't too far behind, while being more fun to drive and arguably better looking.