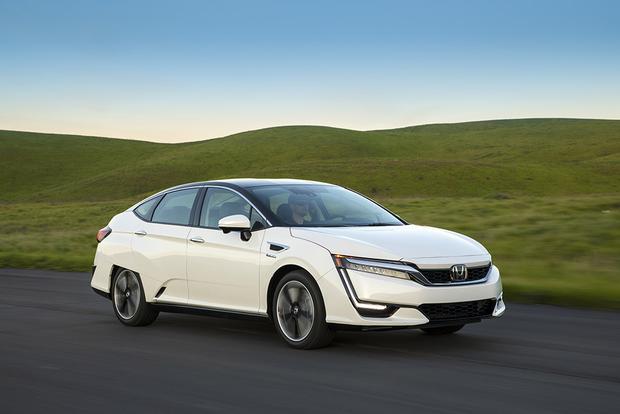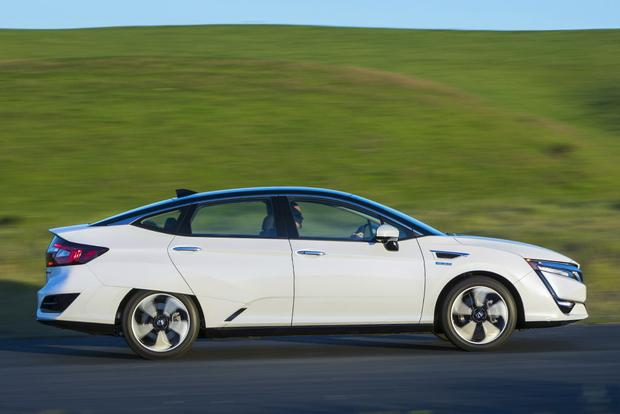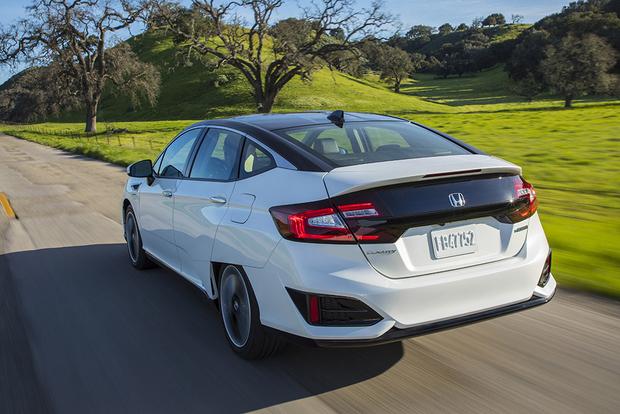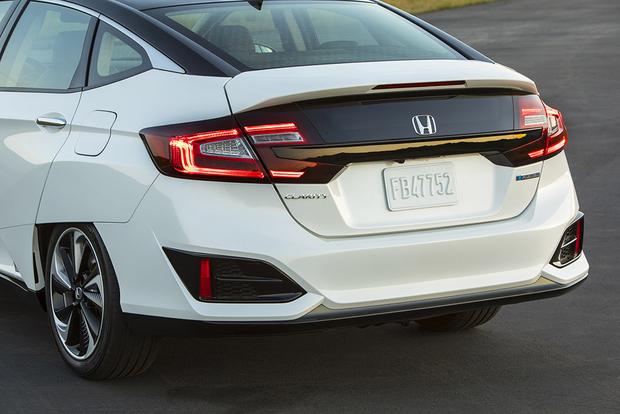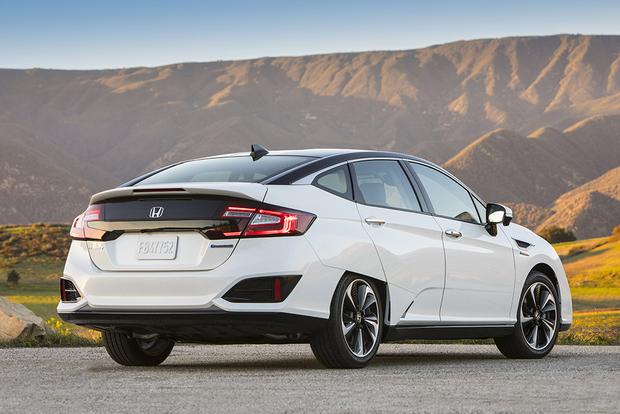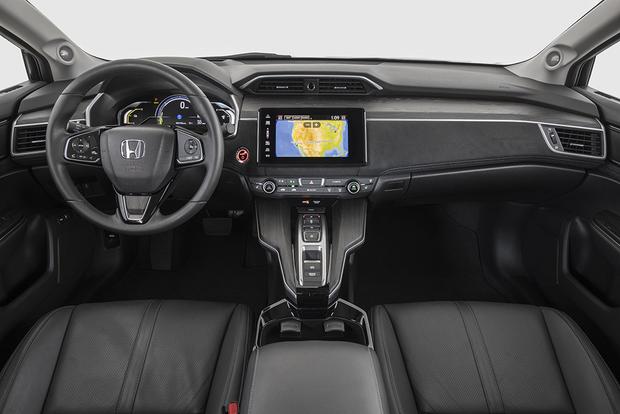 If you're looking for information on a newer Honda Clarity, we've published an updated review: 2019 Honda Clarity Review
In a perfect world, electric cars would emit zero emissions and the planet would be saved. But the truth is that while electric cars emit no emissions, the power plants that provide their electricity do. To be really green, one must look to a car like the 2017 Honda Clarity, an electric vehicle that converts hydrogen and oxygen into electricity with water vapor as its only byproduct. The Clarity's hydrogen tank and fueling processes is as safe as using gasoline, and hydrogen can be sourced from a number of places including natural gas, which is plentiful in the U.S. In fairness, we must admit that the process of extracting hydrogen is not free of emitting greenhouse gases either, but the technology is improving rapidly and is far less impactful than burning coal to produce electricity.
For those lucky enough to drive the Honda Clarity, they'll find it a very pleasing experience. Larger than the Toyota Mirai and Hyundai Tucson Fuel Cell, the Clarity is as roomy and comfortable to drive as a Honda Accord. With a range of 366 miles per tank, the Clarity can travel much further than the Nissan Leaf, Toyota Mirai, Hyundai Tucson Fuel Cell, Volkswagen e-Golf, Kia Soul EV and even the new Chevrolet Bolt.
Unfortunately, the Clarity is leased in limited supply and only in California, which currently has about 26 hydrogen refueling stations scattered throughout the state. However, as more states install hydrogen refueling stations, Honda says it will consider expanding availability, as well as allowing retail sales of their fuel cell sedan.
What's New for 2017?
The all-new 2017 Honda Clarity showcases Honda's latest hydrogen fuel cell technology. The handsome family sedan is available in a limited number of markets inside California and, for now, can only be leased. See the 2017 Honda Clarity models for sale near you
What We Like
Impressive range; roomy interior; quiet ride; low lease price; $15,000 fuel allowance; as easy to fill up as a gasoline powered vehicle
What We Don't
Lease only vehicle; limited availability; limited number of fueling stations; limited trunk space
How Much?
$59,365 before California rebates and credits.
Fuel Economy
The front-wheel-drive Honda Clarity is powered by an AC permanent magnet synchronous electric motor supplied power by a proton exchange membrane fuel cell. Power output translates to 174 horsepower, 26 hp less than the Chevrolet Bolt, but 40 hp more than the Hyundai Tucson Fuel Cell. The Clarity attains an Environmental Protection Agency equivalent of 69 miles per gallon city and 67 mpg highway, with an estimated range of 366 miles.
Standard Features & Options
The Clarity comes in one, well-equipped model with a few dealer options.
The Honda Clarity ($59,365) includes power windows, power door locks, power mirrors, 18-in alloy wheels, leather interior, Honda Satellite-linked navigation with voice control and rearview monitor, Honda Sensing, keyless entry with push button start, HID headlights, dual automatic climate control, Bluetooth, adaptive cruise control, a tilt and telescopic steering wheel with controls for audio, Bluetooth and navigation. Also standard is a push-button gear selector, heated and cooled front seats and an AM/FM/XM/CD audio system with six-speakers. Standard safety features include front, front-side impact and side-curtain airbags, plus collision mitigation braking.
Passenger volume is a generous 100.8 cu ft., but, due to the size of the pressurized fuel tank, cargo space is limited to a mere 13.1 cu ft.
Safety
The Clarity includes a full suite of airbags including front, front-side impact and side-curtain. Honda's Vehicle Stability Assist with traction control is also standard, as is collision mitigation braking.
Neither the government nor the independent Insurance Institute for Highway Safety have crash tested the Honda Clarity.
Behind the Wheel
This car review starts not at the track, but the gas station. In California, there are 26 hydrogen pumps located at various gas stations and refueling ports in Burbank, Long Beach, Santa Monica, Santa Barbara, Sacramento, several in the San Francisco Bay Area and one in west Los Angeles. The filling process isn't much different from gasoline. You swipe your prepaid card, hook the fueling nozzle to the receptacle behind the fuel door, choose the H70 grade (pumps at around 10,000 psi) and wait about 3-5 minutes. After fueling, the Clarity works pretty much like any other electric vehicle, the one exception being the emission of clean water from the car's backside.
On the road, the Clarity is silent but for the hushed whir of the wind rushing by outside the windows. When compared to other electric vehicles, the Clarity has some advantages and disadvatages –as a car, separate from the tech, the Clarity is much nicer inside with more interior space that cars like the Chevy Bolt, Nissan Leaf and Chevrolet Volt. It feels a lot like an upscale Honda Accord in many ways.
The interior textures and materials are far nicer than even the Prius Prime and are near luxury car standards – this could probably have been an Acura without much trouble
The Clarity also drives a lot like a luxury sedan – the ride is quiet, the there's plenty of power – 174 hp to be exact and both braking and handling are precise and predictable.
Other Cars to Consider
2017 Toyota Mirai --Toyota's hydrogen fuel cell car is a bit more futuristic in its design, but it's interior is not as accommodating and its range is limited to 312 miles.
2017 Chevrolet Bolt -- The Bolt is a traditional electric car that you plug in to charge overnight. The advantage is you can do this at home, so you're not limited by fueling stations. The Bolt is smaller but more powerful than the Clarity, and its range is only 238 miles; it also cost almost $25,000 less.
2017 Hyundai Tucson Fuel Cell --The Tucson Fuel Cell's lease is considerably more expensive than the Clarity, but its SUV platform offers more room for cargo and a higher ride height. The Tucson's range is limited to 265 miles.
2017 Nissan Leaf -- Like the Bolt, the Leaf is a pure electric that requires recharging that can take from 4-15 hours depending on the outlet size. On the plus side, you can own a Leaf for less than $32,000. On the downside, the Leaf's range is limited to 107 miles.
Autotrader's Advice
If you only drive in a certain area and never more than 350 miles between fill ups, the 2017 Honda Clarity might make an interesting choice. The lease price is right, and the free fuel is a big bonus. It might be cool to be seen driving something so radical and forward thinking, but you'll probably want to have a second traditional gasoline-powered vehicle, in case you ever need to travel out of state. Find a Honda Clarity for sale