Editor's note: You may want to read more of Autotrader's model vs. model comparison car reviews as well as the 2017 Hyundai Elantra review, the 2016 Honda Civic review and Buying a Used Honda Civic: Everything You Need to Know.
If you're interested in a new compact car, you have two new choices this year: the fully redesigned 2017 Hyundai Elantra and the fully redesigned 2016 Honda Civic. Both tout new styling, new features, new powertrains and several compelling reasons why they should be on your shopping list. We're going to find out which is better, but first let's see what's new with the Elantra and the Civic for the latest model year.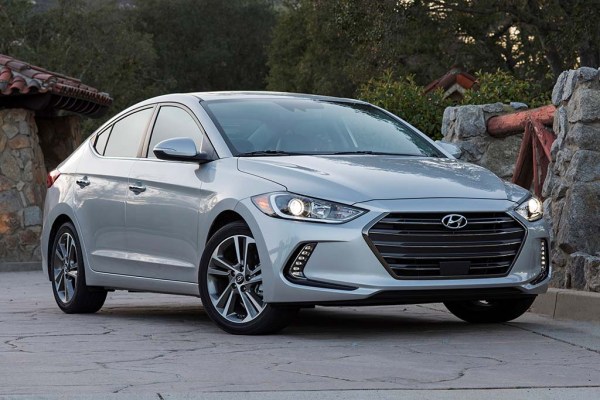 2017 Hyundai Elantra
The Elantra is fully redesigned for 2017 with a more grown-up look, revised powertrains and a host of new features. The outgoing model's coupe variant is gone, while the Elantra GT hatchback will retain its current design until it gets a full update next year. See all 2017 Hyundai Elantra models available near you
2016 Honda Civic
The Civic is fully redesigned for 2016, touting a totally new look with larger dimensions, a bigger interior, new features and a revised powertrain lineup. A high-performance Type R model and a revised Civic hatchback are reportedly on the way. See all 2016 Honda Civic models available near you
Reliability
Because the Civic and Elantra are so new, neither model has yet been rated for reliability. It's worth noting, however, that the Honda scored much higher than Hyundai in J.D. Power's latest Vehicle Dependability Study — reaching the top 10 overall while Hyundai finished below the industry average score.
With that said, the Elantra has a trick up its sleeve: an impressive warranty that trumps the Civic's. While the Civic offers only 3 years or 36,000 miles of bumper-to-bumper coverage and 5 years or 60,000 miles of powertrain protection, the Elantra boasts 5 years or 60,000 miles of bumper-to-bumper coverage and a whopping 10 years or 100,000 miles of powertrain coverage. In the end, reliability is a toss-up pending further results, though we suspect that the Civic will be more reliable than the Elantra and that the Hyundai will be under warranty for longer.
Fuel Economy
Currently, the Civic offers two powertrains. Base models use a 158-horsepower 2.0-liter 4-cylinder engine, which touts up to 27 miles per gallon in the city and 40 mpg on the highway with a standard 6-speed manual or 31 mpg city/41 mpg hwy with an optional continuously variable automatic transmission (CVT). Drivers looking for better mileage and performance can upgrade to the Civic's 174-hp 1.5-liter turbocharged 4-cylinder, which boasts 31 mpg city/42 mpg hwy with a CVT, the only transmission available.
The Elantra also offers two engines. Base models use a 147-hp 2.0-liter 4-cylinder, which returns up to 26 mpg city/36 mpg hwy with the standard 6-speed manual or 29 mpg city/38 mpg hwy with the optional automatic. Drivers looking for better gas mileage will want to choose the Elantra Eco, which uses a 128-hp 1.4-liter turbocharged 4-cylinder. While this engine hasn't yet been rated by the Environmental Protection Agency, Hyundai is saying that it'll return 35 mpg in combined city and highway driving.
Still, the Civic is our pick here. Not only does it offer better base-level performance than the Elantra, but it does so with more power and better performance — an impressive trick.
Safety
Although the Civic has not yet been rated by the federal government's National Highway Traffic Safety Administration, it earned a Top Safety Pick+ score from the nonprofit Insurance Institute for Highway Safety. The Elantra has not yet been rated by either firm.
As for safety features, both cars stand out as all-stars in the segment, touting an available blind spot monitoring system, lane-departure warning and lane keep assist, adaptive cruise control, and forward-collision warning with automatic braking. While the Elantra stands alone with useful rear cross-traffic alert, we think the Civic has a very slight advantage in its LaneWatch blind spot camera, which is among the most useful and impressive new car safety features on the market.
Technology
As we mentioned in the Safety section, both the Civic and Elantra are among the top of their class for features — something that carries over to comfort and convenience technology, as well.
In fact, these two sedans offer items that were restricted to high-end luxury cars only a few years ago, including LED headlights (the Civic), heated rear seats (the Elantra) and large touchscreens with integrated navigation systems, along with Apple CarPlay and Android Auto (both cars). While available technology differs slightly between the Civic and the Elantra, we think drivers who want a gadget-filled new vehicle will find exactly what they're looking for in either of these vehicles.
Value
There's no way around it: The Civic is now the most expensive car in this segment. While base-level Civic models are now better-equipped than their Hyundai rivals, the Elantra still comes up considerably cheaper than the Honda, even with missing features added in.
If you're interested in specifics, the Elantra starts at $18,000 with shipping, while the Civic is $19,600. Add in the Elantra's Popular Equipment package and an automatic transmission, and you're at $19,800 compared to $20,400 for an automatic Civic — a price gap that expands as you go through the trim levels. As a result, budget-conscious shoppers looking for an excellent compact car will likely find that the Hyundai offers a better overall value.
Autotrader's Advice
In our view, the 2016 Honda Civic is the best compact car on the market today. Unfortunately, it's also the most expensive, especially if you want to spring for the excellent turbocharged 4-cylinder engine, which starts from $23,100 with shipping in the EX-T model and reaches up to almost $30,000 if you go for a high-end Touring version.
Is it worth the cost? Well, the Civic is more efficient than the Elantra. It's also roomier, and it offers Honda's excellent LaneWatch blind spot camera, along with better performance. To us, that goes a long way toward justifying the extra cost. But if you're on a tight budget, it might be a good idea to pick the Hyundai over the Honda.
Find a Used Hyundai Elantra for sale