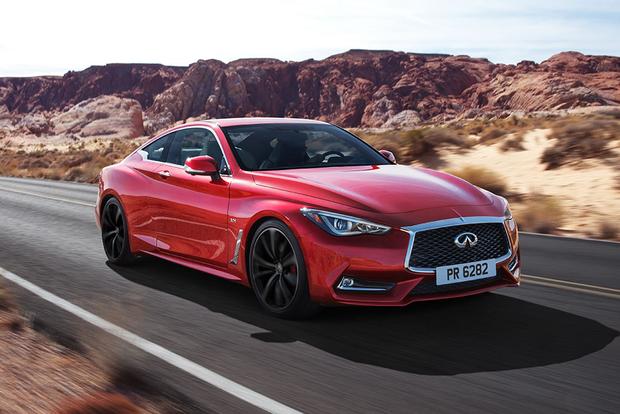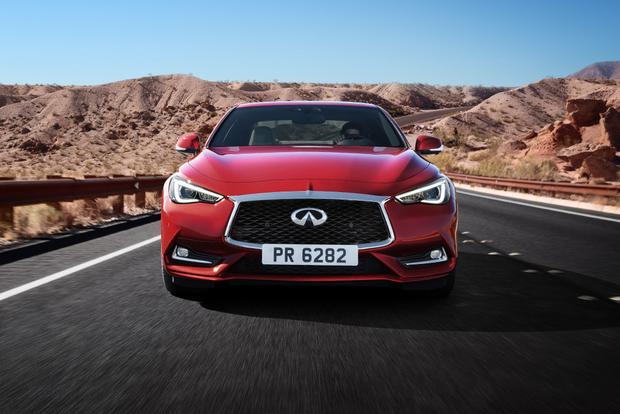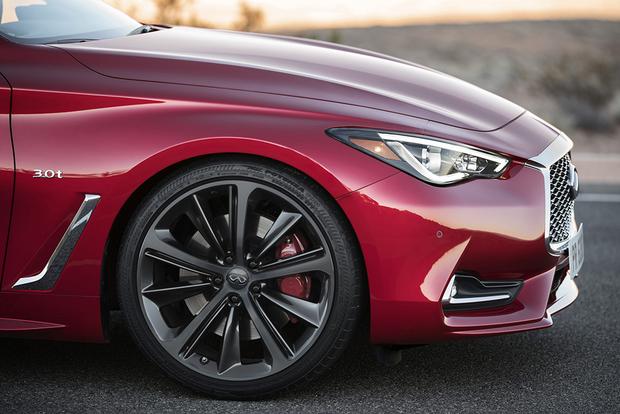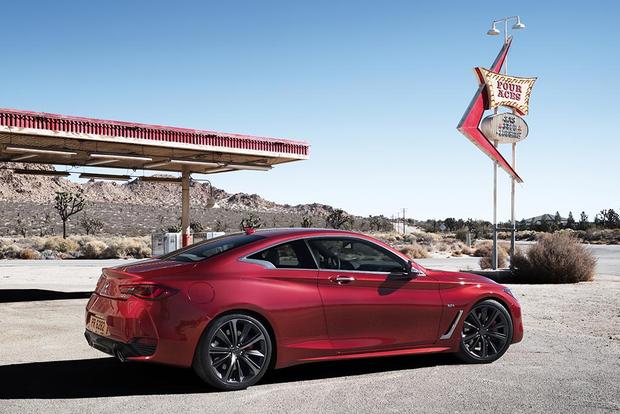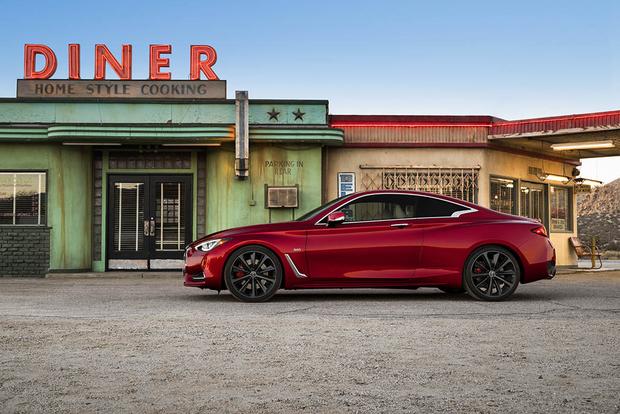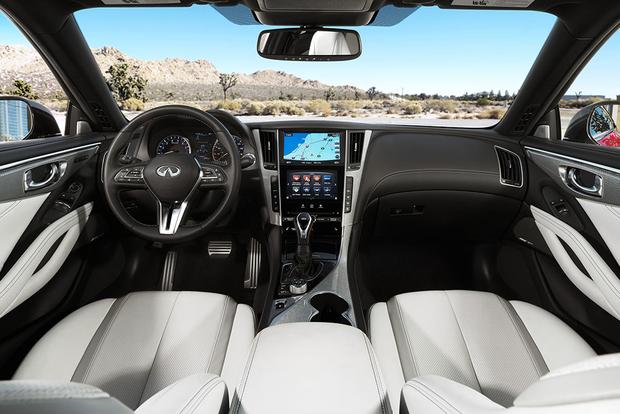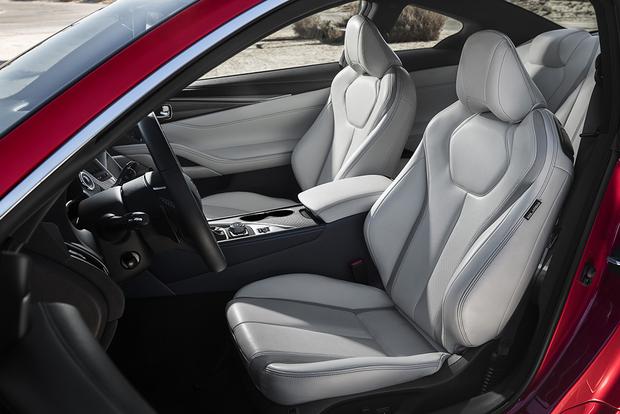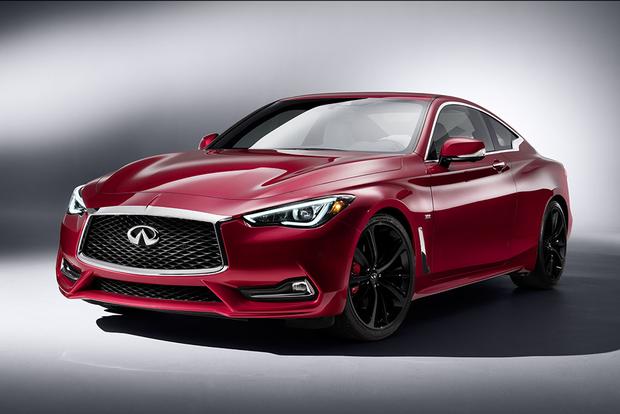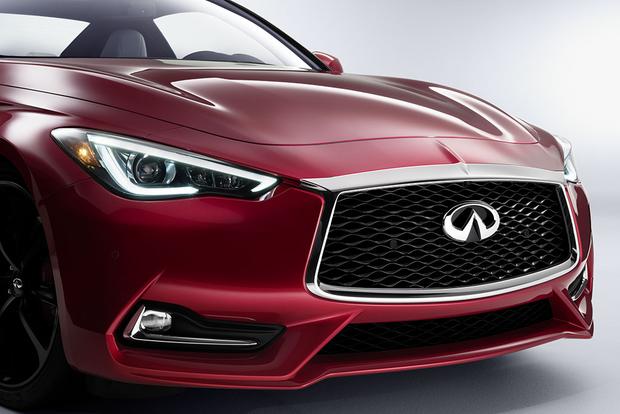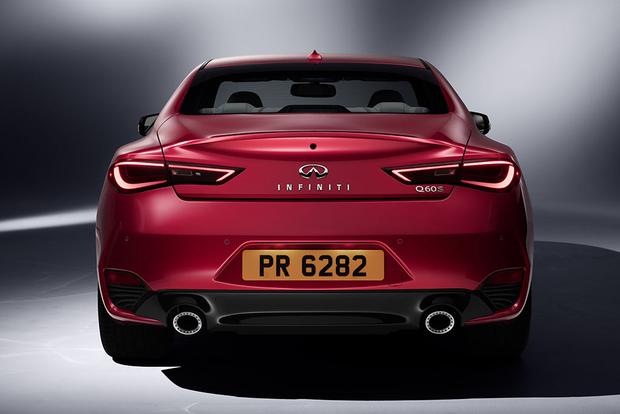 Just accept the 2017 Infiniti Q60 as the successor to the G35 and G37 coupes, and don't fret over how the letters and numbers might make any kind of sense. If people were completely logical and practical, they probably wouldn't be thinking about a premium compact coupe in the first place.
That's the beauty of something like the Q60: It's a possession to be relished. Yet there's no getting away from the sensible inclusion on the options list of electronic safety features like forward-collision mitigation with pedestrian detection, intelligent cruise control, lane-keep assist, a blind spot monitoring system and a 360-degree camera system. It's always good to have some rational reasons for an emotional purchase.
Now We're Motoring
In its top trim level, the Q60 enjoys Infiniti's newest engine -- claimed to be the "lightest, most powerful, cleanest and most fuel-efficient V6 turbo" the company has ever put into production. This 3.0-liter unit uses two turbochargers to help create 400 horsepower and 350 lb-ft of torque. Lesser trims offer a 300-hp version with 295 lb-ft of torque, or you can go lower still for a turbocharged 2.0-liter 4-cylinder engine making 208 hp and 258 lb-ft of torque. During our test drive, only the 400-hp version was available.
Applying that power to the road is fast and fun, with acceleration on tap at any sane speed. Prodding the throttle at 50 miles per hour makes particularly quick work of overtaking. Infiniti should be proud of this new engine. If only there was a more interesting soundtrack to go with it. There's just a hint of exhaust note in the sportiest driving mode, while the other modes are far more polite.
A 7-speed automatic transmission has shift paddles for greater driver involvement. Infiniti puts fuel consumption for this engine at 20 miles per gallon in the city and 27 mpg on the highway using the default rear-wheel-drive setup.
All-wheel drive is an option with any engine. In normal driving conditions, the system sends power to the rear wheels. On a warm, dry day (the conditions of our test drive) the benefits aren't really felt. It only adds 73 pounds to the curb weight, though, and there's just a slight penalty at the pumps: 19 mpg city/26 mpg hwy.
The brakes feel strong and confident, with an initial bite that might seem too much if you hit the pedal hard. But if you keep the inputs smooth, there's quite a bit of driving satisfaction to be had. There's one glaring exception, however. An optional steer-by-wire system has three computers (two are fail-safes) and a mechanical link (a final fail-safe). Despite Infiniti's best intentions, this was never going to appeal to a driver who prefers some tactility to the steering wheel, some notion of feel and what's going on with the front wheels.
This arrangement might as well be from a video-game simulator for all the authenticity it brings to the experience. Numb, oddly weighted (in any driving mode) and not linear in its responses, all it does is pile on unnecessary bulk and add $1,000 to the bottom line. Buyers should test-drive this and the standard setup. Steer-by-wire systems are no doubt part of the future when autonomous vehicles become more common, but to offer it in what's supposed to be a driver's machine seems ill-advised.
Spring Theory
Past Infiniti cars have often been great to drive but too noisy for what is supposed to be a premium brand -- ride over a bump, and the suspension would send reverberations through the cabin. That's now a thing of the past. Well, there's still some road noise over rough surfaces, but the difference is really night and day. The company has paid special attention to reducing noise, vibration and harshness.
The optional adaptive suspension has a range of modes, from Comfort to Sport Plus to a customizable personal preset. The difference between Standard and Sport is minimal, and Sport Plus is still quite comfortable. This system is part of a larger apparatus that will also change throttle response and gearshift settings; Sport Plus mode has an enthusiastic character that chimes well with the rest of the car.
Keeping up Appearances
Styling is a high point for the Q60. Design is an important part of any coupe's appeal, and this one definitely has a distinct yet agreeable appearance, along with proportions that harmonize well from nose to tail. That quirky little kink in the rear side windows might put a few people off, but it could be attractive to others. The quality of the cabin's materials is nice without being remarkable, although the silver carbon-fiber accent lowers the tone somewhat.
Take It to the Bank
The 2017 Infiniti Q60 starts at $39,855 for the poor-relation 2.0t version (which still gets sport front seats and 19-inch alloy wheels as standard). The top Red Sport 400 model is around $53,000. Despite the name, the Red Sport 400 can also come in other colors.
Infiniti has put a lot of effort, expertise, money and time into the Q60 so it can compete against excellent cars like the Audi A5, the BMW 4 Series and the Mercedes-Benz C-Class coupe -- which it's able to do. Given the tiny overall size of the premium compact-coupe market (especially when compared with crossover sales), this might seem like an overinvestment. But every brand needs a halo product or two to put the rest of the range in a more alluring light. The Q60 can do this as well.
For access to this information, Autotrader attended an event sponsored by the vehicle's manufacturer.