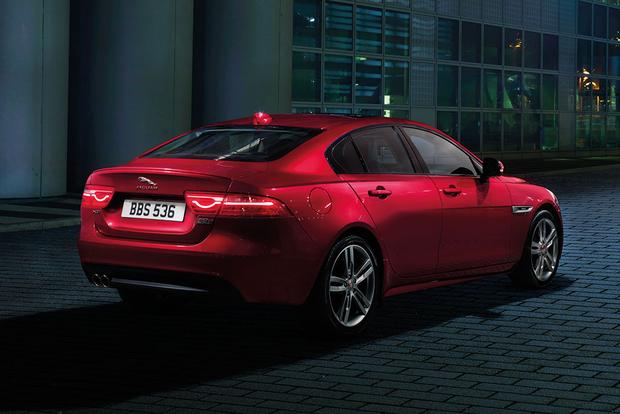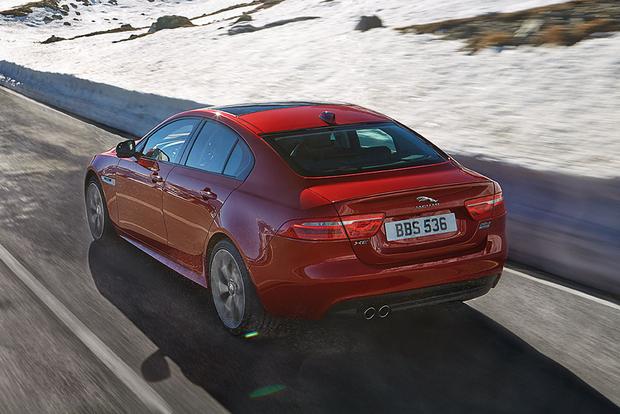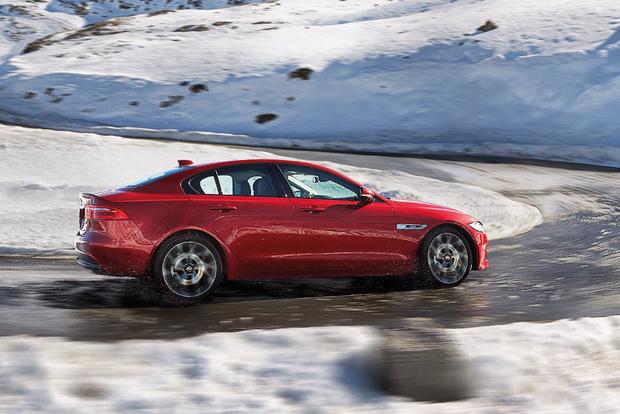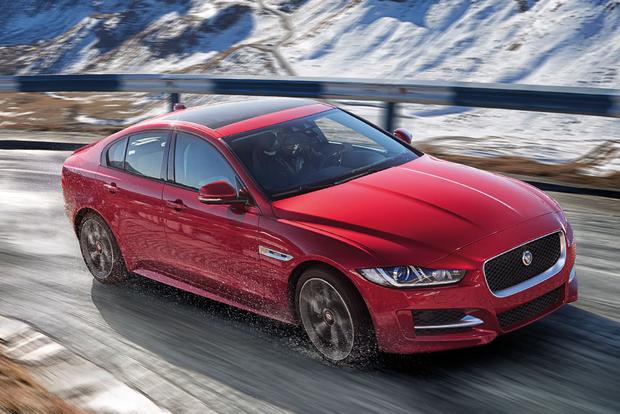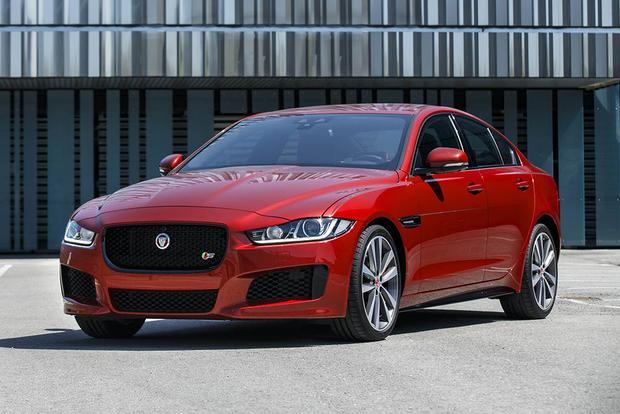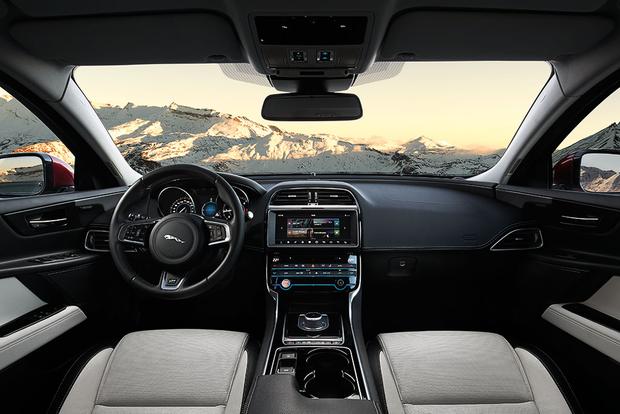 The 2017 Jaguar XE is the newest contender in the premium-compact-sedan class. The usual big players here are the Audi A4, the BMW 3 Series and the Mercedes-Benz C-Class, each one a big seller for their respective companies, so the XE has some of the toughest competition any newcomer is likely to face. It does have one major aspect in its favor, though, albeit a subjective one: This is the kind of car that will cause people to come up to you in the parking lot and ask you what it is. The XE seems able to find admirers wherever it goes.
Take away the badges, and the XE still looks like a Jaguar. There's something sinewy and agile about it even when it's standing still. Those short front overhangs not only help the stance and steering feel, they also convey the enthusiast side of the XE's rich character. The styling is all the more remarkable because there's a lot of aluminum in the body. This approach keeps weight at acceptable levels, but this metal is usually difficult to fashion into such flowing shapes. Fortunately, there's also a lot of substance to complement the style, as we will see.
What's New for 2017?
This is an all-new model, making its debut for the 2017 model year.
What We Like
Superb looks; energetic supercharged V6 engine; fabulous suspension
What We Don't
Disappointing interior design and materials; most advanced safety features only available with the top trim level
How Much?
$35,895-$47,495
Fuel Economy
The entry-level engine is a turbocharged 2.0-liter 4-cylinder making 240 horsepower and 251 lb-ft of torque. This goes in cars with a 25t badge, which offer rear-wheel drive only. The engine also has a stop/start function to save a little gas while waiting at the traffic lights. The Environmental Protection Agency (EPA) puts fuel consumption at 21 miles per gallon in the city, 30 mpg on the highway and 24 mpg combined.
Jaguar also offers a diesel alternative, denoted by the 20d badge. This has four cylinders, a turbocharger and 2.0 liters of displacement, and all-wheel drive becomes an option. Output is 180 hp and 318 lb-ft of torque. At the time of this writing, there are no EPA figures, but Jaguar is expecting something like 40 mpg on the highway.
At the top of the range is the 35t model with a 3.0-liter supercharged V6 (why Jaguar didn't call it the 30s remains a mystery). It develops 340 hp and 332 lb-ft of torque. Consumption is estimated at 21 mpg city/30 mpg hwy with rear-wheel drive and 20 mpg city/29 mpg hwy when all four wheels are connected up to the drivetrain.
Every XE has an 8-speed automatic transmission.
Standard Features & Options
The 2017 Jaguar XE comes in basic, Premium, Prestige and R-Sport trim levels.
The entry-level base trim ($35,895) comes with 17-inch alloy wheels, keyless entry/ignition, Normal/Eco/Dynamic driving modes, dual-zone automatic climate control, 8-way power adjustable front seats, rain-sensing wipers, a leather-trimmed steering wheel, an electronic parking brake, a self-dimming rearview mirror, an 8-in touchscreen, Bluetooth and a 6-speaker audio system with HD Radio, a USB port and an auxiliary audio input.
The Premium ($38,495) adds a rearview camera, self-dimming side mirrors with a power-folding function, memory settings for the driver's seat, rear seats that split and fold in 40/20/40 fashion and an upgraded 11-speaker audio system. It also includes 18-in wheels for 35t versions.
The Prestige ($42,395) brings leather upholstery, navigation, heated front seats and steering wheel, 4-way power lumbar adjustment and ambient cabin lighting. The 35t models also get 19-in alloy wheels.
The R-Sport ($47,495) is not available with the smaller gasoline engine, but it does bring trim-specific wheel designs: The XE 20d gets 18-in wheels, while the 35t has 19-in versions. Extra equipment includes a dedicated sportier suspension tune, sport seats up front, adaptive headlights, LED daytime running lights and a rear spoiler. This trim level is also eligible for advanced safety features such as forward-collision alert with autonomous braking and a self-parking function. However, it does come standard with a blind spot monitoring system and lane-keep assist.
Among the options are a power trunk lid, ventilated front seats, heated rear seats, a 10.2-in display, a Wi-Fi hot spot and a head-up display that uses laser light instead of LED, making it readable for drivers wearing polarized sunglasses. Prestige and R-Sport versions also come with the option of an adaptive suspension setup.
Trunk space measures 15.9 cu ft., which is above average for this class. Cleverly, the styling manages to disguise this generous caboose.
Safety
Naturally, all the mandatory safety features (airbags, anti-lock brakes, traction control) are present and correct. But not having a rearview camera as standard in the basic trim seems like unnecessary penny-pinching, and having to pay out for the top trim just to get the most advanced safety features (including traffic-sign recognition and a 360-degree camera system) as options feels like a similar misstep. Plenty of buyers looking at the Prestige trim would also be interested in those functions.
Neither the National Highway Traffic Safety Administration nor the Insurance Institute for Highway Safety (IIHS) have crash-tested the XE yet, but if and when the IIHS puts an R-Sport with all the extra safety equipment through its program, there's a good chance the car could emerge as a Top Safety Pick+ .
Behind the Wheel
There's a point, usually a few miles along the road, when the cozy, cockpitlike cabin starts to feel a little constricting. Admittedly, this is a compact sedan, but most of its rivals feel roomier. This could just be a matter of taste, because it also feels good to really sit in the driver's seat and have all vital controls a fingertip away. And there are no complaints about the comfort of the seats in the front or the back. Rear passenger space is adequate for an adult male of average size in regard to both headroom and legroom.
In the higher trim levels, the XE offers a more extensive range of driving modes that adjust the responses of various aspects of the drive, such as throttle response, suspension settings and steering feel. Select a sportier mode, and there's a pleasant weight to the steering that provides just enough information to the hands for the driver to tune in for greater involvement.
Another positive trait is the suspension, which achieves what in theory should be mutually exclusive goals -- it can be controlled, stable and sporty yet still not be overly firm. Somehow, that famed Jaguar suppleness shines through and makes the XE a joy to drive for any distance.
The 2.0-liter gasoline engine was not available for our test. It goes on sale after the other two come out and may prove to be the most popular choice. The diesel engine provides pleasant low-end push but soon runs out of muscle when the revs increase. On the plus side, it has the virtue of being quiet. But the V6 is where chassis and power align to form a much more satisfying combination.
The only real letdown is the quality of some plastics used in the cabin -- on the tops of the doors and the dash, for example. They're a bit hard and would be more appropriate in a mainstream car than a premium model from across the Atlantic. Jaguar has an enviable reputation for sophistication, but it's going to take a dent here.
Other Cars to Consider
2017 Audi A4 -- An all-new generation with up-to-the-minute technology and attractive interiors is now available. Its entry-level gasoline engine also comes with more power than the XE's.
2017 BMW 3 Series -- There's no doubt about it: The 3 Series is one of the best in the class. Sometimes it's good to get into a BMW to remind yourself of how a car should really drive.
2017 Cadillac ATS -- Anyone looking at alternatives to the German giants, as a potential Jaguar buyer would be, will find a lot to like about the ATS. It's a world-class contender.
2017 Lexus IS -- A midgeneration revamp is in the cards for the 2017 IS. Build quality is superb as ever, but power levels aren't as good as the competition.
2017 Mercedes-Benz C-Class -- Every C-Class has been popular, and this current generation only debuted just over a year ago. The tech is still fresh, and the underlying hardware is as good as it gets.
Used Audi A6 -- Bigger and plusher than an XE and attractive in its own way, the A6 packs plenty of power, capability and equipment.
Autotrader's Advice
There are so many excellent cars in this segment -- but if you're chasing the true Jaguar experience, it has to be a version with the supercharged V6 engine.