Car Comparison
2017 Jaguar XE vs. 2017 Mercedes-Benz C-Class: Which is Better?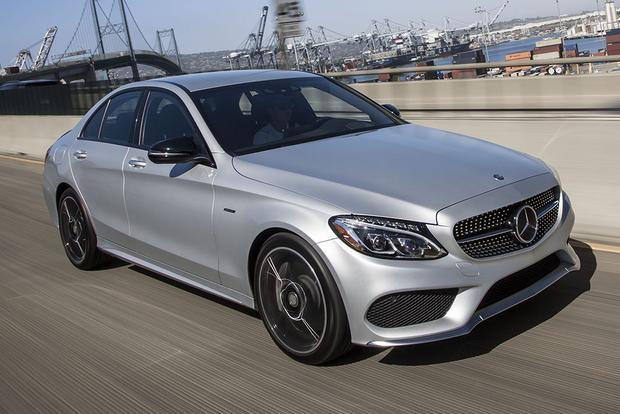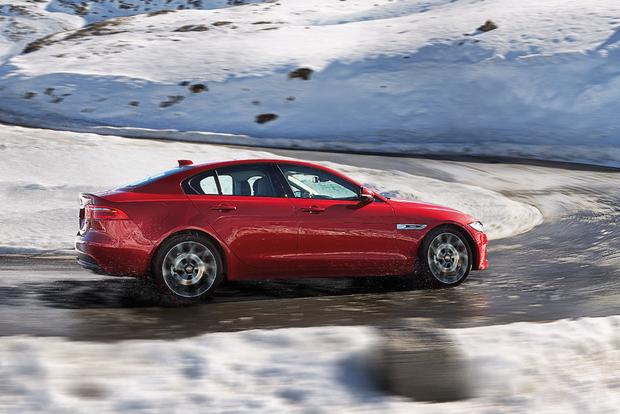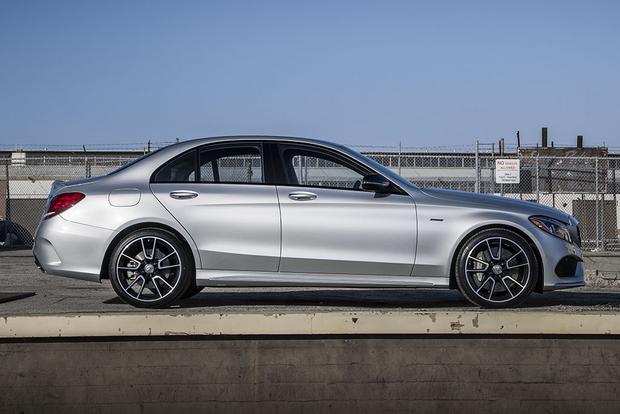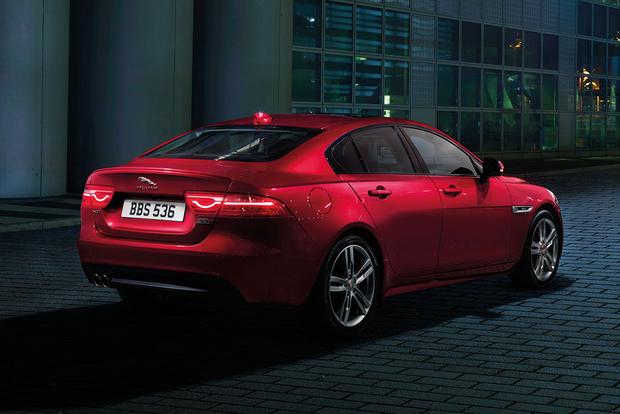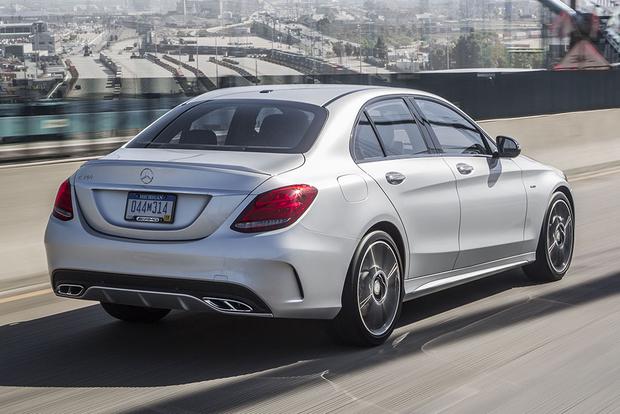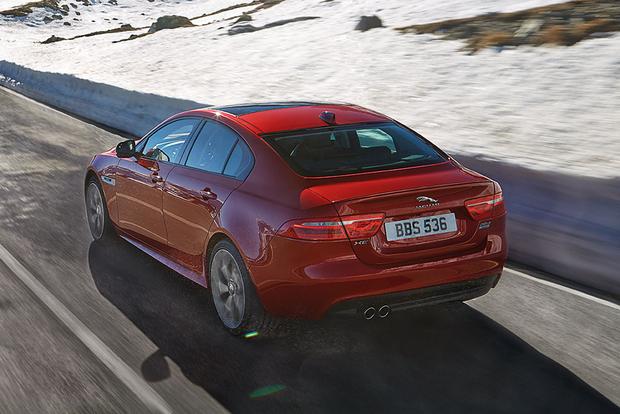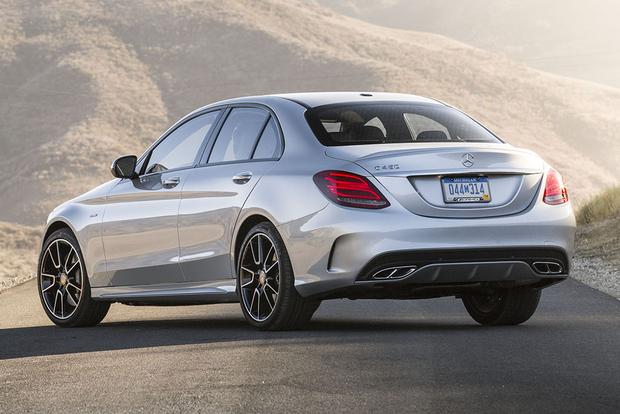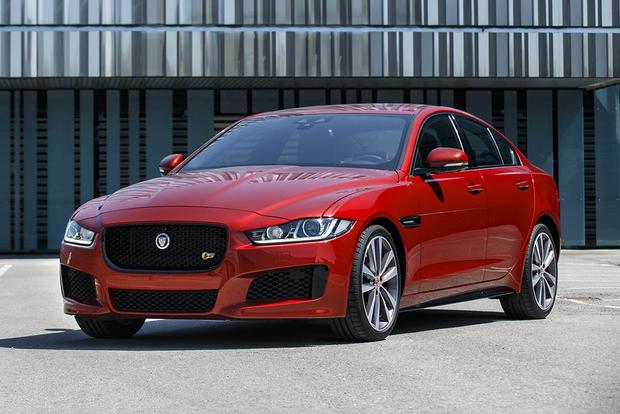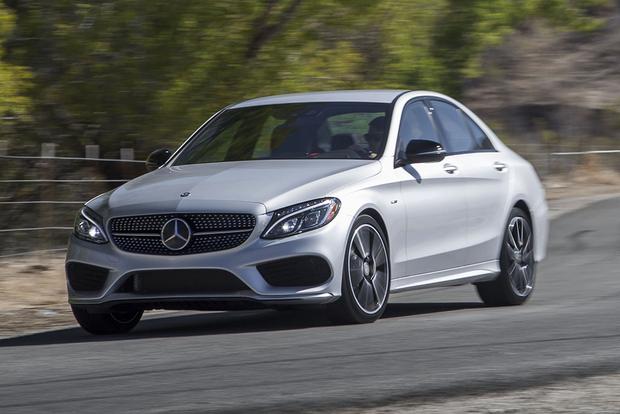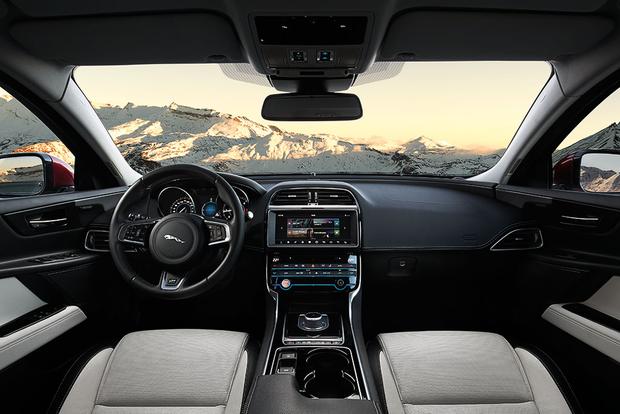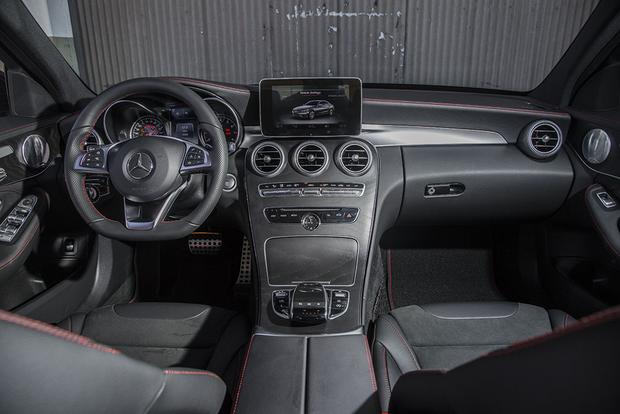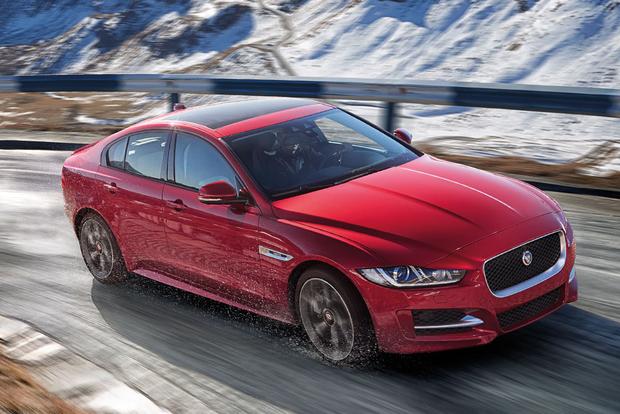 One is the new kid in town, the other is a familiar name with stunning new clothes. The 2017 Jaguar XE is an all-new entry-level luxury sedan, the long-awaited British answer to a segment dominated by German brands. Among those is the 2017 Mercedes-Benz C-Class, which enters its second year since being reinvigorated by a complete overhaul. The Jag XE is a very appealing luxury car, but does it offer enough to make you think twice? Let's take a look at both.
2017 Jaguar XE
The Jaguar XE is an all-new entry-level luxury sedan.
2017 Mercedes-Benz C-Class
After a complete redesign last year, 2017 sees only minor changes. A rearview camera is now standard and the C450 AMG model has been replaced by the AMG C43 that also boasts a new 9-speed transmission and revised power distribution in its all-wheel-drive system.
Reliability
The Jaguar XE is new, so there's no reliability data available. There's also very little reliability data available for Jaguar as a whole, but owner-satisfaction surveys indicate Jaguar customers are quite happy with their purchases. Jaguar also offers a class-best 5-year warranty. The current C-Class has thus far received few complaints from customers, and although there isn't really any reliability data as yet, the previous-generation model enjoyed pretty strong ratings.
Performance
The base Jaguar XE 25t has a 2.0-liter turbocharged 4-cylinder that produces 240 horsepower and 251 lb-ft of torque. This compares favorably to the base-model C-Class, the C300, which also has a 2.0-liter turbo four that produces 241 hp. Its 273 lb-ft of torque outdoes the XE's, which may make it feel a bit quicker. The XE weighs less than the C-Class, however, and its extra gear (8-speed automatic vs. 7-speed) may ultimately make it a smidge quicker.
From there, however, the two cars differ dramatically in terms of their upgraded engines. The Jaguar allows you to go one of two ways: eco or performance. The former is represented by the diesel-powered 20d model. It has 180 hp, a potent 318 lb-ft and superb fuel economy (see below). On the performance side, the XE 35t has a sweet, smooth supercharged V6 that produces 340 hp and 332 lb-ft of torque. It can reach zero to 60 mph in about 5 seconds, which is typical for a performance upgrade.
There will eventually be a plug-in hybrid C-Class available, but for now, its upgrades are a bit more performance-oriented than on the XE 35t, as the AMG C43 and C63 possess more go-fast enhancements than just the larger engines. The Jag really can't match either, especially the V8-powered C63 (at least not yet), but it does comes a bit closer to the C43 and its 3.0-liter turbocharged V6 that produces 362 hp and 384 lb-ft of torque.
Fuel Economy
If you're most interested in fuel economy, then the XE (at least for now) is the one to get. Its diesel-powered 20d model returns a superb 32 miles per gallon in the city, 42 mpg on the highway and 36 mpg in combined driving, according to the Environmental Protection Agency. Mercedes can't come close to that, and even when the plug-in hybrid arrives, it'll be considerably pricier than the 20d.
However, if you'd rather not deal with diesel, the C300 does have a fuel economy advantage. It returns an EPA-estimated 24 mpg city/34 mpg hwy/28 mpg combined, versus the Jag's 21 mpg city/30 mpg hwy/24 mpg combined. Interestingly, the far more powerful XE 35t actually achieves the same EPA fuel economy estimates as the 25t. As such, the XE is therefore at its most competitive as either the 20d or 35t.
The AMG C43 is, perhaps not surprisingly, the worst in the group, at 20 mpg city/28 mpg hwy.
Safety
The Jaguar XE comes with the usual array of standard safety equipment -- there's really nothing anything extra or special. You can, however, add accident-avoidance tech: driver-inattention, lane-departure, blind spot monitoring, rear cross-traffic and forward-collision alerts (plus automatic braking). Not every trim level can be equipped with these items, however.
As for the C-Class, few cars offer as many standard safety features. Beyond the features shared with the XE, the C300 includes side pelvic airbags, front knee airbags, a driver-inattention warning system, a forward-collision warning and automatic-braking system, and a cross-wind assist function. Options include a blind spot monitoring system, lane-keeping assist, an enhanced forward-collision auto-brake system, and a rear-end collision detection and protection system.
The XE has not yet been crash tested by a third party, but the C-Class received a 5-star government crash rating and was named a Top Safety Pick+ by the Insurance Institute for Highway Safety.
Interior Quality and Space
This is a stark contrast. The Mercedes-Benz C-Class has a stunning cabin, with excellent materials and a design that looks like it belongs in an even pricier car. There's also not a huge difference in quality between a base car and a well-optioned one, as even the standard MB-Tex simulated leather upholstery should fool your friends into thinking it's the real thing. Finally, adults should fit comfortably in the back seat regardless of who's sitting up front.
The Jaguar XE, on the other hand, has one of the weakest cabins in the segment. The materials are unremarkable and don't seem like a step up from the best non-luxury midsize sedans, while we experienced a few squeaks during our time with the test car. Now, the top-of-the-line R Sport does benefit from a few improved materials, but most XEs just don't provide the premium environment expected in this segment. Its back seat is also on the small side -- it'll be tough for someone to fit their legs behind a driver of above-average height.
Technology
Besides safety equipment, both cars are available with similar technology features. Their tech interfaces vary greatly, however. In the XE, you'll have a choice between two touchscreens. The InControl Pro upgrade is the one to get, as it has an especially wide 10.2-inch touchscreen, quick responses and processing time, and the ability to pinch and swipe as you would on a smartphone. Some audio controls are a bit convoluted, but it's generally easy to use. The base 8-in touchscreen (dubbed InControl) is also reasonably user friendly, but it's much slower and is touch-only.
Every C300 comes with the Comand interface, which consists of an 8-in display and a center-console knob controller. This system operates quickly, but it can be a bit confusing to use at times -- especially as you're getting to know it. This confusion may be compounded by the mostly redundant touchpad controller added with the Premium 3 package -- it can do everything that the remaining knob can do, but supplants clicks and turns with swiping motions. It also allows you to write letters and numbers for navigation destination inputs.
With either car, make sure to spend plenty of time at a dealership trying out the various infotainment controller options to see which makes most sense to you.
Driving Experience
Both of these cars are great to drive, but from a ride and handling perspective, the Jaguar XE is superior. You'll feel more of the road through its steering wheel, and its suspension does a better job of taking corners as well as soaking up bumps. The C300 can't quite match its handling, even with the sport-tuned suspension on its Sport model, which subsequently suffers from a firm ride. Both cars are offered with adaptive suspensions, which do much better jobs of providing a best-of-both-worlds scenarios with ride comfort and handling ability. We would recommend specifying them with either car.
Then again, if money is less of an issue, the AMG C43 is the clear driving-experience champion of this group. It's a serious performance sedan that exists on a plane above the C300 and every XE.
Value
The Jaguar XE has the cheaper base price -- $34,900 vs. $39,500 -- and you can get into the 340-hp 35t model for $41,700. As such, the XE offers excellent value if you're primarily looking for a powerful driver's car. However, the Mercedes includes more features and has a nicer interior, and although it should be consistently pricier when comparably equipped, we think many will consider the money well spent.
Autotrader's Advice
If you're looking for a sport sedan that's engaging to drive whether you're bombing along a back road or puttering to the corner store, the 2017 Jaguar XE is the car to get -- especially the 35t model. The diesel XE 20d should also appeal to fuel misers. However, the C300 is the more luxurious and well-rounded car, and it should ultimately appeal to a greater number of people.