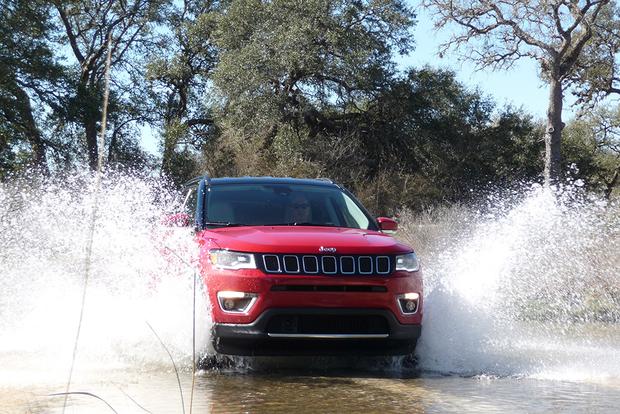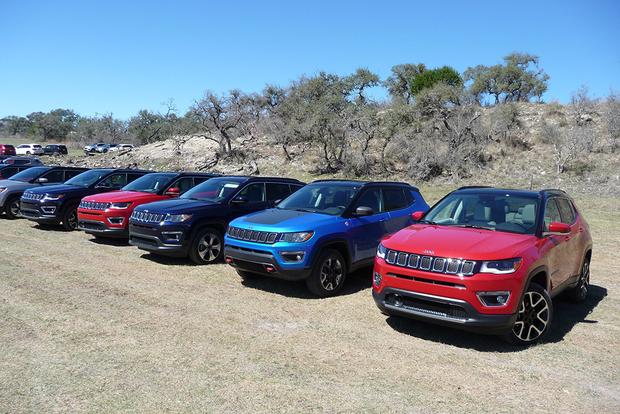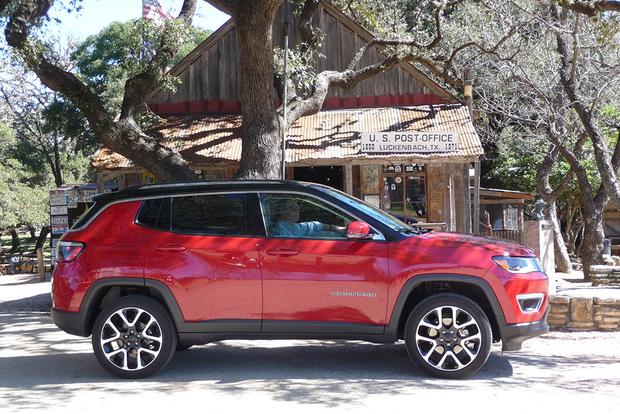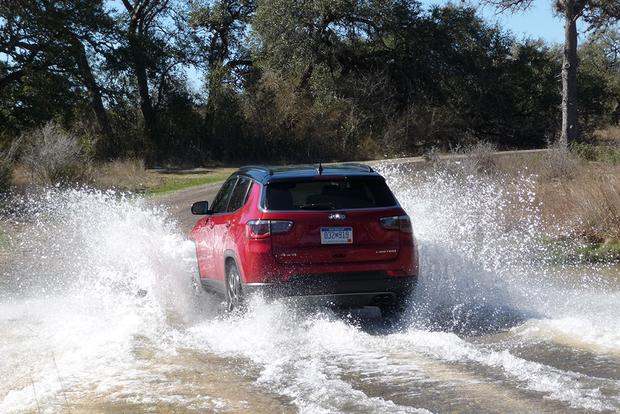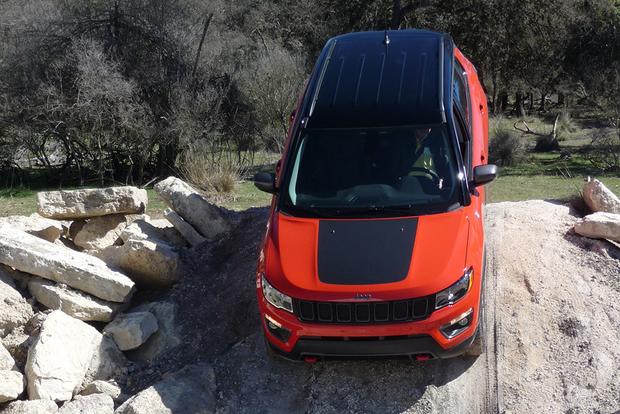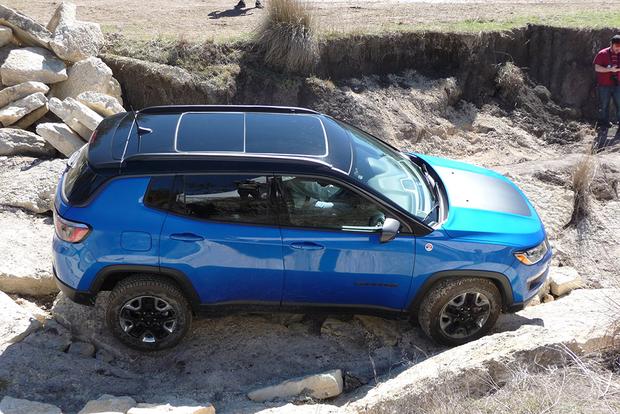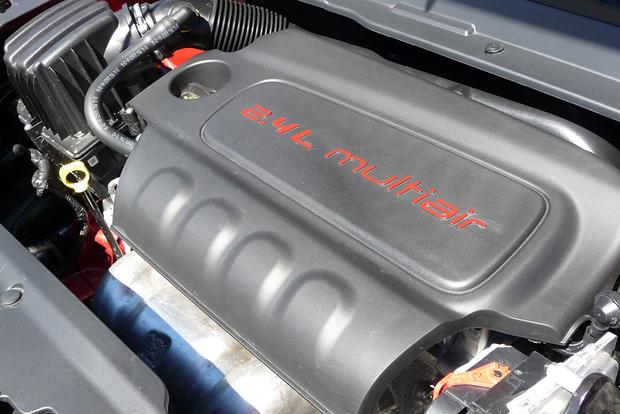 When Chrysler first decided to expand the Jeep lineup into front-wheel-drive (FWD) compact car-based territory a decade ago, many doubted the company could pull it off. "Come on," they said, "a FWD Jeep?" That first Jeep Compass didn't get any love from the Jeep faithful, but over time, it gained many buyers flocking from small sedans to small SUVs. But it became obvious with new competitors entering the cute-ute fray at a rapid pace, cheap and cheerful with a bit of Jeep design flair would only go so far.
The all-new 2017 Jeep Compass is based on the new Fiat Chrysler small wide 4x4 platform that also underpins the Renegade and Cherokee. Size-wise, the new Compass is nearly 6 inches longer than the Renegade and 9 inches shorter than Cherokee. The Compass also offers considerably more cargo space and rear-seat legroom than the Renegade, but because it's not as tall and upright as the smallest Jeep, the Compass offers less headroom. Four 6-footers -- five in a pinch -- can ride comfortably.
There are four models: base Sport, volume-selling Latitude, trail-rated Trailhawk and luxe Limited, with the Sport FWD model starting at $20,995 and the Limited all-wheel-drive (AWD) version listed at $28,995. No longer the cheapest Jeep in the lineup, the 2017 Compass now comes with more standard equipment, including push-button start, cruise control, a backup camera, keyless entry, an electric parking brake and a 5-inch touchscreen audio system with Bluetooth and voice commands on all models. Further elevating the Compass from its minimalist, hard-plastic past are new optional upgrades such as a 2-pane power sliding sunroof, a power lift gate, 19-in alloy wheels, rain-sensing wipers, heated front seats, a heated steering wheel, dual-zone automatic climate control and Uconnect 7-in and 8.5-in touchscreen infotainment with Android Auto and Apple Car Play connectivity. The 2017 Compass also gains parity with class competitors with modern safety technology, including seven airbags, as well as adaptive cruise control, a blind spot monitoring system, rear cross-traffic detection, lane-keep assist and forward-collision mitigation as options. And yes, you can turn off the steering-correcting part of the lane-keep assist if it becomes annoying.
Grand Cherokee Lite
Tasteful styling drapes the 2017 Compass with sheet metal emulating the top-of-the-heap Grand Cherokee, but the biggest boost comes via an upgraded cabin. Call it Grand Cherokee Lite. The interior of the Compass is a much nicer place to spend time now courtesy of better soundproofing, upgraded soft-touch materials, supportive contoured seats and a paucity of cheap-looking hard-plastic trim. The new Compass keeps the cool fold-flat front passenger seat that lets owners carry ladders, long 2x4s and such inside. And there's a new configurable multilevel cargo floor for managing different loads. But lost in the redesign is the former model's large open bin on the dash above the glove box and the cool, rechargeable headliner-mounted flashlight. The console is home to media and charge ports, but aside from the twin cupholders, there's minimal storage for small items, such as the key fob for the push-button start and other modern-day gadgets. Also, the front-seat head restraints are tipped forward, which is good for whiplash prevention but results in an ever-present, annoying chafing against the back of one's noggin.
Updated from the previous Compass is a port-injected 2.4-liter 4-cylinder, boosted 8 horsepower and 10 lb-ft of torque for 2017, although you'd be hard pressed to notice the difference. Low-end grunt with either the new Aisin 6-speed automatic (on FWD models) or ZF-designed 9-speed auto (on AWD versions) is decent thanks to wide-ratio gearing, but once underway, throttle response for passing or merging is only adequate. Although fairly quiet at idle and when cruising, the 2.4-liter was a tad raucous when pressed hard at higher revs. A sprint to 60 mph takes a bit over 9 seconds, which means the Compass will barely keep ahead of a Toyota Corolla. Standard with automatic transmission, Engine Stop Start shuts off the engine at stoplights to save fuel then automatically restarts the engine when the driver lifts a foot off the brake pedal. ESS was a little balky in the 9-speed automatic Limited 4x4 we drove, with a noticeable bump and lurch if you were too quick coming off the brake to the accelerator, and wide-open throttle shifts were not crisp. The Aisin 6-speed automatic in a FWD Latitude proved to be much better on both counts.. A 6-speed manual will also be sold, but none were available during this drive. Jeep claims these and other measures boost fuel economy: The AWD 2.4-liter automatic is rated at 22 miles per gallon in the city and 30 mpg on the highway, up 2 to 5 mpg over a similar 2016 model. We saw an observed 25 mpg in mixed driving of an AWD automatic Compass over city, country and interstate roads in Texas Hill Country.
Compared to the outgoing model, the 2017 Compass offers improved on-road ride and handling and unmatched (for this price and size class) off-road moxie. New Koni frequency-selective shocks do a credible job tamping down high-speed chop over rough road surfaces. Most Compass models just have a tire-repair kit under the cargo floor, so you might want to check the box for an optional compact spare. Steering is quick and precise with a light effort but lacks feedback. Brakes are improved, too, switching from the previous fade-prone front-disc/rear-drum setup to 4-wheel discs. Overall, the Compass feels tight, with a quiet, rattle-free, squeak-free structure. This is true even when traversing uneven off-road terrain.
All-Terrain Mastery
There are two AWD systems: Jeep Active Drive and Active Drive Low, both offering automatic on-demand all for low traction or performance driving without driver intervention. Using the console-mounted Selec-Terrain knob, the driver can choose between Auto, Sand, Mud or Snow settings that customize front-to-rear AWD torque splits, stability and traction control, throttle response, transmission shifts and anti-lock brake settings. The $28,595 Trailhawk adds another inch of ground clearance, improved approach and departure angles, skid plates, all-terrain tires, hill-descent control, low range for a maximum 20:1 crawl ratio and a Rock setting for really slow going over steep terrain.
The compact-utility segment has grown tremendously in recent times, but none of the competitors can top Jeep's AWD legacy or hardware. Ten years, two owners and one bankruptcy after the first one, Jeep finally as an all-new, road-to-roof Compass in showrooms. Even if you never plan on putting a wheel off-pavement, the Compass is compact enough to work well as an urban SUV. No longer is it the cheapest item on the menu, but it's still a good value. The 2017 Jeep Compass is worth taking a look at.
To gain access to this information, Autotrader attended an event sponsored by the vehicle's manufacturer.