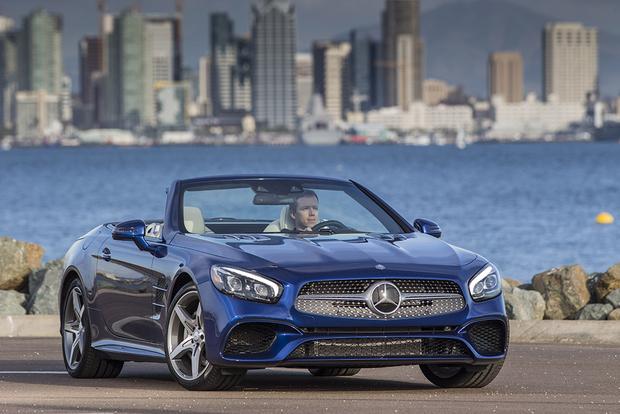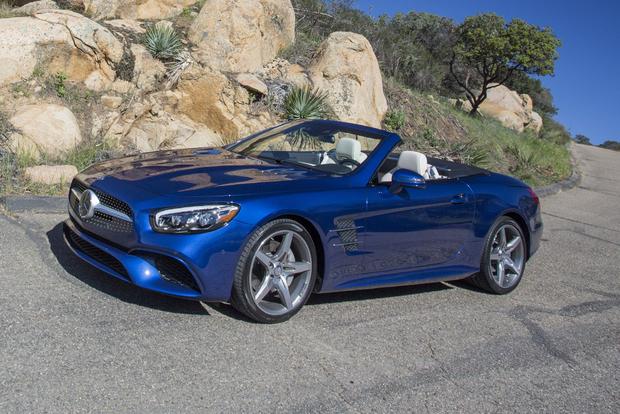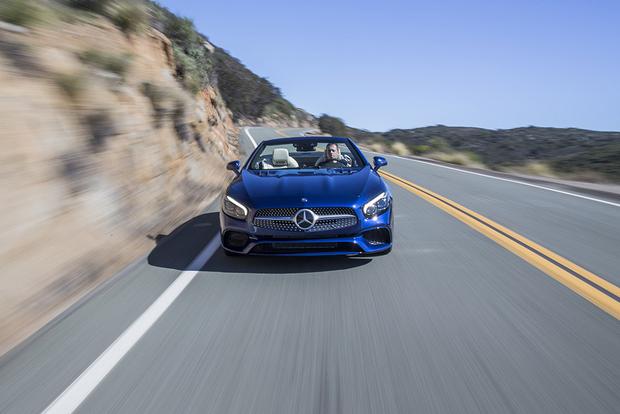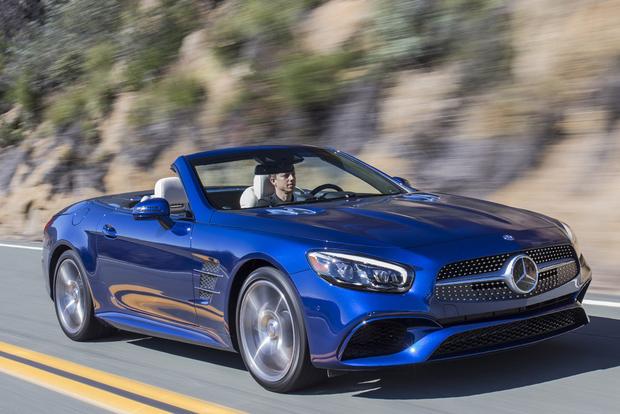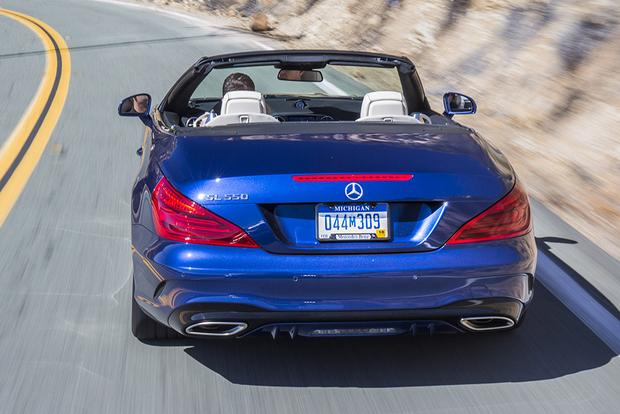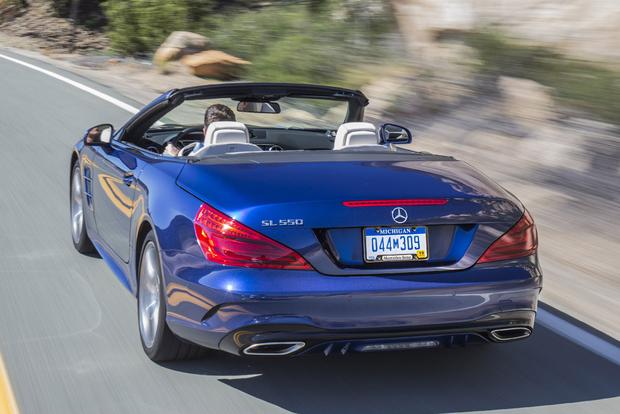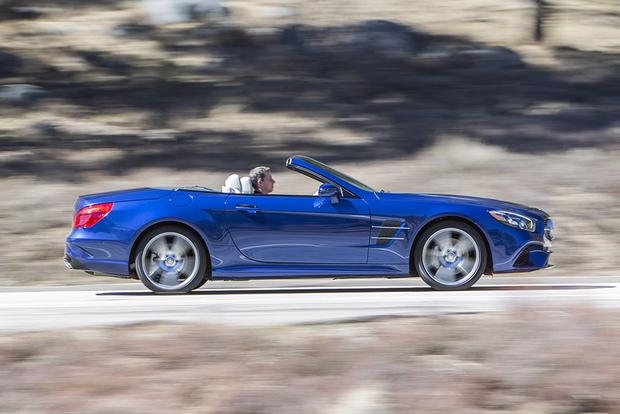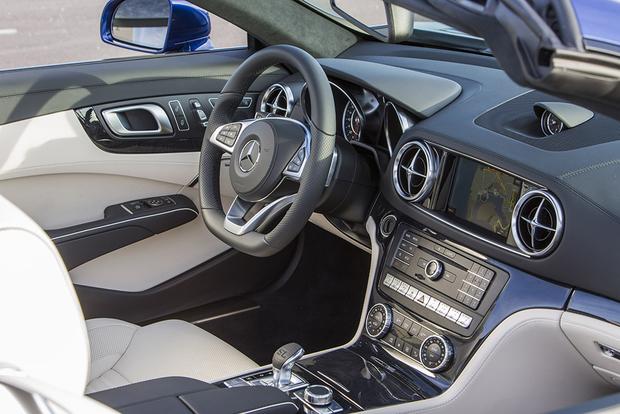 The 2017 Mercedes-Benz SL-Class is so much more than merely a car. It's a statement, a reward for hard work, a prized possession, an automotive icon, and the latest in a long and illustrious line of fabulous roadsters. Earlier versions might be considered prettier, but none have been so crammed full of technology, luxurious details and fine materials.

It isn't just the visual and tactile senses that are stimulated. The SL features an audio system designed especially for open-top cars. It places a subwoofer on the other side of the passenger footwell so bass lines aren't lost to the boom of the road. And the other speakers are located so high frequencies retain their sheen against the whistle of the wind. It's worth going for a drive just to hear music through a quality system instead of the usual tinny computer speakers at home.

Attack a corner with some speed and the optional active side bolsters hold occupants in place: Go right and the left side inflates; go left and the right side inflates. The SL offers a suspension feature called Active Body Control (ABC), but the side bolsters are active human body control. If ever an overall driving experience could be described as "gorgeous," the SL achieves it.

By offering a rich list of standard features, an impressive array of turbocharged engines that combine power with efficiency, and a power-folding hard top to keep out the elements, the SL stays true to its traditional strengths of speed and comfort while also offering satisfying dynamics when pressed.
What's New for 2017?
It's midgeneration-refresh time, with revisions to the styling that bring the SL more into harmony with rest of the current Mercedes-Benz portfolio. This is mainly a positive thing, since the SL has looked somewhat awkward these past few years. The instrument dials have also been redesigned.

The SL450 replaces the SL400 to become the new "entry-level" model. The SL450 and SL550 are fitted with new 9-speed automatic transmissions.

The whole range receives LED lighting as standard, including the cabin, which gets three hues. The list of standard equipment expands to include keyless entry and ignition, hands-free trunk operation, Parking Pilot, automatic emergency braking, two USB slots, Apple CarPlay and Android Auto, plus an automatic trunk separator (no more stopping the car and getting out to fix the separator into place before operating the folding roof).
What We Like
Bulletproof construction with a seemingly endless list of luxury features; satisfying performance across the lineup; unbeatable heritage and cachet
What We Don't
Not even the AMG versions can provide the sharpness a real driver's machine should have; rearview camera should be standard in the lowest trim level
How Much?
$90,875 to $220,775
Fuel Economy
Non-AMG SL models employ a 9-speed automatic transmission. The AMG cars have a 7-speed automatic transmission with faster shifts. All engines have a stop/start fuel-saving function, and all versions use rear-wheel drive.

The 2017 SL range starts with the SL450 and its twin-turbocharged 3.0-liter V6 making 362 horsepower and 369 lb-ft of torque. According to the Environmental Protection Agency (EPA), it should return 20 miles per gallon in the city, 28 mpg on the highway and 23 mpg in combined driving.

The SL550 has a twin-turbocharged 4.7-liter V8 making 449 hp and 516 lb-ft of torque. Fuel consumption is estimated at 17 mpg city/25 mpg hwy/20 mpg combined.

The AMG SL63 features a twin-turbocharged 5.5-liter V8 that develops 577 hp and 664 lb-ft of torque. Fuel economy is close to the SL550's figures: 16 mpg city/25 mpg hwy/19 mpg combined.

At the top of the range is the AMG SL65, with a massive twin-turbocharged 6.0-liter V12 generating 621 hp and 738 lb-ft of torque. It achieves 13 mpg city/22 mpg hwy/16 mpg combined.
Standard Features & Options
The 2017 Mercedes-Benz SL-Class is available in SL450, SL550, AMG SL63 and AMG SL65 versions.

The SL450 ($90,875) includes 18-inch alloy wheels, adaptive LED headlamps, fog lamps, LED running lights and taillights, adaptive suspension dampers, a power hardtop with a panoramic glass roof and power wind deflector, keyless entry/ignition, hands-free trunk operation, forward-collision mitigation, an automated parallel/perpendicular parking function, leather upholstery (sun-reflecting), a power-adjustable tilt-telescopic steering wheel, 12-way power heated seats with memory, plus a Comand infotainment system with navigation, twin USB ports, Bluetooth, HD Radio, satellite radio and a Harman Kardon 600-watt/11-speaker audio system.

The SL550 ($111,725) brings the 4.7-liter V8, 19-in alloys, ventilated/massaging seats with active bolstering, Airscarf (vents in the seats at neck level emitting warm air) and a rearview camera.

The AMG SL63 ($152,275) involves the 5.5-liter V8 along with styling, handling and interior upgrades appropriate to its AMG status. Highlights include 19-in wheels, special dampers with active roll resistance (known as Active Body Control, or ABC), big brakes, a sport exhaust, a limited-slip differential and performance telemetry.

Before we get to the bells-and-whistles model, we should point out these other three versions may also be specced with a Driver Assistance package. This entails advanced safety features like adaptive cruise control, steering assistance, active lane keeping and active blind spot monitoring.

Also on the options list are Magic Sky Control (turning the glass roof panel from transparent to opaque at the touch of a button), power-closing doors, a Bang & Olufsen 12-speaker audio system, infrared night vision and an enhanced infotainment display with a driver/passenger split view. And there are various special paint finishes and choices of leather upholstery. An SL can be personalized to a high degree if one is willing to splash out.

The AMG SL65 ($220,775) features the only V12 in the lineup, 20-in rear wheels to go with the 19-in wheels up front, and the majority of those extras previously listed.

Options for the AMG models include carbon-fiber trim (exterior and interior), black chrome trim and carbon-ceramic brake discs.

The trunk is pretty roomy by roadster standards, measuring 10.2 cu ft. with the top up. Folding the top reduces that to 7.2 cu ft. There's also some stowage space behind the seats.
Safety
Along with front, side and knee airbags, there's a pop-up roll bar, a driver-drowsiness monitor and the company's precollision system (which tightens seat belts and primes the brakes).
Behind the Wheel
Construction is so robust there's hardly a hint of body flex when driving over rough surfaces; the SL feels as rigid as a fixed-roof coupe. Acceleration is rapid yet refined. Even the V6-powered SL440 zips from zero to 60 mph in just 4.9 seconds. The SL550 needs only 4.3 seconds; the AMG SL63 and AMG SL65 require 4.0 and 3.9 seconds, respectively.
Thanks to wide tires and ingenious suspension engineering, handling is virtually foolproof. However, this isn't a car that tempts you to push the limits. SL roadsters have always been about brisk-yet-composed progress as opposed to true sports-car action. That holds true for the current model. Although the optional ABC suspension gives the impression of invincibility with its eerily flat cornering, the truth is the SL remains more boulevard cruiser than canyon carver. Keep that in mind and you'll probably be pleasantly surprised by its athleticism through the bends.
Other Cars to Consider
2017 Aston Martin Vantage -- Comes as a coupe or soft-top convertible with a choice of V8 and V12 engines. And it's drop-dead gorgeous (arguably).

2017 BMW 6 Series Convertible -- Features four seats and a vinyl roof rather than a hard top, but it's comparable with the SL in terms of power, technology and driving experience.

2017 Jaguar F-TYPE Convertible -- Smaller, stiffer and louder than the SL-Class. That might be a good thing.

2017 Porsche 911 Cabriolet -- This 911 has a soft top just like the BMW and Jaguar, yet is also part of an iconic model range.

Used Bentley Continental GTC -- A lightly used Bentley drop-top may be acquired for the price of a brand-new SL. Just make sure it comes with a warranty.
Autotrader's Advice
No one really needs advice on which version to buy. This car is about desire rather than need. Assuming you can afford the SL450, you can probably stretch to the SL550. In which case, go for it. In any event, the SL is one of the finest automobiles on the planet, a virtually flawless luxury convertible.