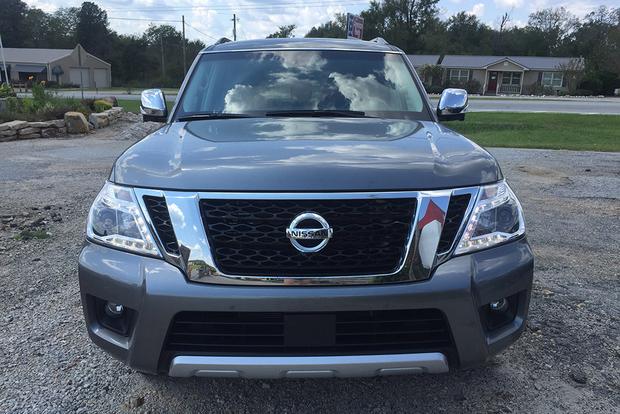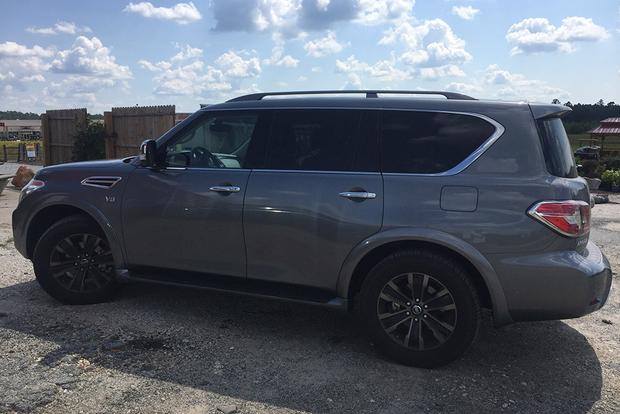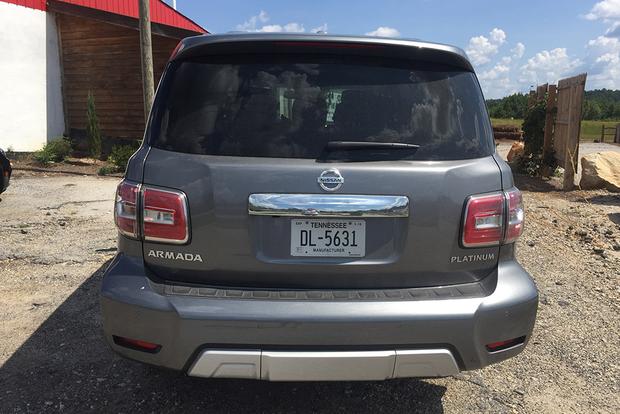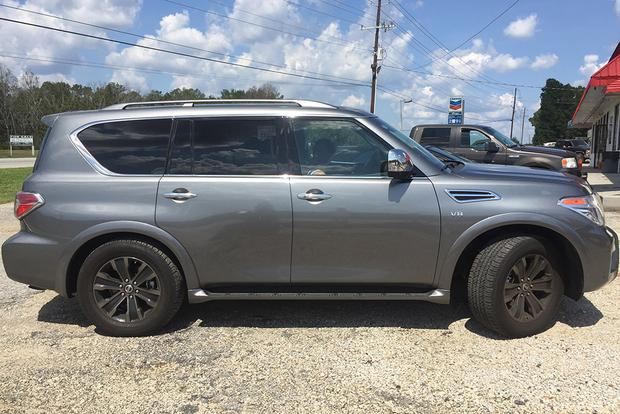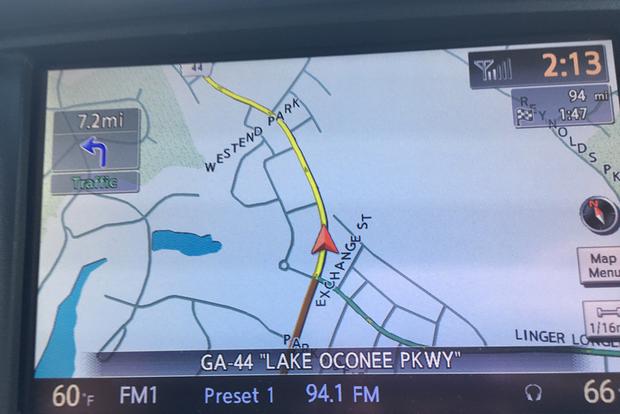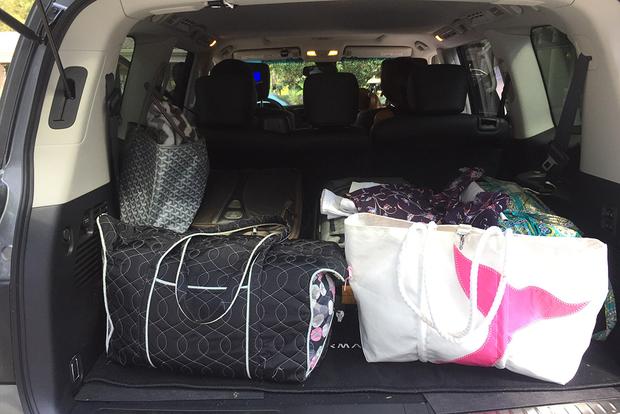 After several months of heavy-duty working mom usage by our managing editor, Tara Trompeter, the 2017 Nissan Armada has finally found its way back to me, and it's honestly great to have it as a daily driver again. Despite having experienced a varied tour of duty, including road trips, daily errands and a healthy sprinkling of Goldfish and Cheerios crumbs, our recently washed Armada is no worse for the wear whatsoever. In fact, I tend to feel it wears its modest patina of real-life seasoning quite well, like a veteran pilot's flight jacket or your favorite sweatshirt that seems to get more authentic with each trip through the washer. And let's be honest, there's a reason it made our 2017 Must Test Drive list, and being behind the wheel makes me remember all of the warm and fuzzy feelings the huge Nissan engendered while tooling around in midsize sedans and compact cars. Still, the sheer heft of the Armada and its brawny V8 create one downside that I may have forgotten: limited range and wallet-crushing MPG.
The Price of Power
In the two weeks I've been back behind the wheel of the Armada, I've filled up three times and have yet to break 300 miles on one tank of gas. This could be for several reasons: the consistently thick traffic, living in a suburb chock-full of awkwardly timed stop lights or my heavy foot on the accelerator pedal. So far, the closest I've come to the 300-mile mark was a recent trip registering just over 282 miles on a 20.87-gallon tank of gas. Given the large capacity of the Nissan's gas tank, fill-ups at the gas station in metro Atlanta are just about $50.00 each time, which can add up quickly, especially when you live someplace where even short errands are a 20-mile round trip, and your behemoth of a people carrier is averaging 13.9 MPG. Still, fuel economy like this tends to come with the territory of full-size SUVs, and, while it's lower than the manufacturer-stated combined estimate, it is still not out of the realm of reason.
Stow Away
Aside from the fuel economy, I'm really enjoying the capabilities of the Armada. With each trip behind the wheel, I recall how nimble it is, despite having the appearance of a no-nonsense paramilitary off-roader that may or may not have a flight deck as an available option. The amount of storage capacity has been extremely useful, and has allowed me to fully remove all of the empty cardboard stowed in my garage from over a year's worth of soft drink packaging and questionable Amazon purchases. Our 2017 Nissan Armada's next mission is to see how well it ferries canine companions in lieu of inanimate objects. We will see how it fares, but I've got a hunch it's going to do just fine. Stay tuned.