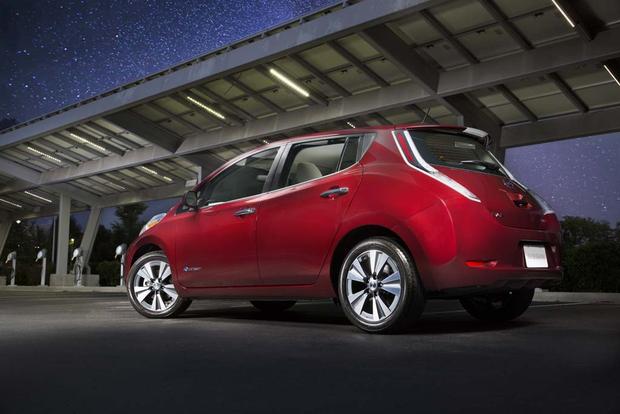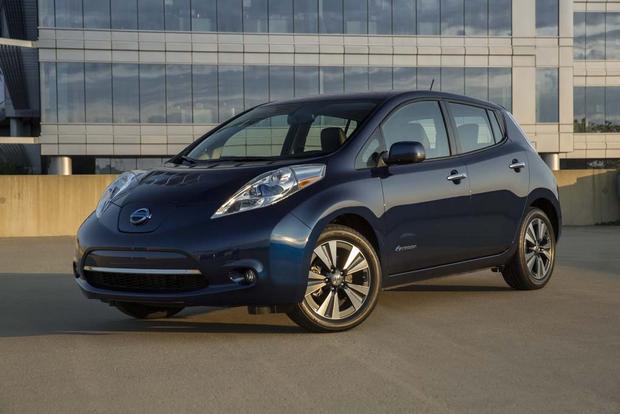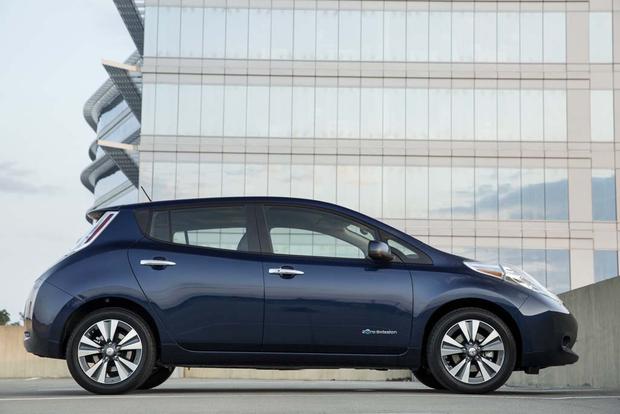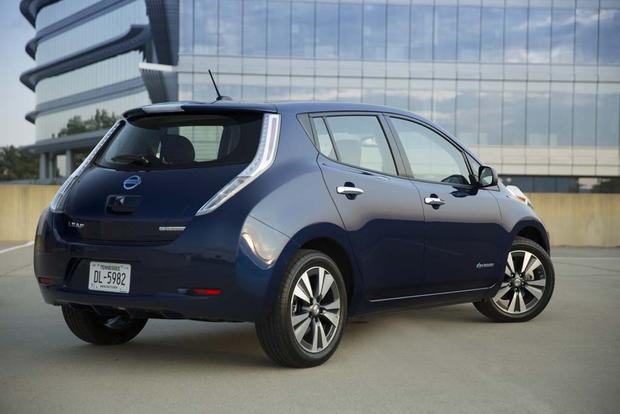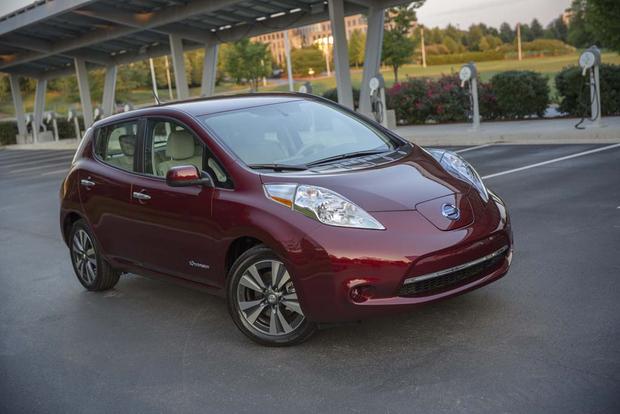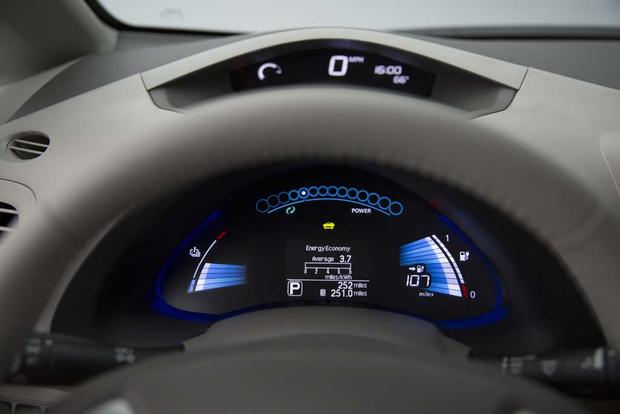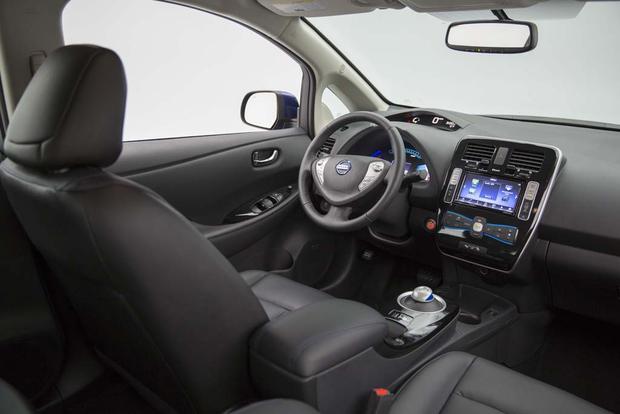 Not only is the Nissan Leaf the best selling electric car in the country, it's also the best-selling electric car in the world. Although there's growing competition from electrics like the Kia Soul EV, the Volkswagen e-Golf and the Ford Focus EV, the 2017 Nissan Leaf offers a combination of affordable price, improved range and unique styling that seems to be keeping it on the radar of those looking to get away from fossil-fuel-powered vehicles. This year, however, the Nissan EV will face its most formidable adversary yet: the 238-mile range Chevrolet Bolt.
An available 6.6-kilowatt onboard charger lets the Leaf recharge in half the time the original 2011 model took, and a new, larger battery gives the Leaf its longest range yet. The Leaf's 30 kW-hour battery can be quick charged to 80 percent in about 30 minutes, and while its 107-mile range beats cars like the Kia Soul EV, it pales when compared to the new Chevy Bolt.
What's New for 2017?
For 2017, every Leaf trim level gets a 30 kWh lithium-ion battery pack for a total range of 107 miles.
What We Like
Never uses a drop of gas; longest range to date; available luxury equipment; drives like a normal car
What We Don't
Polarizing styling; long-term reliability is uncertain; performance may leave something to be desired
How Much?
$31,545-$39,500
Fuel Economy
All Nissan Leaf models have front-wheel drive. Regardless of trim level, the Leaf is rated at 107 horsepower and uses a single-speed automatic transmission. Because the Leaf uses an electric motor, its full 187 lb-ft of torque is available at any speed.
The Leaf trades performance for efficiency. Officially rated at 124 miles per gallon equivalent in the city and 101 MPGe on the highway, the Leaf never actually uses any fuel. Instead, it offers a fully electric range of up to 107 miles, though the number can substantially vary based on driving style. In the city, the Leaf is far more efficient thanks to its regenerative braking, which transfers energy back to the batteries as the Leaf slows down.
Standard Features & Options
Nissan offers the Leaf in three trim levels: S, SV and SL.
The Leaf S ($31,545) includes Nissan's Intelligent Key system, which allows drivers to open the doors and start the car without removing the key from a pocket or purse. Bluetooth, split-folding rear seats, a rear backup camera, NissanConnect with mobile apps on a 5-in color display, Bluetooth streaming audio, hands-free texting and a USB/iPod port area also standard, as are power windows, power locks, power mirrors, 16-in steel wheels with full covers, automatic temperature control, a rear defroster, steering-wheel-mounted controls for cruise and audio, heated front seats and a vehicle security system. Optional on the Leaf S and standard on the other trim levels is the 6.6-kW charger that speeds up charge times.
The Leaf SV ($35,065) adds 17-in alloy wheels, Nissan Connect with navigation and a 7-in color touchscreen, the 6.6-kW charger and NissanConnect EV, which allows drivers to use a smartphone to check their battery charge remotely or even activate the Leaf's climate-control system. SV models also add a 220-volt quick-charge port, heated side mirrors, HD Radio, heated steering wheel and a hybrid heater (heat pump). Seats are upgraded to a Bio Suede PET seat fabric. Options for the SV include the Premium package that brings the Around View Monitor and a Bose audio system.
The Leaf SL ($37,655) includes leather seats, heated rear seats, a solar-panel spoiler, automatic LED headlights and fog lights. Options for the SL include the Premium package previously mentioned.
Nissan also offers a number of port- and dealer-installed options, such as the Eco Design, Protection and Recycling/Organizational packages.
Safety
All 2017 Nissan Leaf models include dual front airbags, front-side airbags and side-curtain airbags. The Leaf also has standard anti-lock brakes, traction control, stability control and a tire-pressure monitor.
The Leaf has performed well in previous government tests. The hatchback earned an overall 5-star rating in National Highway Traffic Safety Administration crash tests, which measure front-impact, side-impact and rollover protection. The Leaf also received the good marks from the Insurance Institute for Highway Safety in all but the small-overlap front crash test, in which the Nissan received a Poor mark.
Behind the Wheel
For all the new technology in the Leaf, it certainly operates like a normal car. That's high praise for Nissan, since the Leaf isn't meant to confuse drivers with gadgetry and high-tech equipment. While it can be a little slow, highway merging is acceptable, as is passing. The seats are comfortable, and the driving position is good. Visibility is great, especially with the redesigned rear headrests. The ride is supple, and while steering is light, it provides adequate feedback to the driver. The only major difference between the Leaf and a gas-powered car comes during acceleration, when the Leaf doesn't make a sound.
Despite the Leaf's small appearance, interior room is ample, both in the front and back. Yes, the rear seats can be slightly cramped, but they're far better than back seats in many similarly sized compact cars. Unfortunately, the Leaf's large interior doesn't include its cargo area. While it's not small, the Leaf's rear space certainly concedes some room to the car's batteries.
Other Cars to Consider
2017 Ford Focus EV -- Based on the Ford Focus hatchback, the Focus Electric has a range similar to the Leaf and a slightly lower base price at $30,000.
2017 Kia Soul EV -- The Soul EV offers more features in a more attractive package, but its overall range isn't as great as the Leaf's.
2017 Chevrolet Bolt EV -- The Bolt costs a lot more than the Leaf, but it's larger inside, faster from 0 to 60 mph and has a cruising range double that of the Nissan.
Used Toyota Prius Plug-In Hybrid -- A 2012-2015 Prius Plug-in Hybrid operates much like the Volt. A used model should cost about the same or less than a Leaf. The Prius Plug-In Hybrid offers more room and, thanks to its gasoline engine, more range.
Autotrader's Advice
Before drivers consider a Leaf, they should decide whether it fits their lifestyle. Many car owners need to travel more than 100 miles at a time, and others don't have access to a charging station. Some will want more performance, too. If the Leaf fits your needs, it's hard to ignore the major savings that come from driving a car that doesn't require fuel. This is especially true with the Leaf's low lease rates and available federal tax credits. For drivers who do choose a Leaf, we recommend a midlevel SV model -- it has all the features you'll need right around $35,000.