Editor's note: You may want to read more of Autotrader's model vs. model comparison car reviews as well as the 2017 Nissan Rogue Sport review, the 2017 Nissan Rogue Sport vs. 2017 Nissan Rogue comparison review and the 2017 Honda HR-V review.
The number of small "subcompact" crossover SUVs has exploded in recent years as models like the 2017 Honda HR-V cater to those who want the added versatility, seating height and all-wheel drive of an SUV at a lower price and/or in a smaller, more manageable size. The 2017 Nissan Rogue Sport is a new member of that segment, but it's also bigger than the pack, in many ways bridging the gap between subcompacts and compacts. Let's take a look at both the HR-V and Rogue Sport to see which might be better for you.
2017 Nissan Rogue Sport
The Rogue Sport is officially a new model for 2017, but it's been on sale in other markets for several years now, where it's known as the Qashqai. It's also mechanically similar to the regular Nissan Rogue and shares the same interior design and many features. See all 2017 Nissan Rogue Sport models available near you
2017 Honda HR-V
The HR-V is unchanged for 2017. It was all-new last year. See all 2017 Honda HR-V models available near you
Reliability
As the HR-V is so new, there isn't much data available to fairly judge its reliability. So far so good, however, judging by various ratings — and Honda's reputation is certainly exemplary. Nissan's is less so, and although the Rogue Sport is new to the market, with no reliability data to speak of, the mechanically related Rogue has had its fair share of customer complaints.
Fuel Economy
The Honda HR-V comes with a 1.8-liter 4-cylinder engine that produces 141 horsepower and 127 lb-ft of torque. That's not a lot and, unsurprisingly, the HR-V is one of the slowest vehicles in its segment and, indeed, on the road. The continuously variable automatic transmission (CVT) available on all trims doesn't really help acceleration (and makes unflattering noises, too), but it does contribute to the HR-V's excellent fuel economy. A front-wheel-drive (FWD) HR-V returns 28 miles per gallon in the city, 34 mpg on the highway and 31 mpg in combined driving. It gets 27 mpg city/31 mpg hwy/29 mpg combined with all-wheel drive (AWD). A manual transmission is standard with front-wheel-drive, and its fuel economy is 25 mpg city/33 mpg hwy/28 mpg combined.
The Rogue Sport has a 2.0-liter 4-cylinder engine that also makes 141 hp, but its 147 lb-ft of torque represents a significant difference from the HR-V, and it feels considerably stronger as a result. Quick it isn't, but there's a responsiveness to the Rogue Sport you never get with the Honda. Its own standard CVT doesn't draw as much attention to itself as the HR-V's. The Rogue Sport returns 26 mpg city/33 mpg hwy/29 mpg combined with FWD and 24 mpg city/30 mpg hwy/27 mpg combined with AWD.
The difference in estimated annual fuel costs between the HR-V and Rogue Sport is between $100 and $150, according to the Environmental Protection Agency.
Safety
The Rogue Sport can be equipped with blind spot monitoring and rear cross-traffic warning systems, but only within the Premium package offered on the range-topping SL trim. Its Platinum package is also the only way to get a forward-collision warning system with automatic braking and pedestrian detection, as well as lane-keeping assistance. Many cars now make this type of equipment more broadly available across the trim lineup.
However, the HR-V doesn't offer any of it — surprising given most other Hondas do make such advanced safety tech widely available. The EX trim does include Honda's LaneWatch blind spot monitoring camera, but its usefulness is debatable, especially compared to a full blind spot monitoring system or even simple blind spot mirrors. Honda doesn't even offer it on recently redesigned models.
The HR-V received 5-star overall and side crash ratings from the government, along with a 4-star frontal rating. The Rogue Sport has yet to be tested by the government, but the nonprofit Insurance Institute for Highway Safety gave it the best possible rating of Good in its small-overlap, moderate-overlap and side crash tests. That's better than the HR-V, which got second-best Acceptable ratings in the small-overlap and side crash tests. It got a Good in the moderate-overlap test, as well as in the roof strength and head restraint tests, which the Rogue Sport has yet to be subjected to. The HR-V got a Poor rating for its headlights.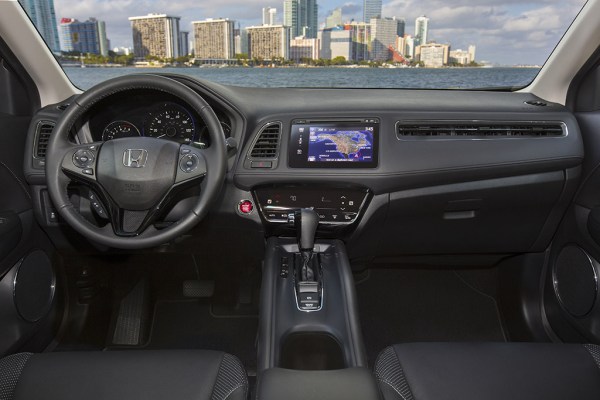 Interior Space and Comfort
The HR-V is a smaller vehicle than the Rogue Sport on the outside, but it actually has more cargo space. Credit its "Magic Seat," which folds completely flat and extremely low into the cargo floor. The back seat bottom also flips up to provide additional versatility. The Rogue Sport's maximum cargo capacity is actually pretty similar (53.3 cu ft. versus 55.9), and indeed much better than that of every other "subcompact" crossover SUV. With the back seats raised, both cargo areas are usefully wide and deep. The Rogue Sport also offers a handy cargo divider for groceries and a removable floor panel that frees up some extra space for bulkier items.
Now, if you look at specs, you'll see the HR-V has considerably more legroom than the Rogue Sport — 39.3 inches versus 33.4. While it's true the Rogue Sport is far from what anyone would call "spacious," its shoulder- and headroom are quite good for the class, and the HR-V cheats in a way by having a front seat that doesn't move far enough rearward. So those in the back should be comfortable, but even drivers of average height have reported having insufficient space and under-thigh support in the HR-V. If you're tall, forget it. There are a number of customer complaints related to front-seat comfort as well. The Rogue Sport is much comfier, especially when equipped with power adjustable seats, which you can't even get in the HR-V.
Technology
The Rogue Sport comes standard with a 5-inch touchscreen interface that really only handles the audio system. It's simple but effective as a base unit. Bluetooth, one USB port, satellite radio and a rearview camera are standard. The top SL trim adds a 7-in touchscreen, a navigation system, a surround-view parking camera and Nissan Connect emergency service.
The HR-V comes standard with a traditional audio system setup of physical buttons and a 5-in display. It too is simple but effective. The 7-in upgrade standard on the EX and EX-L is neither. It's slow to respond, the menu layout can be confusing, and the lack of a volume knob and physical menu buttons continually frustrates (it's worth noting Honda has added them back into recently redesigned models). Every HR-V gets Bluetooth, a rearview camera and one USB port standard, while the EX adds a second USB port and a touchscreen. The EX-L gains HD Radio and satellite radio.
Neither the HR-V nor the Rogue Sport can be equipped with Android Auto or Apple CarPlay.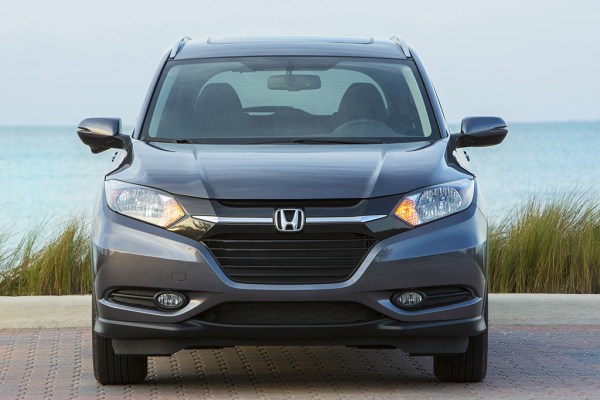 Value
The HR-V is the less expensive vehicle. Its starting price is about $2,000 less, which is a difference maintained as you go up each SUV's respective trim lineup. However, that difference looks smaller on the top end when you consider all the advanced safety-tech features the Rogue Sport offers that the HR-V does not. The Rogue is also the more refined vehicle to drive, with more power and a quieter, comfier ride. It feels like the more substantial vehicle. That's worth something.
Autotrader's Advice
The Rogue Sport will cost you more money should you equip it equally to an HR-V. You'll also spend about $100 extra on gas every year, according to EPA estimates. However, it's generally the superior vehicle. It has comparable interior space while feeling bigger and more substantial behind the wheel. There's also something to be said for its superior safety credentials, stronger engine and easier-to-use tech. It should be noted, though, that the Honda HR-V is currently the best-selling subcompact SUV on the market.
Find a Nissan Rogue Sport for sale