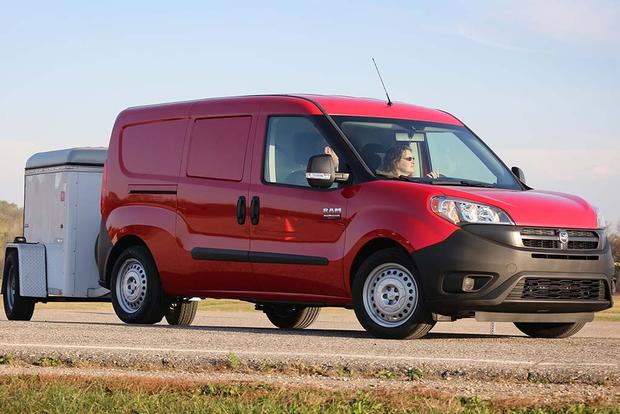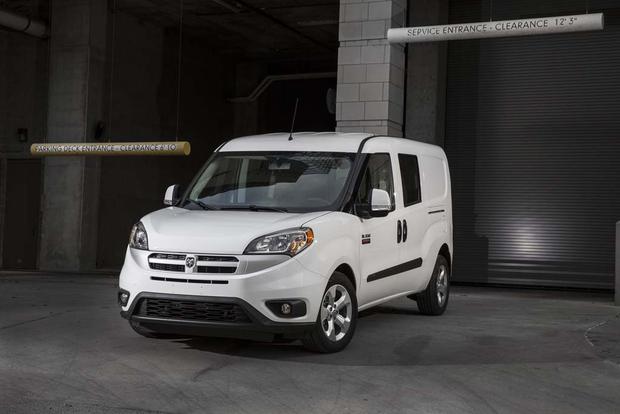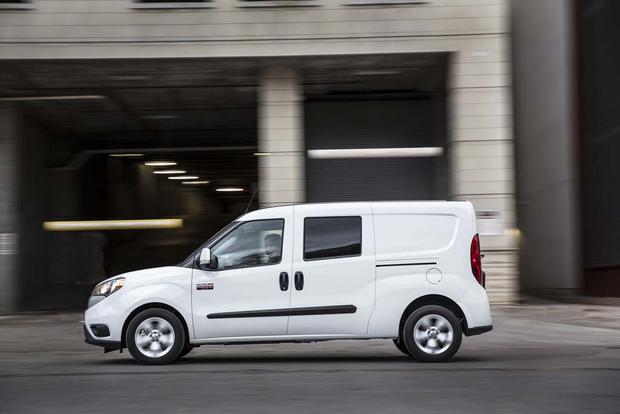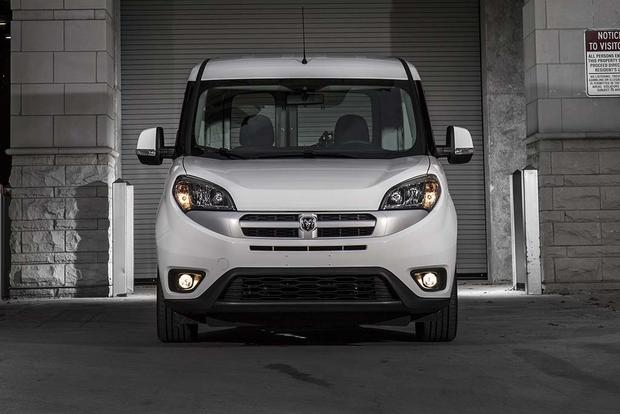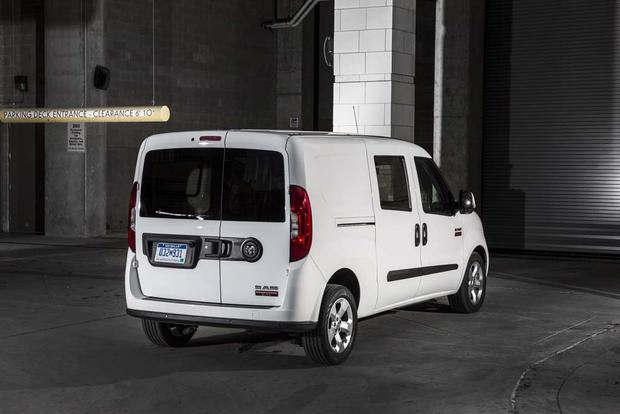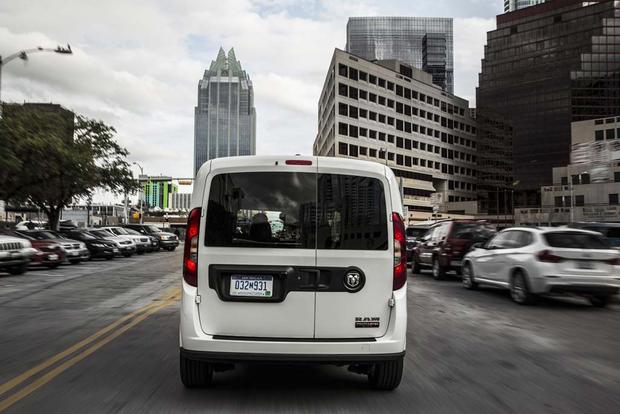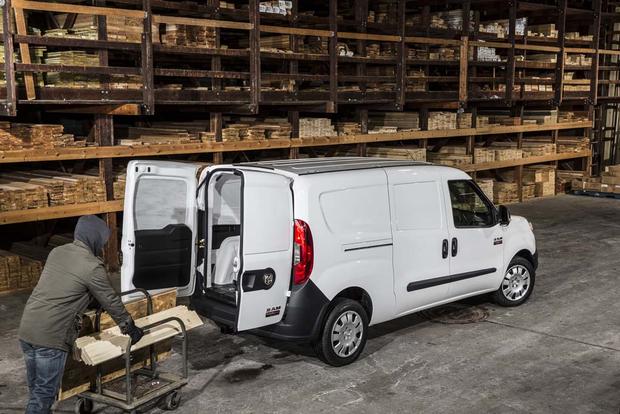 The compact cargo van segment wasn't actually a thing not too long ago, but these days, businesses everywhere are starting to see the benefit of having a smaller and more efficient alternative to traditional big, thirsty cargo haulers. As a result, there are more to choose from and the 2017 Ram ProMaster City is the latest model to enter the fray. It's essentially a rebadged version of the European market FIAT Doblo and, like most competitors, is available in cargo and passenger configurations. However, the vast majority of sales will be to businesses interested in a small cargo van with city-friendly capabilities.
Indeed, "city friendly" is what the Ram ProMaster City is all about. This small van offers smaller sizing than full-size cargo vans like its ProMaster stablemate, along with improved gas mileage and dimensions that are more suited to city life. Of course, the ProMaster City's smaller size also means a smaller interior and less space for stuff, so it certainly won't be ideal for every task. However, having more cost-effective alternatives will always be appealing to any business and we think the ProMaster City is worth consideration.
What's New for 2017?
There were no changes made for 2017.
What We Like
More compact and maneuverable than full-size vans; more cargo space than other compact vans; surprisingly pleasant driving dynamics; excellent fuel economy for a van
What We Don't
Passenger model is not advisable; few luxuries; feels like the utilitarian commercial vehicle that it is
How Much?
$23,500-$25,100
Fuel Economy
The ProMaster City offers only one engine: A 2.4-liter 4-cylinder that makes 178 horsepower and 174 lb-ft of torque. It's only offered with front-wheel drive and a 9-speed automatic transmission. Fuel economy is rated at 21 miles per gallon in the city, 28 mpg on the highway and 24 mpg combined.
Standard Features & Options
The ProMaster City is offered in two versions. The cargo van, dubbed the ProMaster City Tradesman, features only two front seats and no rear side windows. The passenger model, dubbed the ProMaster City Wagon, offers a second-row bench seat and second-row rear side windows. The ProMaster City Wagon is about $1,000 more expensive than its Tradesman counterpart. Both the Wagon and the Tradesman offer two trim levels -- a base model and an upscale SLT trim -- which share roughly the same equipment.
Base-level ProMaster City models ($23,500 for the Tradesman; $24,600 for the Wagon) include only the basics -- keyless entry, power windows, a 4-speaker stereo with USB and iPod connectivity, air conditioning and Bluetooth, among few other frills.
Drivers who step up to the ProMaster City SLT ($25,100 for the Tradesman; $26,200 for the Wagon) get a few more features such as body-color mirrors and bumpers, power mirrors, heated mirrors, cruise control and Chrysler's Uconnect system with a 5-in touchscreen.
The SLT offers two major packages: the Popular Equipment Group (power rear windows, and heated front seats) and the Lights and Wheels Group, which adds 16-in alloy wheels and fog lights. Available on all trims, the Rear Back-up Camera group adds rear parking sensors and a backup camera. Other options include a remote starter, a rear wiper, satellite radio, various roof rack and rail configurations, and partitions that separate the front seats from the cargo area.
Safety
The 2017 Ram ProMaster City comes standard with front-side airbags, side-curtain airbags and anti-lock brakes, while a backup camera and rear parking sensors are available on the options list. There are no accident-avoidance tech features available.
The ProMaster City has not been crash tested by a third party.
Behind the Wheel
Here's how we think of the ProMaster City: It's just like a typical compact American pickup truck, except with an enclosed box instead of a bed -- and what a useful box it is. When outfitted as a cargo van, the box is 87.2 in long, 61.8 in wide and 51.8 in tall, adding up to a total of 131.7 cu ft. of cargo space. That's 9 cu ft. more cargo space than the Nissan NV200 (and its Chevrolet City Express doppelganger) and 3.1 cu ft. more than the long wheelbase version of the Ford Transit Connect.
On the road, the ProMaster City is more agile and far easier than bigger cargo vans to drive and park in the city, where buyers are likely to use it to make pickups or deliveries. Better yet, the overall feel isn't like that of a typical van. It's more akin to a small crossover: It's smooth and controlled. We also like the ProMaster City's engine, which feels stronger than the powerplants in rival models. That's relative, though, as it still reaches 60 miles per hour from a standing stop in a mediocre 10 seconds.
That's the good news. The bad news is that the ProMaster City is a commercial vehicle that's built to a price. It lacks sufficient sound-deadening materials, so it tends to creak and rattle on the road, though the same can be said for most small vans. It also lacks amenities, and the quality of materials is cut-rate. The dash is almost entirely made of hard plastic, and it's hard to find anything close to a soft-touch surface.
Other Cars to Consider
2017 Ford Transit Connect -- The Transit Connect is the ProMaster City's chief rival. It offers similar pricing, fuel economy, engine power and sizing. You'll want to drive the Ford before you sign the papers on a Ram.
2017 Nissan NV200 -- Also sold as the Chevrolet City Express, the NV200 is another major competitor to the ProMaster City. Pricing is lower, but the NV200 is also smaller than the Transit Connect.
Used RAM C/V Tradesman -- If you need something a little bigger than the ProMaster City, consider a used C/V Tradesman -- a larger cargo van based on the Dodge Grand Caravan. It has more power and more room than the ProMaster City, though it lacks certain cargo van basics, like side-hinged rear doors.
Autotrader's Advice
This one is easy: We'd go with an SLT model, and we'd get the Tradesman version. We'd skip the Wagon because virtually every other van is better if you want to carry passengers, and we'd skip the base model because it lacks some of today's most basic automotive necessities such as power mirrors and cruise control.