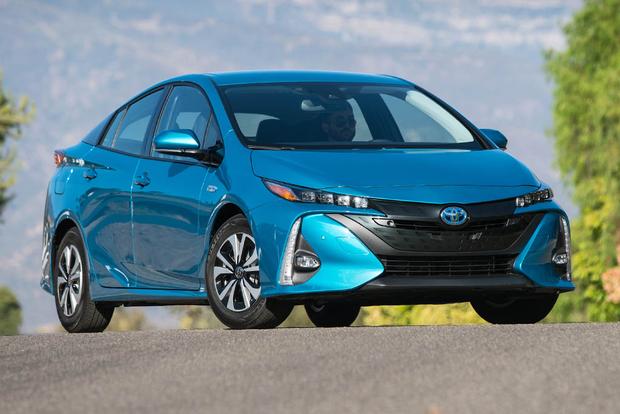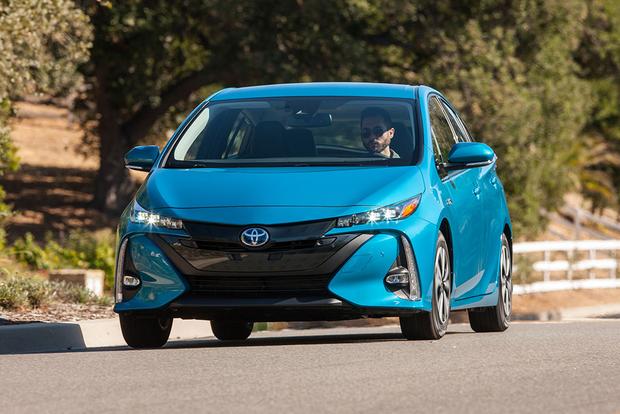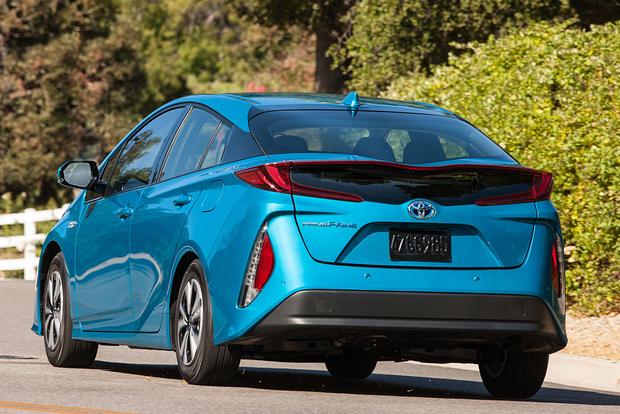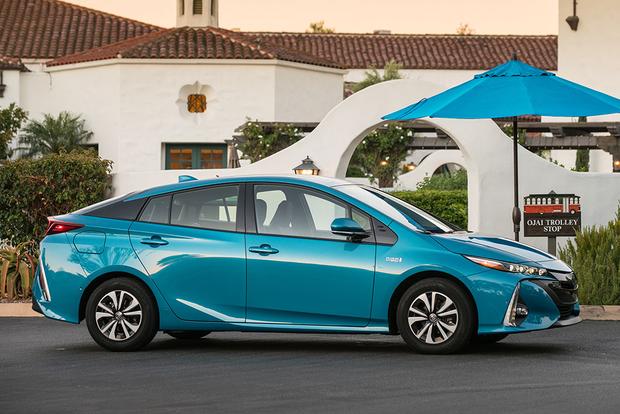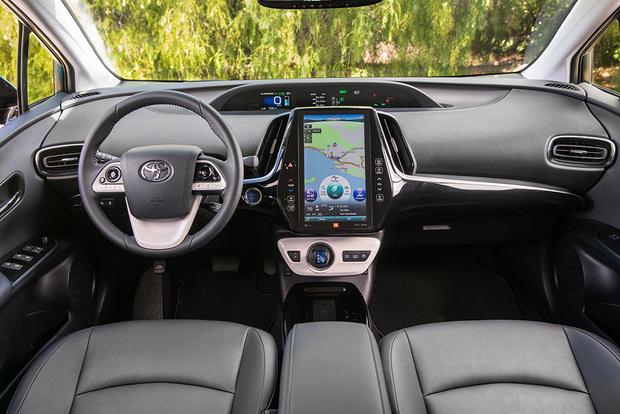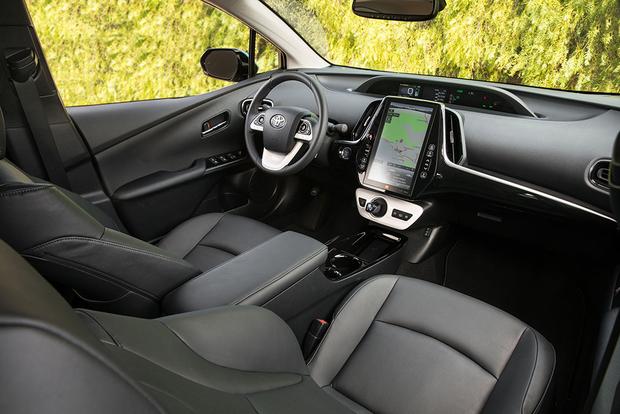 To put it simply, the 2017 Toyota Prius Prime is the new plug-in hybrid version of Toyota's definitive hybrid hatchback, which was fully redesigned last year. It can go 25 miles on a single charge, and once that's depleted, it effectively runs like a normal Prius -- albeit with a bit more oomph and a smidge better fuel economy.
The improvements don't just stop at its larger battery pack. The Prime features different styling, which many have said improves the regular Prius' polarizing looks. Key differences include its headlights, the broad wraparound LED light bar in the back and a unique concave rear window that, while interesting, eliminates the rear wiper. Inside, the back seat loses its middle position, reducing seating capacity to four, and the upper trim levels come with a Tesla-like vertical touchscreen that admittedly doesn't seem like much of an improvement -- if any.
However, here's the bottom line: The Prime could make more sense than the base Prius. Its price premium isn't that steep, and when you factor in the federal and state tax credits currently offered, it could ultimately end up costing you less to purchase. It'll definitely cost you less to run.
What's New for 2017?
The Prius Prime is the new plug-in hybrid version of the Toyota Prius hybrid. Beyond its different powertrain, it has different styling and feature content.
Read 2017 Toyota Prius Prime vs 2017 Toyota Prius: What's the Difference?
What We Like
Affordable price given current tax credits; low price for a plug-in hybrid; exceptional fuel economy; standard safety tech; versatile hatchback design
What We Don't
Four-person seating capacity; less cargo space than regular Prius; questionable styling
How Much?
$27,100-$33,100
Fuel Economy
The Prius Prime is a plug-in hybrid featuring a considerably larger lithium-ion battery than the regular Prius, allowing for all-electric propulsion up to an estimated 25 miles. Once that all-electric range is depleted, the Prime essentially operates like a regular Prius, though it continues to provide a bit more electric power. In that scenario, it returns an estimated 55 miles per gallon in the city, 53 mpg on the highway and 54 mpg in combined driving. Its miles per gallon equivalent estimate from the Environmental Protection Agency is 133 MPGe.
Those mpg figures aren't that much different that with the regular Prius, but as a plug-in hybrid, it very much depends on how much and how far you drive. If your commute is no more than 25 miles round trip, it's feasible you'll go through thimbles of gasoline every month and get far better fuel economy than the EPA would indicate.
Standard Features & Options
The 2017 Prius Prime is available in three trim levels: Plus, Premium and Advanced.
The base Plus ($27,100) comes standard with 15-inch alloy wheels, LED headlights, automatic high beams, forward-collision warning with automatic braking and pedestrian detection, lane-departure warning and intervention, adaptive cruise control, heated mirrors, passive keyless entry and push-button start, a backup camera, a height-adjustable driver's seat, heated front seats, cloth upholstery, a steering wheel trimmed with SofTex vinyl simulated leather, a cargo cover, a 7-in touchscreen, Bluetooth, a navigation system, one USB port, satellite radio, HD Radio and a 6-speaker sound system.
The Premium ($28,800) adds automatic LED headlights, an 8-way power driver's seat, SofTex vinyl seats, a smartphone wireless charging pad, an 11.6-in vertically oriented touchscreen and Toyota's Entune suite of smartphone apps.
The Advanced ($33,100) adds LED fog lights, automatic wipers, blind spot monitoring and rear cross-traffic alert systems, parking sensors, an automatic parking system, a heated steering wheel, a color head-up display, an upgraded cargo cover, additional smartphone apps, Safety Connect emergency communications and a 10-speaker JBL sound system.
Safety
Every Prius Prime comes standard with antilock brakes, stability and traction control, front side airbags, a driver's knee airbag, full-length side curtain airbags and a backup camera. It also includes a forward-collision warning system with automatic braking and pedestrian detection and a lane-departure warning and intervention system. The Advanced trim includes blind spot monitoring and rear cross-traffic alert systems and Safety Connect emergency communications, which include automatic collision notification and a stolen-vehicle locator.
The government hasn't yet crash-tested the Prius Prime, but the nonprofit Insurance Institute for Highway Safety has, naming it a Top Safety Pick+ for its top performance in all pertinent categories.
Behind the Wheel
Like the regular Prius, the Prime represents a distinct improvement over past versions of Toyota's quintessential hybrid hatchback. It offers better handling and a more comfortable, composed ride that does a much better job of soaking up big impacts. It's also quieter now and in general feels like a more substantial car. Improvements to its driving position also make it friendlier to taller drivers.
But those things apply to every Prius. The Prime's extra electric motor and battery capacity do ultimately yield a different driving character. It's most noticeable when in all-electric mode, since you get the sort of silent, ultra-smooth acceleration typical of electric vehicles (and which you can only briefly feel in the regular Prius). There's a nice low-end punch when accelerating that even carries over a bit when that all-electric range has been depleted. As a result, the Prime can feel a little quicker and ultimately better to drive.
The verdict inside is less decisive. For starters, the Prime can only seat two people in the rear, reducing passenger capacity to four, and the remaining center console isn't especially useful or as comfortable as an armrest. Functionally, it's a less useful car. Aesthetically, it's a different story. We like the various cool-white accents and the vertically oriented touchscreen found on the Premium and Advanced trim levels (another Prime-only feature). The smaller base touchscreen actually works quite well and is pleasantly easy to use, but the big 11.6-in screen looks cooler and allows you to view navigation and audio controls simultaneously. Indeed, we named the Prius Prime to our list of the 10 Best Car Interiors Under $50,000.
Other Cars to Consider
2017 Chevrolet Volt -- The Volt is pricier, but it is a superior plug-in hybrid, capable of going 53 miles on electricity alone -- double the Prime's all-electric range. Depending on your commute, that could cut down on your fuel usage exponentially and make up the price premium.
2017 Chevrolet Bolt -- Then again, why not forget about gasoline entirely? The new Chevrolet Bolt is pricier still, but this EV can top 200 miles on a charge.
2017 Hyundai Ioniq Hybrid -- The regular Ioniq Hybrid betters the base Prius for less money, and, coming in winter 2017, the Ioniq Plug-In Hybrid will essentially match the Prius Prime's all-electric range for presumably less money as well. An alternative to consider.
Used BMW i3 -- The BMW i3 is a perfect car for an urban commute -- we even have 9 reasons that prove it. Available in all-electric or plug-in hybrid configurations, the i3 is a terrific little city car. It's much pricier than the Prius Prime, so looking at the used market is recommended -- and you're bound to find great deals there.
Autotrader's Advice
With so much standard feature content, we think most people will be perfectly happy with the base Plus trim level. At the same time, for less than $2,000 more you can get an 8-way power driver's seat, that big touchscreen and various smartphone-connectivity apps in the Premium trim level.