Editor's note: You may want to read more of Autotrader's model vs. model comparison car reviews as well as the 2017 Volkswagen Golf Alltrack review and the 2014 Audi allroad review.
The 2017 Volkswagen Golf Alltrack is essentially a Golf Sportwagen that has been given a modest ride height increase, standard all-wheel drive and some quasi-rugged body cladding. It's an appealing concept, and we've already declared it a cargo-hauling champion.
However, a fully loaded Alltrack hits the register at $35,705. For that same amount or less you can get a certified pre-owned 2014 or 2015 Audi allroad, a car that's essentially an A4 wagon with a modest ride height increase, standard AWD and some quasi-rugged body cladding. It's the same concept as its corporate cousin, the Alltrack, albeit with the luxury trappings expected of an Audi.
So, which of these VW Group wagons might be better for you? The new Volkswagen or the used Audi?
2017 Volkswagen Golf Alltrack
The Alltrack is all new for 2017, but it is based on the front-wheel drive Golf Sportwagen. The price difference between the two is $4,000.
2014-2015 Audi allroad
This is the previous-generation Audi allroad — an all-new version was introduced for 2017. Compared to previous model years, those from 2014 and later got a modest power bump to 220 horsepower from 2011, while gaining standard features like Bluetooth and an iPod interface. For 2015, xenon headlights, LED running lights, a power liftgate and tri-zone climate control became standard. The 2016 model year saw only minor options list adjustments and should be within our $35,000 price range soon enough.
To know more about the 2017 allroad, read our new car review.
Warranty
A factory warranty is a major reason why people pick a new car over a used one. In this case, the Alltrack comes with Volkswagen's standard 3-year/36,000-mile limited warranty and 5-year/60,000-mile powertrain warranty. You also get 24-hour roadside assistance for the length of the limited warranty.
Yet, we are talking about a certified pre-owned allroad purchased from an Audi dealer. Though this type of used car is more expensive than one purchase privately or through a non-Audi dealer, it does come with attractive benefits. It effectively adds a 2-year/50,000-mile warranty extension to whatever is left of the car's original 4-year/50,000-mile warranty (this coverage includes powertrain). It's important to note when the car was originally sold, as that determines how much is left.
Nevertheless, if you purchase a CPO allroad first sold in 2014, you could have 3 years of warranty coverage left. That matches the Alltrack. If you purchase one from 2015, you'd have a 4 years of coverage — bettering VW and matching a new allroad. Audi's certified program also includes 24-hour roadside assistance during the length of the CPO warranty and puts all cars through a 300-point dealer inspection. They should also be reconditioned to as-new-as-possible condition.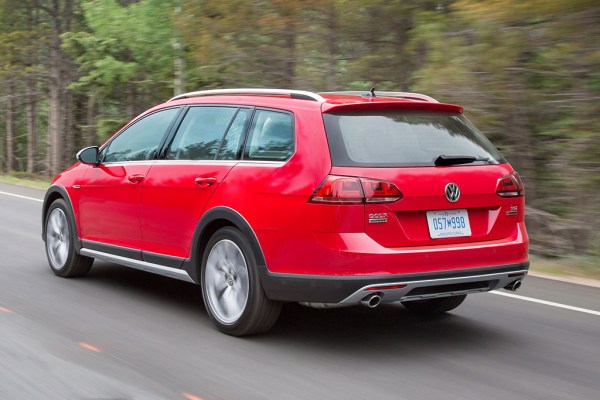 Reliability
Conventional wisdom, backed up by a fair bit of data, would indicate that Volkswagens and Audis get more unreliable as they age (pricey engine and electrical issues are common). This is certainly something to consider when buying a 2- or 3-year-old allroad. Nevertheless, data thus far from these years would indicate the Audi enjoys average reliability. And, since it's under warranty, anything that goes wrong should be covered.
The Volkswagen Golf has generally been less reliable than its Audi cousin, though it'll also be brand new and have at least a 2-year advantage.
Fuel Economy
The Alltrack is powered by a 1.8-liter turbocharged 4-cylinder engine that produces 170 hp and 199 lb-ft of torque. It comes with Volkswagen's 4Motion AWD system and with either a 6-speed manual or a 6-speed dual-clutch automated manual transmission (DSG). Fuel economy stands at 22 miles per gallon in the city, 32 mpg on the highway and 26 mpg combined with DSG (3 mpg combined less than the FWD Golf Sportwagen).
The Audi allroad from 2014 to 2016 had a 2.0-liter turbocharged 4-cylinder engine that produced 220 hp and 258 lb-ft of torque. An 8-speed automatic and Audi's quattro AWD system were standard. Acceleration is considerably stronger — a 0-60-mph sprint should be in the mid-6-second range versus the Alltrack's upper 7-second range.
For 2014, its fuel economy was 20 mpg city/26 mpg hwy/22 mpg combined. This went up to 21 city/28 hwy/24 combined for 2015 and 2016. In extensive highway testing of a '14 model, however, we managed to approach 30 mpg despite having a full load of luggage.
Safety
Both cars share standard traction aids and airbag counts. From there, the Alltrack comes standard with an emergency telematics system, while the SEL trim's optional Driver Assistance & Lighting package includes lane-departure warning and a forward-collision warning and an automatic braking system that could not be had on the allroad at this time (the new version has them). That package also includes blind spot monitoring, but that was widely available on the allroad for these model years.
In these model years, the allroad received perfect 5-star ratings from the government for its overall, frontal and side crash protection. The Golf Sportwagen received five stars for overall and side protection, but only four stars for frontal protection.
Technology
Technology is one area where a used car is at a disadvantage, even when comparing a luxury model to a mainstream one. The Alltrack comes standard with Apple CarPlay and Android Auto, for instance, which are features that didn't exist when the allroad was made. The VW also includes a traditional USB port, whereas Audi at this time relied on a proprietary cable located infuriatingly on the outboard wall of the glovebox. You'll need some sort of adapter to operate a newer phone with the car's controls, or perhaps more realistically, use a cigarette lighter adapter to charge your phone and use the standard Bluetooth audio function.
The two car's tech interfaces differ considerably. The Alltrack comes standard with a smallish 6.5-inch touchscreen located a bit too low on the dash. The allroad's MMI system features a comparably sized screen, but it's located higher and thus easier to see. It's controlled by either a knob-and-button setup located somewhat annoyingly on the dash, or more ideally, on the center console aft of the shifter. That variation was included with the optional navigation system, along with a rearview camera, blind spot monitoring and a great Bang & Olufsen sound system. We therefore recommend finding a similarly equipped CPO allroad that'll still be within our $35,000 range.
Interior Space and Quality
The Alltrack's interior quality is excellent in comparison to compact competitors like the Honda Civic or Mazda3. It pales in comparison to the allroad, however, which feels every bit like a car that pushed $50,000 when new. The look, materials and construction are all greatly superior. This goes for every allroad, as well, as you didn't have to pay extra for things like wood trim or leather upholstery. Actually, you can't even get genuine leather in the VW, which only comes with, however convincing, faux leather.
The Alltrack, however, has an interior space advantage. It has 66.5 cu ft. of maximum cargo capacity and 30.4 cu ft. with the back seat raised — amounts that better most compact crossovers. The allroad manages only a 50.5-cu-ft. maximum and 27.6 cu ft. with the seats raised. This difference is mostly the result of the Alltrack's boxy shape that allows it to swallow bulkier items.
In terms of passenger space, the two cars should be comparable, but the wider Audi has more shoulder space.
Driving Experience
The allroad is the better car to drive. Its steering is more precise and communicative; its handling is sharper due to its more advanced suspension and rear-biased AWD system; it has considerably more power and it's also quieter and plusher when going down the road. It feels like a proper luxury car, whereas the Alltrack feels like a very nice compact mainstream car.
Interestingly, the allroad also has more ground clearance — 7.1 inches — than both the Alltrack (a rather unimpressive 6.7) and the new 2017 A4 allroad (6.5), as well. For the sake of comparison, a 2017 Audi A4 sedan has 5.2 inches of ground clearance. Those extra inches can make a difference in snow or when venturing (still mildly) off road.
Value
The Alltrack starts at around $26,000 and works its way up to just under $36,000. We found about 60 CPO allroads in that price range in a nationwide Autotrader search, with price being determined by model year, mileage, equipment and location. You can often get a deeper discount on used cars, as well, though finance rates are almost always worse (even through Audi Financial Services), and leasing is essentially not possible.
The two cars have comparable available features lists, but the allroad came with more standard features, meaning a $26,000 CPO allroad will have more stuff than a new base Alltrack. So besides the previously mentioned tech items, the used Audi wins on feature count.
Autotrader's Advice
Cargo capacity, fuel economy and long-term maintenance costs are Alltrack advantages, as is the fact you'll be the first owner. Overall, however, a 2014-2015 CPO allroad is a better car at what should be a lower price.
Find a Used Volkswagen Golf Alltrack for sale