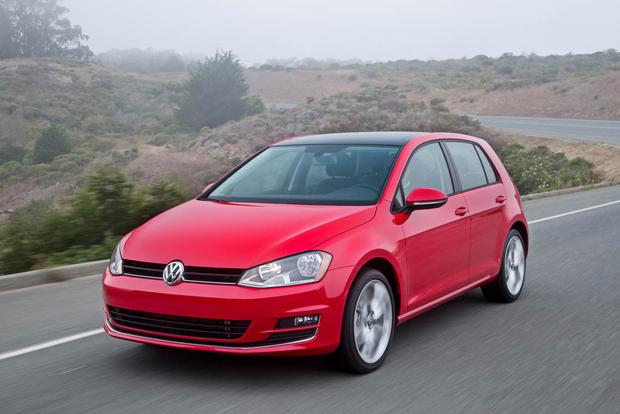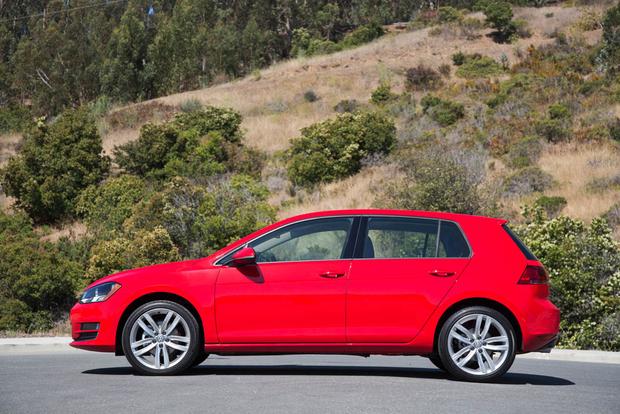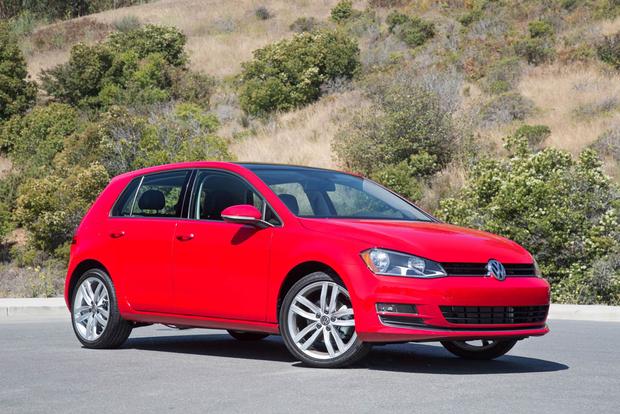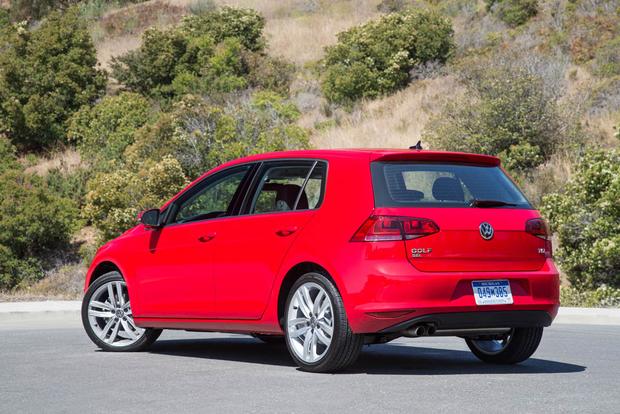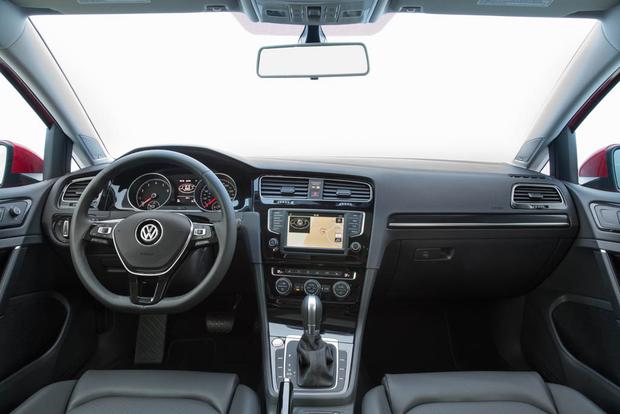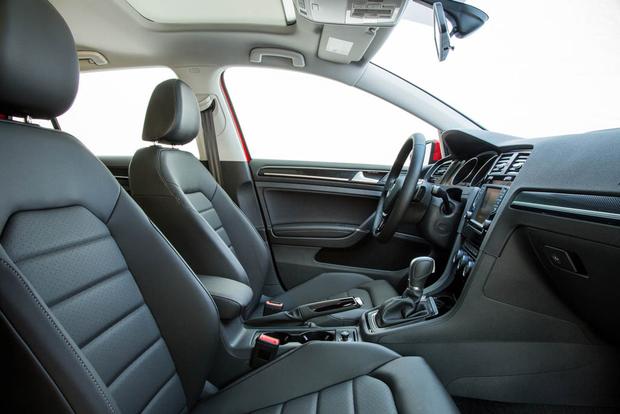 The 2017 Volkswagen Golf is one of the more upscale choices on the compact hatchback scene. The whole range begins with the 1.8T, then goes on to include the GTI, Golf R, SportWagen, Alltrack and the e-Golf. These models are all reviewed individually. We're concentrating here on the most affordable version, which has an excellent TSI gasoline engine, a fine interior and a well-balanced platform.
Now two years into its seventh generation, the Golf has been one of the best-selling cars around the world. It wouldn't be surprising, then, for the 2017 model to offer plenty of options. But Volkswagen has gone the other way, as detailed below. On a positive note, limited choices make for easier decisions.
What's New for 2017?
Trim levels have been chopped down to two: the S and a new Wolfsburg Edition. The 2-door body style is now history.
What We Like
The right size; sophisticated character; fuel-efficient engine; adult-size back seat; practical hatchback body.
What We Don't
VW has brought this version of the Golf a bit downmarket. Some higher-level options like parking assistance and navigation are no longer available.
How Much?
$20,715-$22,415
Fuel Economy
This front-drive-only Golf is propelled by a 1.8-liter turbocharged 4-cylinder engine making 170 horsepower and 184 lb-ft of torque with the standard 5-speed manual transmission. When the optional 6-speed automatic transmission is installed, maximum torque increases to 199 lb-ft.
Fuel economy with the manual transmission is estimated at 25 miles per gallon in the city, 36 mpg on the highway and 29 mpg in combined driving. With the automatic, those figures are 25 mpg city/35 mpg hwy/29 mpg combined.
Standard Features & Options
The 2017 Volkswagen Golf 1.8T comes in S and Wolfsburg Edition trim levels (VW's headquarters are in Wolfsburg, Germany).
The S ($20,715) has 15-inch alloy wheels, a rearview camera, a leather-wrapped steering wheel/parking-brake lever/shift knob, heated side mirrors, climate control, an infotainment system with a 6.5-in screen, an 8-speaker audio system, satellite radio, HD Radio, Bluetooth (for two phones) and USB connectivity, an SD card slot, an auxiliary input, cruise control, cloth-covered seats (with manual lumbar adjustment up front), a cooled glove compartment, power accessories and Volkswagen's Car-Net telematics system (integrating Apple CarPlay, Android Auto and MirrorLink).
The Wolfsburg Edition ($22,415) brings a sunroof, heated front-washer nozzles, keyless entry/ignition, rain-sensing wipers, leatherette seating surfaces, heated front seats, forward-collision warning with autonomous emergency braking, blind spot monitoring with rear cross-traffic alert, and 16-in alloy wheels.
Choosing options is simple. Both cars are eligible for 18-in alloy wheels. And that's it.
Cargo capacity is impressive, with 16.5 cu ft. behind the rear seats (as large as a midsize sedan's trunk). Flip the rear seats down and there's a remarkable 52.7 cu ft.
Safety
The Golf comes with standard stability control, 4-wheel anti-lock disc brakes and six airbags. Both trims feature an automatic post-collision braking system that applies the brakes after an impact, reducing the risk of damage from subsequent collisions.
The National Highway Traffic Safety Administration (NHTSA) has awarded the Golf its maximum score of five stars overall. That breaks down to four stars for frontal impacts and five for side impacts. The Insurance Institute for Highway Safety (IIHS) has named it a Top Safety Pick (when it has the driver aids that come with the Wolfsburg Edition).
Behind the Wheel
The premium feel of the interior is impressive, from the soft-touch plastics of the dashboard and rich door-panel materials to the subtle brushed aluminum accents. This doesn't feel like an economy car, but more like a downsized entry-level luxury vehicle.
The touchscreen incorporates a "capacitive touch sensor" with swipe and pinch-to-zoom functions, just like a smartphone. It also has a proximity sensor that automatically calls up a more user-friendly layout when a hand approaches. This is impressive stuff for a car that starts at around $21,000.
Long trips are no problem. The front seats provide sturdy support that will be familiar to VW fans. The back seat is remarkably adult-friendly given the car's modest dimensions.
The drive is nimble yet solid, staying absolutely composed at higher speeds as well as completely comfortable. The steering is rather numb (a symptom of electric steering assistance), something that becomes more apparent through the turns. But the car is ready and eager to transition from one direction to the other.
Other Cars to Consider
2017 Ford Focus -- The Focus is getting old, but its styling remains fresh in both sedan and hatchback forms. It also manages to be fun and fuel-efficient at the same time.
2017 Honda Civic -- There's now a hatchback version. The Civic's quality and affordability make it a great choice.
2017 Kia Forte -- Keenly priced yet well equipped, the Forte keeps getting classier.
2017 Mazda3 -- Arguably the Golf's toughest competitor, the Mazda3 comes in hatchback or sedan form, gets better fuel economy and offers sportier handling. Its back seat is relatively cramped, however.
2017 Subaru Impreza -- All-new for 2017. Comes with all-wheel drive as standard, which might be tempting to those living in the more northern latitudes. Available as a sedan or hatchback.
2017 Volkswagen Jetta -- If the VW brand is tempting but the need for a sedan is greater, then the Jetta fits the bill. Much better interiors these days (after a period of "de-contenting"), and the car is almost as big as a midsize model.
Used Volkswagen Golf GTI -- For more equipment and power, check out a GTI that's about a year or two old and investigate VW's certified pre-owned (CPO) program.
Autotrader's Advice
The S is now much more of a bargain. Regardless of trim level, make sure it has the automatic transmission, which costs an extra $1,100 -- considering that this means more torque and a better resale value, it's a no-brainer.