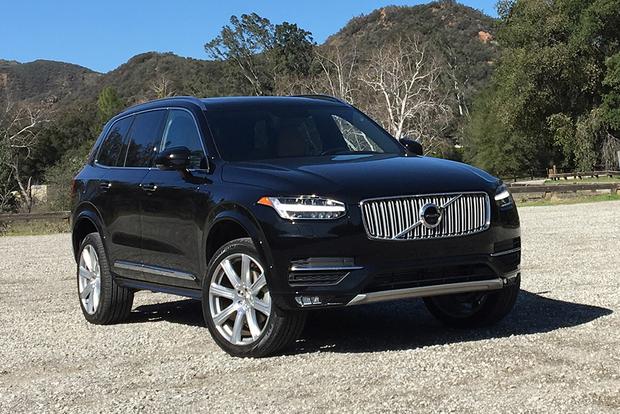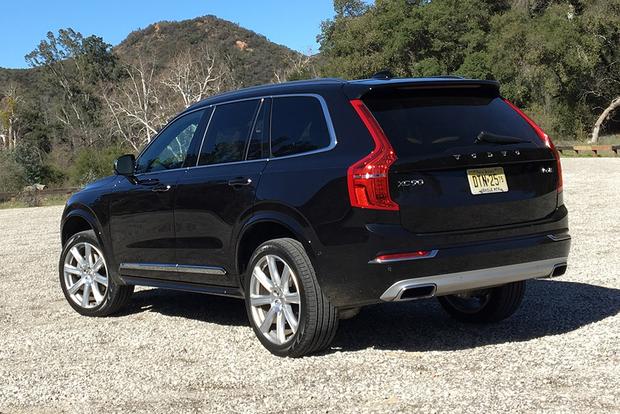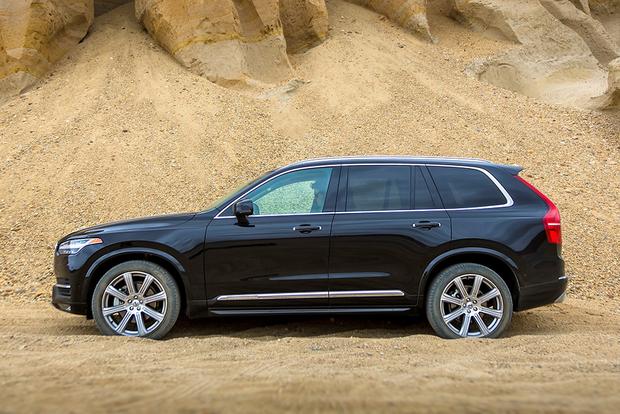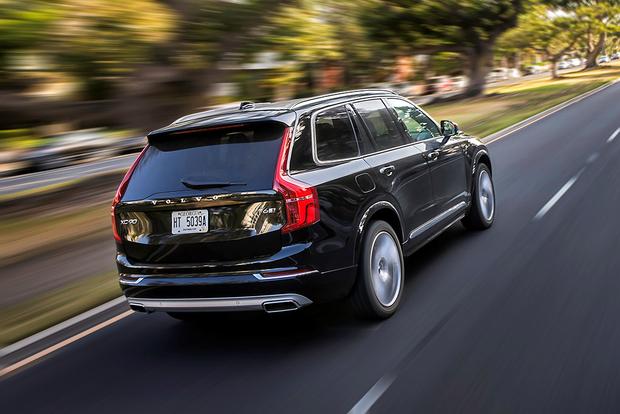 It seems odd to say, but buying this Volvo SUV is an emotional decision. It's far from perfect, with significant flaws, and is outdone in a number of areas by rival 3-row luxury family haulers. And yet, the 2017 Volvo XC90 T6 Inscription looks so timelessly handsome on the outside, looks so special on the inside, and so helps you forget you're driving a 3-row family hauler that it just makes you happy every time you walk up to it in the garage, its snazzy tan key fob in hand.
After a week spent with the XC90, subjecting it to a standardized 100-mile test route plus the usual weekly rigors of errands and cross-city adventures, it left the garage with mixed feelings in its wake but a general impression that in a different trim it would be one of the most desirable family vehicles on the road.
Better Passenger Space Than Most
There are several 3-row luxury crossovers, but very few can actually accommodate a full-size adult with reasonable comfort in the third row. The XC90 is one of those few. With the sliding second row set just right, there's enough legroom for 6-footers to sit back-to-back-to-back in each row. That's extremely impressive, and something you can't do in an Audi Q7 or Acura MDX. Sure, headroom is a little squishy for a 6-footer in that third-row, but it's still better than most and hey, how many 6-footers are you really going to be cramming into the caboose? One upgrade that would be nice, however: a reclining third-row seat back.
The XC90 test vehicle came equipped with a pop-up child booster seat (a $250 option) integrated into the middle portion of the second-row 40/20/40-split bench. This is a wonderful feature, as it means you can transform your XC90 from kid duty to adult duty in a second. It's also nice that this latest iteration is placed only in the middle seat -- perhaps not ideal for multikid households, but the middle position is ultimately the safest place inside this already extremely safe vehicle.
Would You Stop Beeping At Me?
This particular XC90 T6 AWD was equipped with the Vision and Convenience packages, which, among other items, feature a 360-degree parking camera, a blind spot monitoring system, rear cross-traffic alert, front parking sensors, an automated parking system and adaptive cruise control. This is on top of the Inscription trim's standard lane-departure, driver-inattention and forward-collision warning systems.
In other words, it has a lot of things that can beep at you or suddenly hijack the enormous central touchscreen. The various warning system err a little on the hyperactive side, and there are just so many things that pop up at you while parking that you start to wonder just how difficult people find it to negotiate a vehicle between a pair of white lines. The XC90 is big, but it's not exactly a Hummer. Frankly, properly set mirrors and the standard back-up camera should be more than enough when parking.
However, we'd still recommend the adaptive cruise control system, as it's quite good at reacting to vehicles ahead and, together with its included steering assist, does most of the driving for you on the highway.
The T6 Engine Doesn't Quite Cut It
The XC90 T6 has an innovative 2.0-liter 4-cylinder engine that's turbocharged and supercharged to produce a very strong 316 horsepower and 295 lb-ft of torque. That's a lot of power, and it does technically get this big, heavy vehicle up to speed well, but it doesn't feel or sound as strong as you'd expect. It seems out of place in comparison to the V6 engines found in most competitors, and its fuel economy isn't any better. In fact, on the 100-mile test route through suburban, mountain and highway roads, the T6 AWD managed a middling 19.6 miles per gallon. Its automatic stop/start system was also jarring in terms of sound and vibration.
As such, the less powerful T5 may be the better way to go. It only picks up a single mpg combined from the Environmental Protection Agency, but with less power on hand to egg you on, the difference in efficiency may be greater than what the window sticker indicates. Of course, the top-of-the-line T8 Plug-In Hybrid betters both power and fuel economy, but then it also costs $11,000 more.
It Costs How Much?
The week before we were living with the XC90, an S90 T5 sedan resided in its place. It was essentially a base car, but nothing about it seemed like such. Its exquisite design, comfy leather-lined seats and handsome interior trim made us wonder why you'd really need to spend more than its $47,000 base price tag. Since the XC90 has roughly the same pricing structure, we think the same conclusion could be made.
You see, the XC90 we tested was the T6 AWD Inscription model, loaded with additional equipment (some of which has already been addressed) and upgraded interior materials. While the open-pore wood trim is beautiful and matches the rest of the cabin's cool Scandinavian aesthetic perfectly, the Nappa leather upholstery is less successful. Yes, it's softer, but after only 5,900 miles, its dark tan leather was already beginning to discolor from drivers' jeans. The similarly colored standard leather in the S90 showed no such wear. And while the front seats that Nappa leather covers offer extra adjustability (thigh extension) and massaging, the standard seats are still some of the comfiest chairs you'll find in any car.
In other words, don't feel like you're missing out on too much by getting a lesser XC90.
On the Other Hand...
One feature that you can't get on the base Momentum trim is the 4-wheel air suspension, which is a stand-alone option on the R-Design and Inscription trim levels. With it, the XC90 can not only alter its ride height to improve handling, fuel economy and off-road ground clearance, but the suspension also improves the ride quality even with the enormous 20-inch wheels. We think it's well worth the extra cost.
Unfortunately, despite the air suspension's best efforts, the XC90's ride remains imperfect and a bit odd. Like the S90 sedan, it soaks up large impacts very well -- say, a manhole cover or frost heave. It also manages undulations well, including one area of the test route that leaves lesser cars flummoxed and bobbing about. However, the suspension struggles with "high-frequency impacts," or smaller imperfections located in close succession to each other. As a result, the XC90 goes from impressively plush on one surface to surprisingly rough on another. An Audi Q7 or BMW X5 does not suffer from this issue. Make sure to test-drive an XC90 on a variety of roads to see how it may behave where you live.
The Rest of the Drive
Otherwise, when behind the wheel, the XC90 feels lighter on its feet than the Q7 and X5. Its various steering and suspension settings allow you to set it up to meet your preferences, and when in Dynamic mode, it was actually quite compelling to drive on the mountain-road portion of the evaluation route. Again, its engine may be a bit of a letdown, but in total, this handsome and spacious SUV can also be quite pleasurable to drive.
Our Take
Although the loaded 2017 Volvo XC90 T6 AWD Inscription model that we tested seemed needlessly over the top, this is nevertheless a highly desirable SUV. Few other vehicles on the road manage to be as functional and aesthetically pleasing. Sure, there are areas that can be improved, and competitors certainly better it in those areas, but there are plenty of people who'd be more than willing to overlook that in favor of how well it can meet you daily needs and look sensational while doing so.