Editor's note: You may want to read more of Autotrader's model vs. model comparison car reviews as well as the 2017 Volvo XC90 review, the 2017 XC90 T6 Inscription review and the 2017 Acura MDX review.
The 2017 Volvo XC90 and 2017 Acura MDX represent two of the oldest nameplates in a vehicle segment that keeps getting bigger and more popular. They're also two of the most appealing, though for fairly different reasons, as they go about the job of a 3-row family crossover in very different ways. Let's take a look at the XC90 and MDX to see which might be better for you.
2017 Acura MDX
The MDX received a substantial refresh for 2017. The most obvious change is its new face and shield-like grille. More importantly, though, it's now available with a wealth of previously unavailable but increasingly common features like 20-inch wheels, power-folding mirrors, a surround-view parking camera, a heated steering wheel and second-row captain's chairs. There's also a new Sport Hybrid model. See all 2017 Acura MDX models available near you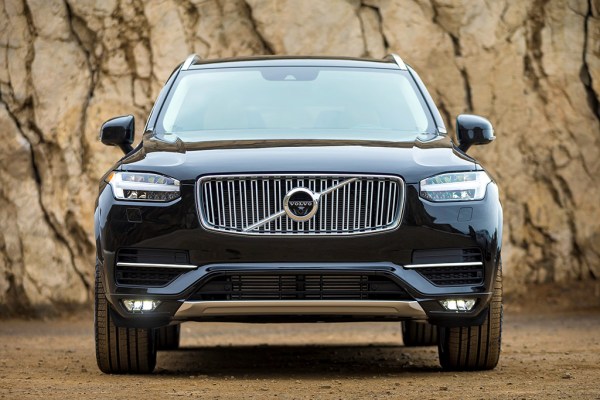 2017 Volvo XC90
The XC90 saw even greater changes last year, when it was redesigned for the first time in more than a decade. For 2017, its electronics interface has been updated to address customer usability complaints. There's also a new range-topping ultra-luxury Excellence trim level. See all 2017 Volvo XC90 models available near you
Reliability
The Acura MDX has been one of the most reliable cars on the road. Although many have complained about the performance of its 9-speed transmission, it's more a matter of unappealing performance as opposed to something specifically being broken.
The XC90, on the other hand, had some teething issues during the first full year of its redesign. Numerous complaints about its touchscreen interface led Volvo to make major changes to it for 2017, and having sampled those updates, we can at least report that many of its functionality issues have been corrected. However, there were also some powertrain problems reported as well. In any event, Acura has historically been a more reliable carmaker than Volvo.
Fuel Economy
The 2017 MDX comes standard with a 3.5-liter V6 engine that produces 290 horsepower and 267 lb-ft of torque. A 9-speed automatic transmission is standard, and you can get either front-wheel drive or Acura's "Super Handling" all-wheel-drive system (SH-AWD). Fuel economy is 18 miles per gallon in the city, 26 mpg on the highway and 21 mpg in combined driving with SH-AWD. These go up by 1 mpg should you stick with front-wheel drive and/or opt for the Advance package.
The MDX Sport Hybrid adds three electric motors to a smaller 3.0-liter V6 engine for a total output of 321 hp and 289 lb-ft. It returns 26 mpg city/27 mpg hwy/27 mpg combined. It'll save you an estimated $450 per year on fuel compared to the MDX with SH-AWD.
The base 2017 Volvo XC90 T5 model has a turbocharged 4-cylinder engine (250 hp, 258 lb-ft) that returns 22 mpg city/25 mpg hwy/23 mpg combined with optional all-wheel drive. Standard front-wheel drive adds 1 mpg combined. The XC90 T6 model adds a supercharger to that same engine to produce 316 hp and 295 lb-ft while returning 20 mpg city/25 mpg hwy/22 mpg combined, according to the Environmental Protection Agency. However, in real-life testing, we've noticed this engine performs worse than the EPA estimates indicate.
The XC90 T8 is plug-in hybrid with a much larger battery capacity that allows it to travel 14 miles on electricity alone and ultimately return a 54 mpg-equivalent rating. When that all-electric plug-in capacity has been depleted, the T8 returns 25 mpg combined as a regular hybrid. According to the EPA, the annual fuel cost difference between the T8 and the MDX Sport Hybrid (gasoline plus electricity) would be about $50 on average, but that greatly depends on your driving style. If you mostly make short trips, the Volvo's all-electric capability will save you even more money.
Safety
Simply put, these are two of the safest vehicles on the road. They come with more standard equipment than most, including lane-keeping assist and forward-collision warning with pedestrian detection and automatic emergency braking. Blind spot monitoring and rear-cross traffic warning systems are optional on both. However, we've found these advanced safety systems are better executed in the Volvo, with fewer false alarms and better performance from the also-included adaptive cruise control system.
The government gave both the MDX and XC90 perfect 5-star ratings for overall, frontal- and side-crash protection. The nonprofit Insurance Institute for Highway Safety gave both its highest possible marks for crash protection and prevention. The MDX's Acceptable-rated headlights bettered the Volvo's Marginal-rated ones.
Technology
As we mentioned in reliability, the XC90's vertically oriented touchscreen interface, which controls most secondary functions, took a hit from owners for glitches and usability issues. Software updates may correct the former, while we can report that changes to its menu layout have indeed improved the latter. Four tiles on the homepage constantly display navigation, audio, climate and smartphone information, making it easier to control the system. We especially like that you can control and view the standard Apple CarPlay controls at the same time as the Volvo system controls. In virtually every other car you have to go back and forth between them — that's annoying.
The MDX does not offer Apple CarPlay or Android Auto, and it has an odd dual-screen interface. The lower screen is touch-operated and mostly handles the audio controls, but its graphics are rudimentary, and more advanced audio controls like selecting a playlist from a plugged-in media player are handled by the larger upper display and its knob-button controller, located under the lower screen. It's confusing, it can be slow to respond, and most rival systems, including the Volvo's, are better. On the up side, you do get five USB ports standard, with an additional two in the third row included with the Advance package. That should keep your power-hungry kids happy.
Interior Space, Quality and Design
Here is a big victory for the Volvo. Its cabin is beautiful to look at, boasting simple yet elegant Swedish design that makes the MDX look haphazard and not especially premium. Its materials also impress, especially the gorgeous open pore wood trim, though we'd steer clear of the easily stained light-colored Nappa leather option.
Then there's the matter of space. The XC90 is one of the only luxury crossover models that allows adults to actually fit in its third row. Though you're still more likely to put kids back there, they'll nevertheless enjoy a more spacious and less claustrophobic environment. The MDX's third row, by comparison, is more for occasional use, even for kids. Second-row space is comparable, and the MDX offers a captain's chair option the Volvo does not, but the XC90 counters with the handy integrated child booster seat option.
Cargo space also falls in the Volvo's favor. With 85.7 cu ft. of maximum cargo space, it's at the top of its segment, whereas the MDX has a comparatively paltry 68.4 cu ft. A Honda CR-V actually has more. The XC90 also has more space when the second or third rows are in place.
Value
The MDX starts at $45,025 for a front-wheel-drive model. The XC90 T5 starts at $47,895 with front-wheel drive. The two are actually similarly equipped, though the more powerful MDX differs with standard leather, heated front seats, tri-zone climate control and a third-row seat, while the larger XC90 counters with standard navigation and a panoramic sunroof. It's pretty obvious, then, that the MDX provides more stuff and better performance for the money. Plus, if you want a third-row seat in the XC90, you have to step up to the pricier T6 AWD model (typically a $6,000-$7,000 hike, not to mention a larger fuel bill).
When you put every available feature on the MDX SH-AWD, it hits the register at $58,500. A comparably equipped XC90 T6 AWD would cost about $63,600. However, the Volvo is available with equipment not offered on the MDX, like a vehicle-raising and automatically adaptable air suspension, an integrated child booster seat, massaging front seats and an automatic parking system. There are also higher-end interior finishes and an ultra-lux Excellence trim level the MDX cannot match.
Then there's the matter of the hybrids. The MDX Sport Hybrid is essentially a $1,500 option over a comparable SH-AWD model. The XC90 T8, by contrast, costs about $15,000 more than a comparable T6 AWD. Of course, it's a more advanced plug-in hybrid and comes standard with more equipment. Volvo considers it a range-topping model, whereas the Sport Hybrid is more of a powertrain option.
Autotrader's Advice
Your wallet will say MDX. It includes more equipment for the money, has a stronger reliability reputation and has a more powerful base engine that'll likely get superior real-world fuel economy to the Volvo's engine upgrade. It also tends to have a smoother ride. However, your heart will probably say XC90. It looks sensational inside and out, it's a more overtly luxurious vehicle, and it offers equipment not available on the Acura. It's also considerably bigger inside, has friendlier tech and is every bit as safe (if perhaps more), so buying one is hardly an impractical decision.
Find a Used Volvo XC90 for sale