Editor's note: You may want to read more of Autotrader's model vs. model comparison car reviews as well as the 2017 Subaru Crosstrek review and the 2018 Subaru Crosstrek review.
The 2018 Subaru Crosstrek may just be an Impreza hatchback with some rugged styling elements, standard roof rails and a hefty 8.7 inches of ground clearance, but that represents enough of a transformation to turn a perfectly pleasant compact car into a uniquely appealing alternative to small crossover SUVs.
Yet the previous-generation 2017 Subaru Crosstrek could also be described as such. Let's take a look at what's changed between that car and the all-new 2018 Crosstrek to see if the differences translate into an even more appealing choice.
Exterior
At first glance, it might be difficult to tell the two Crosstreks apart. This is definitely an instance of evolution rather than revolution. Everything is just a bit smoother and more streamlined in appearance, particularly the less blocky headlights and the more upright grille featuring darkened trim, as opposed to the 2017's chrome. It's a classier, less utilitarian look, although the black body cladding remains to provide that macho edge that helps differentiate the Crosstrek from the Impreza. Around back, the taillights are wider, extending onto the lift gate (itself a useful 4 inches wider).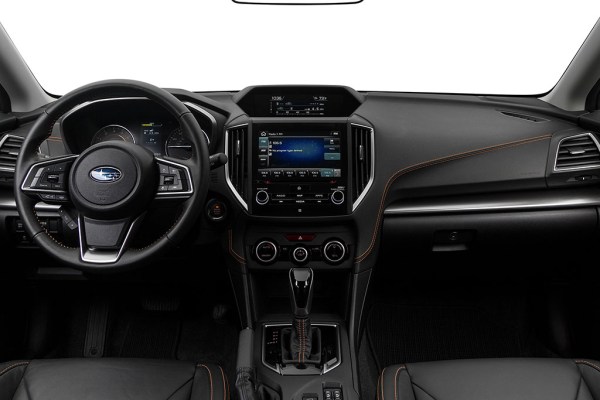 Interior
There are greater differences inside. The 2018 Crosstrek retains a more utilitarian look compared to some other cars of similar size and price, but the quality of materials has been elevated. Besides a richer dash material featuring attractive cross-stitching, the various buttons and switches look and feel better, and the new touchscreen interface (see below for further details) provides a generally more modern appearance. It's a small thing, but we also like that the automatic transmission shifter now features a proper shift boot — the 2017 version was stubby and shrouded in cheap-feeling silver plastic.
In terms of space, the 2018 has also been improved. Increases to its wheelbase and width have yielded a roomier cabin, with the back seat in particular benefiting from an extra inch of rear legroom. However, the increase in cargo volume should make the biggest difference to those who value the Crosstrek for its ability to take them on weekend adventures (which is a huge proportion of buyers). Growing from 51.9 cu ft. of space to 55.3 cu ft. may not seem like a huge change, but it makes the Crosstrek bigger than all subcompact SUVs except the Honda HR-V (which is just a smidge bigger) and allows you to fit in two medium-size check-in suitcases and three carry-on roller suitcases. You couldn't fit them all in the 2017 Crosstrek.
As before, though, the 2018 Crosstrek comes standard with chunky roof rails that allow you to easily mount whatever racks are needed for those weekend adventures. A lower roof than on most SUVs makes loading those racks that much easier as well.
Mechanicals
The 2018 Subaru Crosstrek has a new 2.0-liter 4-cylinder engine that produces 152 horsepower and 145 lb-ft of torque. That's up from the previous 2.0-liter's 148 hp, but torque is actually the same, and it's really not enough to make a difference. Be it 2017 or 2018, the Crosstrek is a slow car. Now the new one feels quicker because of a sharper throttle response and a continuously variable transmission (CVT) that does a better job of simulating a traditional automatic transmission, but that's just a matter of perception. Merge onto the highway and you'll see it's just as gutless as before.
A manual transmission is still standard, but it now has six gears rather than five. That's good for drivability, but there remains a significant fuel economy drop-off when sticking with the stick. Fuel economy is 23 miles per gallon in the city, 29 mpg on the highway and 25 mpg in combined driving with the manual, versus 27 mpg city/33 mpg hwy/29 mpg combined with the CVT. That translates, on average, to paying an extra $200 in gas every year.
The 2017 Crosstrek essentially returns the same fuel economy, at 26 mpg city/33 mpg hwy/29 mpg combined, while its 5-speed manual curiously manages better fuel economy than the 6-speed 2018 Crosstrek, at 23 mpg city/30 mpg hwy/26 mpg combined.
Features & Technology
The 2017 Crosstrek came standard with a 6.2-inch touchscreen interface, which could be upgraded to a 7-in unit (optional on the 2.0i Premium, standard on the Limited) that included a second USB port, satellite radio and emergency communications services. The interface itself was essentially a rebadging of Toyota's Entune touchscreen interface, but that's OK, as it was pleasantly simple to use. There wasn't much to complain about.
Yet the 2018 Crosstrek steps things up with an all-new touchscreen interface that's one of the best infotainment systems around. It too is available in one of two sizes (6.5 or 8 inches), but response times are quicker, the graphics are more modern and the various icons are more easily viewed and pressed. You don't have to be a technophile to quickly figure it out. And regardless of trim level or touchscreen size, all come with Apple CarPlay and Android Auto. The bigger screen still adds satellite radio and the extra USB port. Emergency communications are now standard on all but the base 2.0i trim.
Driving Experience
Around town, both the 2017 and 2018 Crosstreks are more maneuverable than the typical SUV. Their smaller dimensions and compact-car mechanicals see to that, but expansive visibility helps too. Just look at those side mirrors — they're enormous.
However, that maneuverability does not translate into a fun-to-drive character. The new car is certainly improved thanks to a stiffer structure, an upgraded suspension and a new "Active Torque Vectoring" system, first introduced on Subaru's WRX, which reduces understeer in corners. Yet that raised suspension still causes too much body roll, and the all-season tires produce too little grip. While the similarly upgraded Subaru Impreza is now impressively fun to drive, the 2018 Crosstrek just isn't. Should that weekend skiing, hiking, camping or mountain biking adventure require a twisting road to get there (and they so often do), the Crosstrek's handling may underwhelm.
On the upside, the 2018 model does possess a more comfortable ride and better straight-line stability on the highway. It also maintains its standard all-wheel-drive system and huge 8.7 inches of ground clearance to help you get up, over and through more terrain than the typical SUV (let alone car) could. CVT-equipped 2018 Crosstreks also include X-Mode, which sets the various powertrain components to assist when climbing, descending or in slippery conditions.
Safety
Basic safety equipment is the same in the 2017 and 2018 models, as they feature the same airbags and stability/traction aids. Subaru's EyeSight suite of accident-avoidance tech remains optional on the Premium and Limited trim levels of both model years and includes forward-collision warning and automatic braking, adaptive cruise control, lane-departure warning and lane-keeping assist (steers you back into your lane should you not heed its warning). Blind spot monitoring and rear cross-traffic alert systems are included with EyeSight on the Premium trim level and are standard on every Limited. The lone feature difference between model years is that the 2018 Limited's version of EyeSight includes a rear-collision warning and automatic braking system.
The 2018 Crosstrek has been named a Top Safety Pick+ by the nonprofit Insurance Institute for Highway Safety. It got top marks for its crashworthiness and crash-preventing tech. Its headlights also got an Acceptable rating, and its back seat was praised for having extra child-seat LATCH positions. The 2017 Crosstrek got the same crash and crash-prevention tech scores, but its headlights scored a Poor, resulting in "just" a Top Safety Pick (no +) rating. The 2017 also lacks those extra LATCH points.
Conclusions
It's really not a sea change between 2017 and 2018 Subaru Crosstreks. The new one is incrementally better in just about every way, but you probably won't hate yourself for opting for a discounted leftover 2017 model or a used version of the same generation.