Editor's note: You may want to read more of Autotrader's model vs. model comparison car reviews as well as the 2018 Ford EcoSport review, the 2018 Ford Escape review and How Does Ford's Newest SUV Size Up to the Competition?
The 2018 Ford EcoSport is a new entry in the growing sub-compact SUV segment, slotting underneath the bigger and pricier 2018 Escape in Ford's lineup. Ford's SUV lineup has ballooned to six models including the Explorer, the Expedition, the Flex, and the Edge along with the previously mentioned EcoSport and Escape. Let's take a look at both to help identify what the differences are between the two, and whether one might be a better choice for you.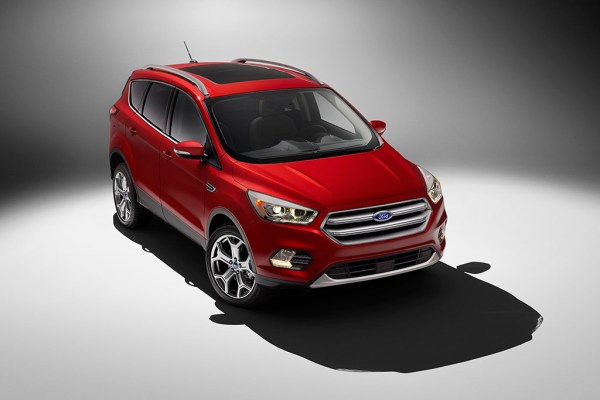 Exterior
The EcoSport is considerably smaller than the Escape. It's a whopping 16.8 inches less in overall length, its width is 3 inches less and its wheelbase is 6 inches shorter. That'll make it easier to park and maneuver in tight spaces, even though the Escape isn't exactly a large SUV. Compared to Ford's Edge or Explorer, it's positively sprightly.
Subjectively, we'd also note that the Escape is the better-looking SUV.

Interior
Not surprisingly, the EcoSport has a smaller interior as well. This is most noticeable in the back, where there's about 4 fewer inches of shoulder width, which will make it difficult with three people across or when fitted with child seats. Legroom isn't actually that different, thanks to the EcoSport's tall-mounted seats and the fact that the Escape doesn't exactly have the most voluminous back seat. Rear headroom is also 1.5-inch greater in the Escape.
The two greatly differ in design. The EcoSport is a bit more minimal, in a good way, and frankly has a more modern appearance with its touchscreen sprouting from the dash. The range-topping SES even adds fun copper/orange trim elements. However, its overall quality greatly trails that of the Escape, which up until two years ago had a cabin that few rivals could match. The competition has largely matched or surpassed it now (and can be relatively luxurious by comparison), but compared to the EcoSport, the Escape offers superior cabin surfaces and materials that are better to touch and look at.
Updates for 2017 also granted the Escape a more functional center console design than earlier model years, with more bins to house your smartphone and various odds and ends. The EcoSport isn't bad in this area, but its narrower width bites it here as well.
And finally, there's cargo room. The EcoSport has 20.9 cu ft. behind its raised second-row, which when lowered results in a total capacity of 50 cu ft. That's OK for the segment, but sub-compact SUV competitors like the Honda HR-V and Subaru Crosstrek outdo it. It's also about the same as most compact hatchbacks. The Escape, by contrast, has 34 cu ft. with the seats raised and 68 with them lowered. That falls short of the class leaders, but it's bigger than most others and plenty useful.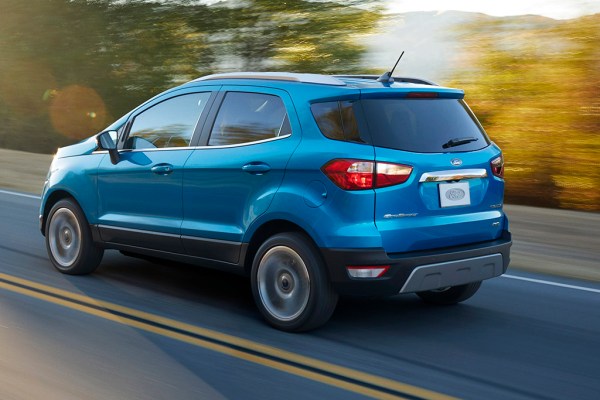 Mechanicals
The 2018 Ford EcoSport comes standard with a 1.0-liter turbocharged 3-cylinder engine paired to front-wheel-drive only that produces 123 horsepower and 125 lb-ft of torque. Optional is a 2.0-liter naturally aspirated engine paired to all-wheel drive that's good for 166 hp and 149 lb-ft of torque. Both come with a 6-speed automatic. Although the EcoSport's power output is lower than the Escape's, and we certainly don't expect anything other than pokey acceleration, it's important to note that it weighs less than the Escape and thus the difference in acceleration might not be as great as it may initially seem.
Fuel economy is estimated to be 27 miles per gallon city, 29 mpg highway and 28 mpg combined with the 1.0-liter, and 23 mpg city/29 mpg hwy/25 mpg combined with the 2.0-liter.
The base Escape S trim has a 2.5-liter naturally aspirated 4-cylinder engine good for 168 hp and 170 lb-ft of torque. The SE and SEL trim levels come standard with a 1.5-liter turbocharged 4-cylinder good for 179 hp and 177 lb-ft. Unlike in the past, only the range-topping Titanium trim can be outfitted with a 2.0-liter turbo 4-cylinder that produces 245 hp and 275 lb-ft of torque. All but the base S engine should result in stronger acceleration than the EcoSport can manage.
A 6-speed automatic and front-wheel drive are standard with all engines, while the turbocharged ones can be upgraded with all-wheel drive.
The Escape is at its most efficient with the 1.5-liter engine, boasting estimates of 23 mpg city/30 mpg hwy/26 mpg combined with front-wheel drive. All other drivetrain variants get 24 mpg combined, which is basically equal to the EcoSport 2.0-liter.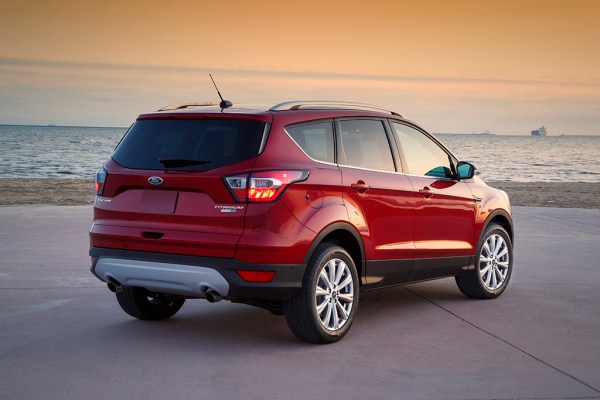 Features & Technology
The Escape offers more driver and safety aids, including forward-collision warning, automatic emergency braking, lane-keep assist and adaptive cruise control. These are not offered on the EcoSport, but that's typical for the segment. The Escape also boasts a few more comfort and convenience features, which is also expected given its higher, pricier segment.
On the other hand, infotainment features are comparable. The EcoSport SE comes standard with Apple CarPlay, Android Auto and a 6.5-inch touchscreen, along with a considerable amount of other desirable features like a sunroof, dual-zone climate control, heated front seats, a power driver seat and a leather-wrapped steering wheel. You can also add an 8-in touchscreen, navigation, Wi-Fi and Sync Connect remote services. All of this is available on the Escape, albeit at a higher price.
Driving Experience
Expect the Escape to be the more substantial, refined, quiet and comfortable car to drive than the smaller EcoSport. It's the same sort of difference you'd experience when going between a Ford Fiesta and a Ford Focus. At the same time, the Escape is one of the more nimble, fun-to-drive compact crossovers, so it's not like its greater size will translate into an oafish, cumbersome performance relative the EcoSport. There's also a lot to be said for the Escape's greater power and torque.
Safety
The Escape is available with advance safety aids like forward-collision warning, automatic emergency braking, lane-keep assist and automatic high beams that are unavailable on the EcoSport. Both can be had with blind spot warning systems, however, their integrated blind spot mirrors do a pretty good job in their absence.
The EcoSport has yet to be crash tested by a third party. The Escape received five stars for overall, frontal and side crash protection from the government. The non-profit Insurance Institute for Highway Safety gave it top Good marks in most crash categories, but it got a second-best rating of Acceptable in the driver-side small overlap front crash test and for its headlights. Its front crash prevention tech was given a rating of Basic. So it's safe, but others are better.
Conclusions
It's hard to deny that the Ford Escape is the superior and more appealing vehicle here. It's bigger, more substantial, more refined, more comfortable, more powerful, better equipped and its interior is more nicely appointed. Its fuel economy is also basically equal. Really, only the EcoSport's lower price tag is superior, coming in at nearly $4,000 lower than a base Escape. Even the surprisingly well-equipped EcoSport SE comes in $2,000 less than a bare-bones Escape. So as a low-cost urban runabout, the EcoSport might make some sense.