Editor's note: You may want to read more of Autotrader's model vs. model comparison car reviews as well as the 2018 Toyota Camry review, the 2017 Mazda6 review, 2017 vs 2018 Toyota Camry: What's the Difference? and Buying a Used Toyota Camry: Everything You Need to Know.
When we first drove the 2018 Toyota Camry, something surprising stood out: The once dull and numb Camry now seemed a lot more like an engaging and confidence-inspiring Mazda from behind the wheel. Specifically, the 2017 Mazda6, a car that many consider to be the best midsize family sedan to drive, even if relatively few consumers actually buy it.
But does the Mazda6 offer more than just driving pleasure, and does the new Camry keep enough of what previously made it so popular to maintain its standing as king of family sedans? Let's answer those questions and help you figure out which might be better for you.
2018 Toyota Camry
The Camry is all-new, with a capital A and N. Even the Camry script on the trunk lid has been redone. See all 2018 Toyota Camry models available near you
2017 Mazda6
Information about the 2018 Mazda6 was not available at the time of this writing, but we do not anticipate it to change much from the 2017 version, which gained extra standard features and a new G-Vectoring Control system that further improved its agility. See all 2017 Mazda6 models avialable near you
Reliability
The 2018 Camry is too new to fairly discuss its reliability, but after being one of the most reliable cars on the planet for decades, it seems safe to give it some benefit of the doubt. The Mazda6 has been around for a while, but as fewer people buy it, there's less data available about its reliability. Nevertheless, what does exist shows a car much better than average in this regard. Really, we don't think reliability should play that much of a role in your decision here.
Fuel Economy
Let's start with the Mazda, since it's a simpler story to tell. It comes only with a 2.5-liter 4-cylinder engine that produces 184 horsepower and 185 lb-ft of torque. It comes standard with an excellent 6-speed manual transmission, but an excellent 6-speed automatic transmission should be in the majority of cars on dealer lots. Fuel economy estimates with the automatic are 26 miles per gallon in the city, 35 mpg on the highway and 29 mpg in combined driving. The manual achieves 28 mpg combined, while the available Grand Touring Premium gets 30 mpg combined.
Most Camrys will come with the all-new standard 2.5-liter 4-cylinder that produces 203 hp and 186 lb-ft of torque. That not only betters the Mazda but every competitor as well. It comes only with a new 8-speed automatic. Fuel economy differs slightly by trim, but most achieve 28 mpg city/39 mpg hwy/32 mpg combined. This would amount to an estimated annual fuel savings of $100 compared to the Mazda.
The Camry is also available with a powerful 301-hp V6 engine good for 26 mpg combined, as well as the new Camry Hybrid, which, depending on trim level, gets either 46 mpg combined (XLE/SE) or an astonishing 52 mpg combined (LE). The latter number matches the Prius. Clearly, if you're seeking max power or max fuel economy, the Mazda will probably be out of the running.
Safety
Every 2018 Camry comes standard with forward-collision warning with automatic emergency braking and pedestrian detection, lane-keeping assist, automatic high beams and adaptive cruise control. The 6 comes standard with a low-speed forward-collision warning and automatic braking system, but those other tech features disappointingly come standard only on the 6's top Grand Touring trim. Somewhat oppositely, blind spot monitoring and rear cross-traffic warning systems are standard on the 6 Touring and Grand Touring trims, but are only available on the Camry's top XLE and XSE trims.
The Camry also stands out with standard front knee airbags and rear side airbags — the 6 offers neither. Nevertheless, the 6 still received the best-possible 5-star ratings from the government for its overall, frontal and side crashworthiness. The nonprofit Insurance Institute for Highway Safety also named the 6 a Top Safety Pick+, the best possible rating. The new Camry has yet to be crash-tested by a third party.
Interior Space and Quality
Even the volume-selling 2018 Camry LE has a strikingly high-end cabin, with interesting cloth upholstery complementing quality faux-leather and padded surfaces on the dash, tasteful trim embellishment and premium buttons and switches. It only gets better when you opt for a pricier trim, but you shouldn't feel obligated to.
The 6's cabin is also quite attractive, but in a bit more of a minimalist way. It almost has a German look to it, which many should appreciate. The quality of materials is perhaps not as strong as those in the Camry, and upper trim levels have a less overtly luxurious vibe, but it's nevertheless a nice place to spend time.
In terms of space, Toyota considerably altered the Camry's driver's-seat position to be lower and more consistent with those in driver-focused cars like the Mazda6 — and, indeed, we've found this makes a big difference in making you feel like you're comfortably sitting in the Camry instead of on it. At the same time, space remains excellent in front and back. Space is actually pretty comparable in the 6, which is much larger than its sleek styling may indicate. Passenger space is pretty much a push, though the Camry has a bit more small-item storage and trunk space.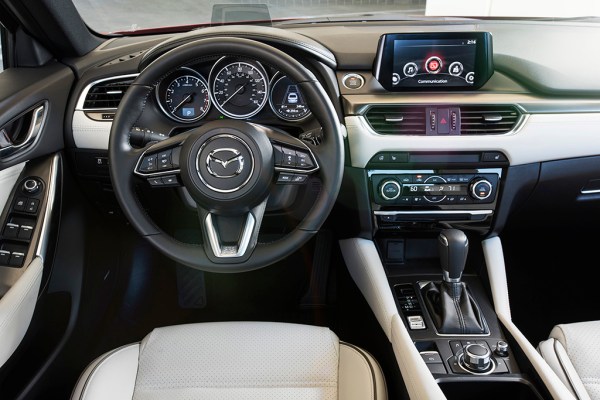 Technology
The Camry comes standard with Toyota's latest touchscreen interface, known as Entune 3. A 7-inch version is standard, but an 8-in version is available. In short, it's easier to use, faster to respond and has fresher graphics. It's impressive and easily outshines Mazda's system. Known as Mazda Connect, Mazda's system consists of a knob and button controller on the center console (dubbed "Commander") and a 7-in dashtop display that can only be touch-operated when the car is stopped. It's similar to German knob-and-screen systems, but the menu structure can be convoluted, the graphics are looking a bit dated and, in general, it's less user-friendly than most rival systems. It's not a deal breaker, but it sure isn't a selling point.
Neither car offers Apple CarPlay or Android Auto, making them outliers in the automotive industry.
Driving Experience
The 6 remains the sharper, more engaging and even fun car to drive. Mazda still knows how to do steering and suspension tuning right for those who want to know what their car's doing, with spot-on weighting and feedback. You really feel like you're driving the Mazda, and if you've found yourself needing to own a family sedan instead of a fun sports car, well, this is the best option you'll get.
Having said that, the new Toyota Camry drives like its engineers were trying to achieve something far closer to the 6 than to past Camrys. Although the comfort-oriented LE and sportier SE trim lines continue, the two no longer feel that different. Body motions and control in particular are greatly improved in the LE, while the steering is more natural and linear in its weighting. At the same time, the Camry remains a comfortable car. While the LE's handling improved dramatically, the SE's ride quality did, too. Although the 6 isn't what we'd deem uncomfortable, the Camry is a little plusher without being the couch it once was.
There's also the matter of power: The Camry has considerably more of it. And that's not even mentioning the available V6 that Mazda provides no answer to. The Camry's new 4-cylinder is so strong that we wonder if the V6 is actually necessary — the less powerful version even handles a bit better since there's less weight over the nose.
Value
The 2018 Camry starts at $23,495, but the $24,000 LE trim offers more than enough extra equipment at a modest premium to consider it the best place to start. The 2017 Mazda6 costs less, at $22,995 for the base Sport trim with an automatic transmission, and you can save about $1,000 if you enjoy changing gears for yourself. However, you'll have to do without those standard advanced safety features included in the Camry, as well as LED headlights, a power driver's seat and about 20 extra horsepower.
Things start to change as you go up the trim ladders. The Mazda6 Touring costs $25,245 with an automatic, and adds things like 19-in wheels, blind spot monitoring, dual-zone automatic climate control and simulated leather upholstery. The $25,200 Camry SE, which provides a driving experience more akin to the 6's, offers less equipment. To get it, you'd have to pay considerably more for the XLE or XSE. The range-topping Mazda6 does cost more than those, but it also includes more equipment.
Autotrader's Advice
The Mazda6 remains an excellent family sedan that deserves far more attention than it gets. You could definitely prefer the way it looks and drives while further appreciating its many practical attributes. However, the new Camry is so good, so well-rounded and available in such a diverse selection of variants that it's easy to say it's the better choice for more people.
Find a Used Toyota Camry for sale