Editor's note: You may want to read more of Autotrader's model vs. model comparison car reviews as well as the 2018 Kia Sorento review and the 2019 Kia Sorento review.
There was honestly not that much to be done for the 2019 Kia Sorento to maintain its appeal as a midsize crossover SUV. The 2018 Sorento already offered a distinctively useful size, attractive styling, a handsome and well-made interior, tons of features for the money and Kia's excellent warranty coverage. That's still the case for 2019, as Kia hasn't messed with what was already working. Instead, there's a nip there, a tuck there and a simplification of the model lineup. Let's dig deeper into those changes. See 2019 Kia Sorento models for sale near you
Exterior
It's honestly a little difficult to tell what Kia changed between the 2018 and 2019 Sorento. However, there have indeed been updates. Up front, the lighting clusters were redesigned so the LED turn signal strips now reside below the headlights, rather than above them. On those trim levels that come with LED running lights, the pack of four lights on either side of the lower air dam have been reduced in size and their housing re-sculpted. They look less like they were designed to light a tiny stadium. The grille, meanwhile, retains its shape but gets differently designed elements within. See 2018 Kia Sorento models for sale near you
In the back, the taillights feature a different lighting arrangement, but their housings remain the same shape, as does everything else above the bumper. The bumper area is a bit different, but it's quite tough to tell.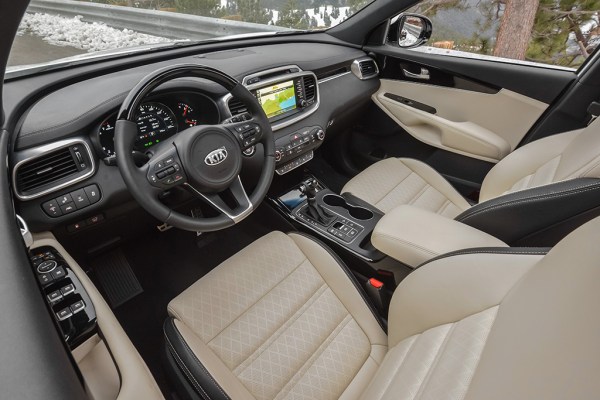 Interior
Again, blink and you'll miss it. The steering wheel now has four spokes, and whether that represents an improvement is up for debate. It's at least a very comfortable steering wheel to hold. There's also a new shifter head, and the instrument cluster graphics are a bit different, though neither correct what would've been considered a problem.
Really, apart from a new Terracotta color now available on the uppermost 2019 SX-L trim, either Sorento's cabin will impress with its design and quality. It truly stands toe-to-toe with the midsize segment's best in that regard.
Now, it's important to note that the 2019 Kia Sorento comes standard with three rows and 7-passenger seating. The 2018 came standard with only two rows, with a third being optional on the LX trim level and standard on all those with the V6 engine. The now-discontinued turbocharged engine was 5-passenger-only (see below for more on that).
Regardless of model year, though, the Sorento offers a distinctive size for the segment. It doesn't offer as much third-row space as something like a Honda Pilot, but it's also smaller and more maneuverable. If you only anticipate needing a third row in a pinch, the Sorento could be a smart choice. It also has a larger, more substantial feel to it like the Honda CR-V and Nissan Rogue, while not costing much more.
Mechanicals
As was mentioned before, the 2018 Sorento's optional 2.0-liter turbocharged 4-cylinder (240 horsepower, 260 lb-ft of torque) was discontinued, as not many people opted for it. Apparently, shoppers recognized the V6 engine as the expected engine upgrade in the segment. That 3.3-liter V6 produces 290 hp and 252 lb-ft of torque, which is stronger for a 3-row crossover, yet must contend (on average) with less weight.
It is now paired with an 8-speed automatic, whereas every Sorento had a 6-speed for 2018. As a result, fuel economy has improved by a noteworthy two miles per gallon. With the V6 and front-wheel drive, the 2019 Sorento returns 19 mpg city, 26 mpg highway and 22 mpg combined. As in 2018, all-wheel drive effectively knocks off one mpg.
The base 2.4-liter 4-cylinder (185 hp, 178 lb-ft) carries over and will continue to be a bit overmatched by a vehicle of the Sorento's size — especially when loaded with people and stuff. It also only nets an increase of two mpg combined over the V6. That equals a savings of $150 per year on average.
In terms of other mechanical updates, the Sorento's steering was re-tuned. We're not entirely sure if the 2019 is indeed better than 2018, but can report that its effort is on the lighter side (good for parking lots) and a bit numb on center (good for highways) but not exactly what we'd consider engaging. It's fine.
Features & Technology
For 2018, the Sorento L and LX came standard with a radio faceplate and a color display. For 2019, every Sorento comes with a touchscreen — 7 inches as standard with an optional 8-in unit that includes integrated navigation. Both include Apple CarPlay and Android Auto as standard equipment, much as they did for 2018. Wireless charging is a new feature that has been added to the range-topping SX and SX-L trims.
There's also new safety tech for 2019. The lane-departure warning system has been upgraded with lane-keep assist (it'll automatically steer itself away from lane lines), and a driver inattention and fatigue monitor has been added. Unfortunately, these accident avoidance items, along with the carry-over forward-collision warning and automatic braking system, are exclusive to the EX, SX and SX-L. They are more widely available on competitors, including being standard on the Toyota Highlander.
Driving Experience
The suspension remains pleasantly comfortable, even with big wheels, and we didn't detect any nautical rebound over the bumps and rises during our test drive. We also found it to be quite comfortable during an extended stint riding in the back seat — there's no reason to think the kids won't be happy. In terms of handling, the Sorento is competent, but no one will ever describe it as sharp or engaging.
Power is strong from the V6, which is definitely the engine to get. It got up to speed smoothly and without fuss with three adults and luggage aboard, despite driving through hills and high elevation of Colorado during our test drive. The new 8-speed automatic was also quite responsive to throttle inputs and didn't get lost in its box of many gears when calling for a downshift.
Safety
As we mentioned above, advanced safety tech is restricted to the top two trim levels — not ideal. Those features include forward-collision warning, automatic emergency braking, blind spot monitoring, rear cross-traffic warning and lane-departure warning, with the 2019 Sorento gaining lane-keeping and a driver inattention monitor. Standard equipment for both the 2018 and 2019 includes stability control, antilock brakes, a rearview camera and six airbags (front, front-side and full-length side curtain).
In crash tests, the government awarded the 2018 Sorento with 5 stars for overall, frontal and side protection. The Insurance Institute for Highway Safety gave it the best-possible crash protection and prevention scores possible, plus an Acceptable headlight score that altogether resulted in a Top Safety Pick award. The 2019 should get the same results.
Conclusions
The V6 engine's 8-speed automatic is really the key update for 2019, as its 2-mpg improvement is a tangible benefit enjoyed regardless of trim level. Everything else worth pondering is minor styling tweaks and increased feature content on the priciest SX and SX-L. As such, if you get a great deal on a 2018 Sorento, you probably won't kick yourself for not going with the 2019. Find a Kia Sorento for sale