I recently flew to Phoenix to sample the new Chevrolet Colorado ZR2 Bison on some off-road trails in Tonto National Forest. This was my first time driving any ZR2 and I was looking forward to seeing if the unique and complex DSSV suspension from Multimatic was really everything Chevrolet says it is. In addition to driving on the highway and down some forest roads, we did a bit of rock-crawling that served to put the Bison's rock sliders and skid plates to the test.
Altogether, the Bison is basically a $5,000-ish accessories package that adds skid plates, ultra-cool AEV wheels, thicker plastic fender flares, AEV logos and unique steel bumpers to a standard ZR2. Both vehicles come with the same suspension, locking front and rear differentials and hill descent control.
Those skid plates are probably the most significant addition. Made from Boron steel, there are five of them, and they cover the vehicle's front and rear differentials, transfer case, oil pan, and gas tank. Altogether, added underbody protection is the name of the game when it comes to the Bison.
While I prefer the more aggressive-looking bumper on the regular ZR2, that bumper still only offers a 30-degree approach angle, significantly lower than the Toyota Tacoma TRD Pro's 36 degrees. The Bison's unique front bumper is supposed to improve upon this, but figures have yet to be announced. In addition to improving approach angle, the Bison's bumper offers a little more than what you get with a standard ZR2. The Bison's front bumper comes with fog lights and is winch-compatible — neither of which are offered on the standard ZR2.
Around back, the Bison's rear bumper has prominent recovery points, frame-mounted steel tubes to protect the corners and knock-out plates where square accessory lighting can be added.
The most notable feature in the Bison's array of press photos released earlier this year is the snorkel. It turns out, though, that this is a dealer installed option, and none of the trucks used at the event had the snorkel fitted. This was odd given that it's probably the Bison's most prominent and marketable feature. It sounds like the reasoning behind the omission was to avoid encouraging water fording attempts when these vehicles go into press fleets. Nonetheless, the Bison felt a lot less special without this unique feature.
The Bison I drove at the event had the diesel engine. While it offered ample low-end torque, you still had to get on the pedal pretty hard to get up over any big rocks that were in your path, so it was hardly some great advantage over the V6. On the highway, well, it was a bit of a dog … given that the diesel carries a $4,000 premium, I'd stick with the more livable V6.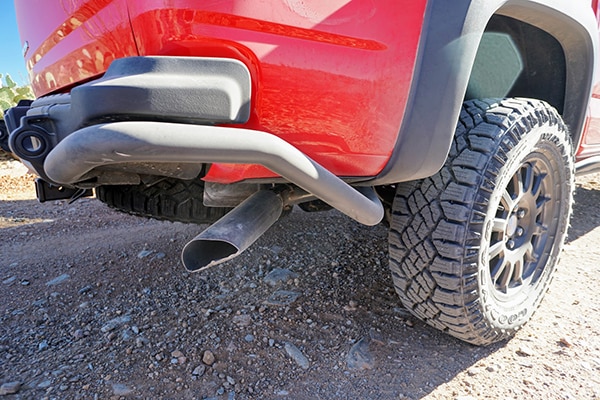 Another drawback of the diesel was realized during the rock crawling portion of our drive. Duramax-equipped Colorados have a wide-circumference, low-hanging exhaust pipe, and every single one drove away from the technical stage of the trail with theirs outlets smashed and crimped. This felt a little half-baked given the Bison's supposed proclivity for low-speed, technical off-roading. If you were going to truly use a diesel Bison as intended, this is something you'd have to address.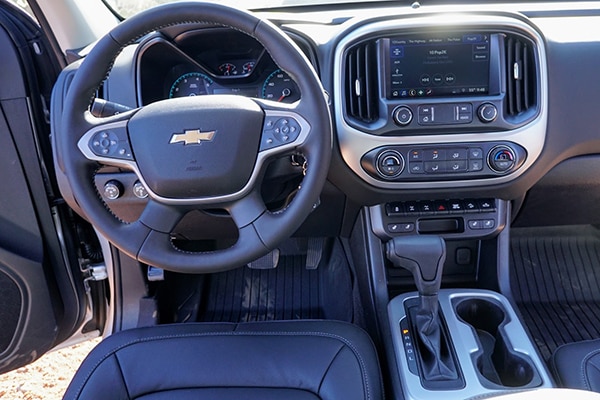 Automakers really get away with a lot in the midsize truck segment when it comes to interior quality. While the Toyota Tacoma is no luxury truck itself, the Colorado is downright primitive in certain areas. The parts that General Motors passes off as the "key" and "ignition" are better suited for a locking file cabinet than they are a vehicle.
I've driven both the Colorado ZR2 Bison and the Tacoma TRD Pro now and I can't say that one is necessarily better than the other with regard to suspension. One drawback to the Colorado is that the rear shocks are mounted low, below the rear axle in, making them vulnerable. GM will say it's for added travel, but it seems like a lazy oversight to me. Both vehicles can be a ton of fun but also have some extremely frustrating characteristics. In the end, I'd probably choose a Tacoma TRD Pro. It's got a slightly better interior, offers a more exciting driving experience and the Colorado doesn't do enough to get me to trust it more than a tried-and-true Toyota truck.
Altogether the Bison is cool, and it's exciting to see vehicles coming to market with this level of off-road readiness directly from OEMs. Unless you're planning to do some serious rock crawling though, a standard ZR2 will suffice, and offers unique, aggressive aesthetics of its own for significantly less coin. Ultimately, Chevrolet now offers two flavors of off-road Colorado: the ZR2 is styled in the vein of a baja truck, while the Bison is the overlander, and offers more in the way of protection.
Chris O'Neill grew up in the rust belt and now lives in Salt Lake City, Utah. He worked in the auto industry for a while, helping Germans design cars for Americans. On Instagram, he is the @MountainWestCarSpotter.