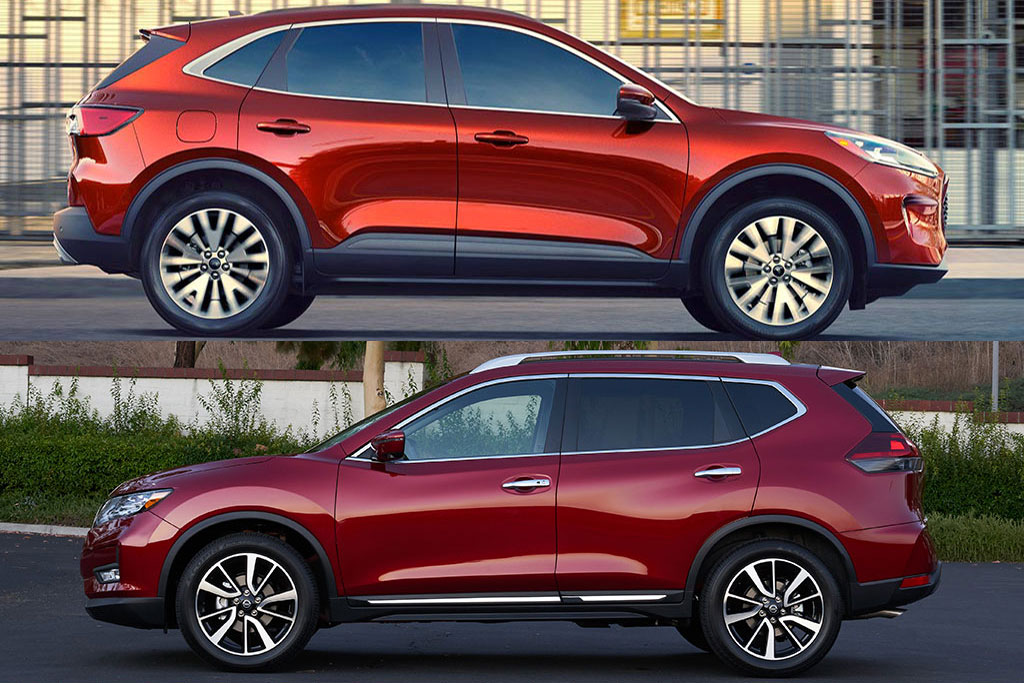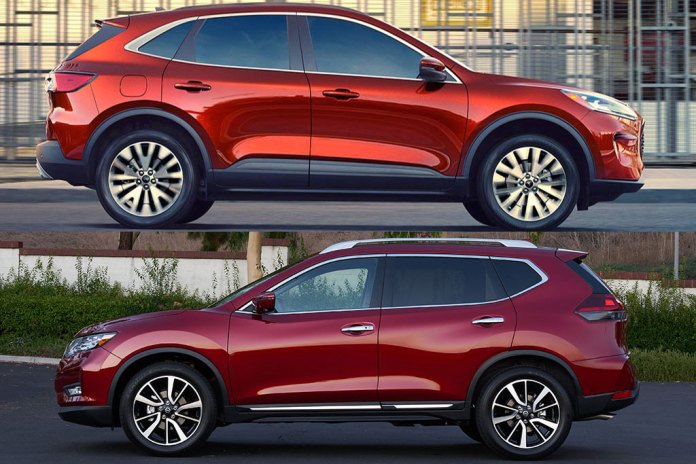 The 2020 Ford Escape is all-new.
The Nissan Rogue will be all-new for the 2021 model year.
The new Ford Escape is offered in both hybrid and plug-in hybrid form.
Two of the top-selling compact SUVs on sale today are the Ford Escape and the Nissan Rogue. Fully redesigned for 2020, the Escape is one of the newest vehicles on sale today, while the Rogue hasn't been fully redesigned since the 2014 model year, making it one of the oldest. Still, given their popularity and Nissan's tendency to offer the Rogue with extremely competitive pricing, buyers might find themselves cross-shopping these two vehicles in their search for a new compact SUV here in 2020. We've compared them in a number of categories to help determine which is the better buy.
Exterior
While we wouldn't exactly call either of these vehicles "rugged," the Rogue wears a more chiseled design than the Escape. In fact, the Escape is deliberately designed to be car-like, as it effectively serves as a replacement for the Ford Focus, which Ford opted to discontinue at the end of the 2018 model year. Buyers wanting a tougher-looking Ford SUV can look to the upcoming Bronco Sport, which is scheduled to debut some time in 2020. Altogether, the Escape incorporates a lot of soft, oblong, oval-shaped styling elements, and it's arguably the most car-like SUV on sale today. See the 2020 Ford Escape models for sale near you
The Rogue has more flat surfaces and a V-shaped grille. While the Rogue's burlier shape means it may look a little bigger than the Escape, the two vehicles are within four inches of one another in terms of overall length. The Rogue measures 184.5 inches, while the Escape is 180.5 inches. The Rogue is about two inches taller than the Escape as well. See the 2020 Nissan Rogue models for sale near you
Interior
Given the different eras in which these two vehicles were designed, their interiors look considerably different. The all-new Escape has a modern cabin with an electronic gear selector and an infotainment screen that sits atop the dashboard like a tablet computer. This allows the dashboard to sit lower, which makes for better outward visibility, not to mention a more open feeling. The Rogue, which has been on sale in its current form since 2014, uses a traditional gear lever and an infotainment screen that's flush with the center stack. Additionally, as it's meant to be a value-driven alternative, the Rogue's interior is heavy on cheap-feeling black plastic.
Looking at interior dimensions, the Escape offers an inch of additional second row legroom compared with the Rogue, but it gives up about five cubic feet of cargo space behind the second row seat. Fold their second rows flat, and the two vehicles are about even.
Mechanicals
The Rogue is offered with just one engine for 2020: a 2.5-liter 4-cylinder that puts out 170 horsepower and 175 lb-ft of torque. This comes mated exclusively to a continuously variable automatic transmission, which we find to be loud and a little rough. Front-wheel drive models are rated at 26 miles per gallon in the city, 33 mpg on the highway, and 29 mpg in combined driving. If you opt for all-wheel drive, these figures drop to 25 mpg city/32 mpg hwy/27 mpg combined. While a hybrid model was offered previously, it's been discontinued for 2020.
The new Escape comes with a number of powertrains. The Escape's base engine is a 1.5-liter turbocharged 3-cylinder that puts out 181 hp and 190 lb-ft of torque — which is not bad for such a small powerplant. The optional gas engine is a more powerful 2.0-liter turbocharged 4-cylinder making 250 hp and 280 lb-ft of torque. Both of these engines use an 8-speed automatic transmission. The 3-cylinder is available with either FWD or AWD, while the 4-cylinder is AWD-only. Three-cylinder models with FWD are rated by the Environmental Protection Agency at 27 mpg city/33 mpg hwy/30 mpg combined, while AWD 3-cylinder models return 26 mpg city/31 hwy/28 mpg combined. The AWD-only 4-cylinder model comes in at 23 mpg city/31 mpg hwy/26 mpg combined.
There's also an Escape Hybrid. The hybrid pairs a basic 2.5-liter 4-cylinder with an electric motor for a total output of 200 hp, sent to the wheels through a continuously variable automatic, which is common in hybrids. With FWD, the Escape Hybrid is rated by the EPA at 44 mpg city/37 mpg hwy/41 mpg combined, while AWD models net 43 mpg city/37 mpg hwy/40 mpg combined. A plug-in hybrid version of the new Escape adds a rechargeable battery to that same 2.5-liter 4-cylinder for a total output of 221 hp. The PHEV Escape offers about 30 miles of all-electric range and comes only with FWD.
Features & Technology
The Rogue offers a 7.0-in infotainment screen with Android Auto and Apple CarPlay as standard. The Escape starts off in a lower spec than the Rogue — but starting with its SE trim, just one up from the base model, the Escape gets an 8.0-in screen with Android Auto and Apple CarPlay as well.
In testing conducted by the Insurance Institute for Highway Safety, the Escape earned scores of "Good" across the board in all crashworthiness categories. The Rogue nearly aced the test, too, but it missed out on a perfect score due to an "Acceptable" rating in the passenger-side small front overlap test. That said, both vehicles came away with a Top Safety Pick award.
The 2020 Ford Escape comes standard with a generous mix of active safety features. This includes automatic emergency braking with pedestrian protection, lane-keeping assist, automatic high beams and blind spot monitoring with rear cross-traffic detection, which is usually an optional extra. Full-speed radar cruise control, lane centering, front and rear parking sensors and a park assist system are added for middle trim levels and above. The Rogue gets a good mix of standard active safety tech as well. The Rogue's offering consists of automatic emergency braking, lane-departure warning, automatic high beams and, once again, blind spot monitoring. Lane-keeping assist is an optional extra. Nissan's clever ProPilot Assist features are available with the SV trim and higher trims, mixing elements of radar cruise control and lane centering to pilot the vehicle down the highway over short distances — provided the driver keeps their hands on the wheel.
Also available on the Rogue is a 360-degree camera system with moving object detection, heated seats, a heated steering wheel, a foot-activated power lift gate, Bose audio, a panoramic sunroof, LED lighting and rear seat alert, which reminds you upon exiting the vehicle if you loaded something into the back seat prior to starting your trip.
Highlights on the Escape include an available digital gauge cluster, sport seats, a Bang & Olufsen sound system, heated seats, a heated steering wheel, a keypad entry system, a foot activated hands-free lift gate, a panoramic sunroof, different drive modes, an AC power outlet and more.
Pricing
A base FWD 2020 Nissan Rogue starts at $26,245 and tops out at $36,200 in fully-loaded SL trim, factoring in destination fees and excluding any financial incentives offered by your local dealer.
The 2020 Ford Escape starts at $26,130 and tops out at about $40,000 for a loaded gas-powered Titanium model, or $43,000 for a loaded PHEV Titanium model — not factoring in federal and state tax incentives.
Conclusions
All else equal, the 2020 Ford Escape is without question a newer, nicer, more technologically advanced vehicle than the 2020 Nissan Rogue. The Escape offers a modern design, a nice interior and a number of different powertrains for buyers to choose from. The Rogue, on the other hand, is a little limited for 2020, likely due to the fact that an all-new generation is set to debut for 2021. While its lone powertrain offering is pretty weak, and its interior has fallen behind the times, the Rogue still offers plenty of equipment and good safety ratings and can likely be purchased at a nice discount here in 2020. So, if cost is your main motivator, you'll probably be able to get good value out of the Rogue, but otherwise, we think most buyers will prefer the Ford Escape here in 2020. Find a Ford Escape for sale or Find a Nissan Rogue for sale