Those who head for the hills (or at least want to look like they head to the hills) as soon as they have a few free minutes have made go-to exploration vehicles out of off-roaders as disparate as the Toyota Land Cruiser, the Jeep Wrangler and the Subaru Outback. Right out of the dealership, those — and others such as the Toyota Tacoma and the Nissan Xterra — make taking the road less traveled a blast.
But there are some often-overlooked choices that I know I'd like to see festooned with a rooftop tent or trudging up a rocky trail. Here's a look at five choices that won't break the bank but will stand out as much in the REI parking lot as they will tucked into the wilderness at that camping spot only you know about: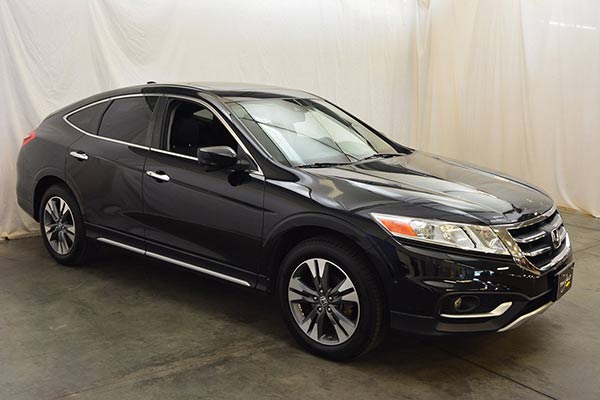 Honda Accord Crosstour
With wagon versions of the Accord a foggy memory, the folks at Honda cooked up an extended-length sedan with a big hatchback for the 2010 model year. Initially, the car was sold as the Accord Crosstour (it later dropped the Accord name), and it could be had with either front-wheel drive or all-wheel drive and a choice of 4- or 6-cylinder power. Its wheelbase was a couple of inches longer than the standard Accord sedan and it stretched a hefty 196 inches between its bumpers, with much of that space dedicated to cargo.
Lift its big trunk lid and you'll find 51 cu ft. of cargo space. That's enough for a long weekend of camping, hiking, biking or whatever extreme activity is on your agenda. Even if it's antiquing, the Crosstour's quiet and luxurious interior suits the mood well. The Crosstour was dropped after the 2015 model year, but nice examples for less than $20,000 are plentiful on Autotrader. Find a Honda Crosstour for sale
Mazda5
Vans make great campers. Just ask the Kiwis. In New Zealand, idyllic roads are positively clogged with small campers based on Japanese-market Toyota minivans. Only Mazda has had the guts to offer a small minivan with sliding doors here recently, and it was a gem. The Mazda5 was offered here in two generations, from 2006 through 2015. The earlier ones are more engaging to drive and are downright cheap, but the later vans were more refined inside.
Both generations offered a rare manual transmission for those who prefer to row themselves. The second and third rows of seats fold relatively flat for camping, while those with creativity, fabrication skills and time on their hands could remove the seats and build storage bins and a flat sleeping area. About $14,000 buys you an exceptional Mazda5, and those with a tighter budget can find the first generation models for well less than $10,000 on Autotrader. Find a Mazda5 for sale
Saab 9-3X
You may want to set an Autotrader search alert if it's rugged Swedish style with a Saab badge that you're after. As it watched Subaru and later Volvo and Audi go after outdoorsy types with wagons on stilts with unpainted body panels, Saab readied a chunky version of its 9-3 wagon. The car debuted with a sophisticated Haldex AWD system, the kind of setup you'd expect from a country that's covered in snow and ice for much of the year. The suspension was raised by about 1.4 inches to go along with the gray-finish fender flares and bumpers.
The 9-3X bowed in the U.S. for the 2010 model year and died with the brand in 2011. Parts are readily available from a company called Orio (which, it turns out, is not Swedish for Oreo), even though Saab hasn't built series production cars since April of 2011. A handful show up on Autotrader at any given time, and careful observers might find one of the few manual transmission versions to have made it to the U.S. (here's a red one). If you really don't want to blend in at a campsite, stick a Tepui tent on top of a 9-3X. Look for one here on Autotrader. Find a Saab 9-3X for sale
Mercedes-Benz Metris
Really want to rock that #vanlife? The Mercedes-Benz Metris is your van. Sized about like a Chrysler Pacifica minivan, the Metris is a European-style van riddled with curious compromises. Instead of having rear seats that tuck into the floor like Chrysler's Stow-N-Go, the Metris has upright benches bolted to a flat, vinyl-covered floor. Don't look for a swoopy dash with a big, high-tech touchscreen. The Metris goes simple with a screen plucked from 2005-era Benzes. The turbocharged 4-cylinder engine provides decent grunt, however, and the planted suspension makes the Metris surprisingly fun to drive.
For van campers, the Metris is just the trick, however. Chuck its bench seats — they'll look great in the living room you don't actually live in since you're #exploring #nature — and its easy-clean vinyl floor is perfect for camping. The Metris doesn't have the uber-camper capabilities of the Mercedes-Benz Sprinter, but it's a lot easier to park and a lot less expensive. Fully-outfitted camper versions can cost $70,000, but used passenger and cargo versions suffer colossal depreciation and are thus a cinch to find for under $20,000 on Autotrader. Find a Mercedes-Benz Metris for sale
Toyota Prius V
You don't buy any of these cars for their looks — well, the Saab's not so bad — and that certainly includes the ungainly Toyota Prius V. Toyota attempted to offer an entire lineup of Prius models a few years ago with the compact Prius C and the versatile (that's what V's for) Prius V. The V was more or less a standard Prius from its nose to its rear seats, but it can lug 34 cu ft. of cargo with the back seat upright and 67 cubes with it folded flat. Moreover, several roof racks can expand that capacity even more.
In its final year — 2017 — the Prius V was rated by the EPA at 41 miles per gallon combined. That's an impressive figure that may allow you to squeeze in an extra hiking trip or two a year, even if you may have to abandon your low-riding Prius V at the trailhead. For adventurers who don't need a high-clearance vehicle, the Prius V is easy to find for less than $20,000, even considering Toyota's sterling reputation for resale values. Hunt for one here on Autotrader. Find a Toyota Prius V for sale
MORE FROM OVERSTEER:
Autotrader Find: 1997 Hyundai Sonata With Just 57,000 Miles
Climber and Filmmaker Jimmy Chin Listed His Adventure Van on Turo
The C8 Chevy Corvette Will Spawn Many Amazing Kit Cars and Replicas