Car News
A New Engine Drives Hyundai's Ambitions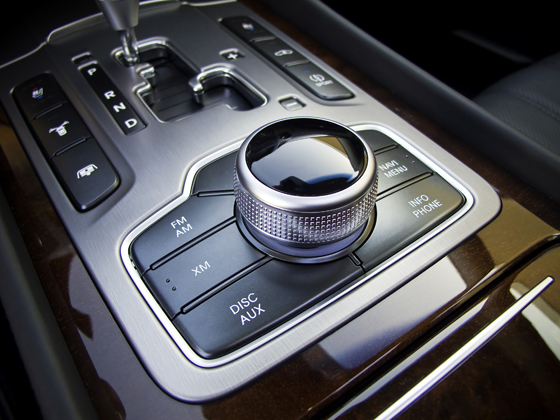 When thinking of powerful vehicles, Hyundai is probably not the first name that springs to mind. While it has increased horsepower and performance across the board – even going to the point of fitting its first-ever V8 to the Genesis flagship sedan – the company is still better known for its economy cars than potent, world-class engines. However, it seems that may be about to change.
During the fall, Hyundai is set to debut its most luxurious vehicle yet, the $50,000-plus Equus sedan. It will come with a 4.6-liter V8 as standard, but it's a foregone conclusion that the American market will receive that model's most muscular powerplant: a 429-horsepower 5.0-liter V8. If word on the streets of Seoul is accurate, that engine will also find its way into the Genesis sedan (currently available with a 290-hp 3.8-liter V6 and a 375-hp 4.6-liter V8). The new 5.0-liter V8 would make the Genesis the most powerful vehicle in its class, ahead of more prestigious rivals such as the BMW 550i (with 400 hp). It also significantly undercuts such vehicles by price. A current V8-powered Genesis starts under $40,000. Compare that to over $60,000 for the 550i.
The big question is whether Hyundai will share the big V8 with its sporty Genesis coupe, which currently offers a 2.0-liter turbocharged four-cylinder as well as the sedan's 3.8-liter V6. The latter engine produces 300 hp – competitive, but a far cry from V8 numbers.
A 429-hp engine would be a massive upgrade for the coupe, putting it in a favorable light against Ford's new Mustang GT, whose 5.0-liter V8 kicks out 412 hp. Having entered the luxury market, this new engine could now pit Hyundai into the thick of the muscle car world, but the company isn't talking about any such move.
Regardless of whether Hyundai does drop its big V8 into the Genesis coupe, the new engine will go a long way to help change public perception of the brand, which continues to creep steadily upmarket. Perhaps Hyundai's biggest challenge will be differentiating its products, as the Genesis may start to compete with the higher-end Equus, especially since the two cars will share engines. For Hyundai, though, this is a nice problem to have. Simply being in a position to take on established players in the luxury segment is a positive thing.