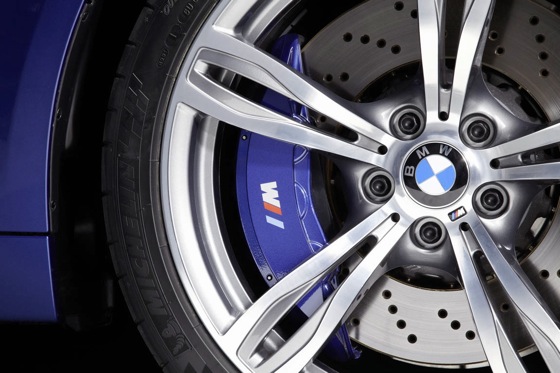 BMW launched their ambitious "M" program in 1978 with the mid-engine M1, a jaunty two-seater that looked more at home on racetracks than public roads. Since then, the Munich-based manufacturer has launched no fewer than 33 "M" cars, some of which are more aggressively track-oriented than others.
The latest M offering is the 2013 BMW M5, a premium midsize performance sedan that battles European tuner houses like Mercedes-Benz's AMG sub-brand and Audi's S division. Based on the redesigned 5-series chassis, the new M5 is a considerably bigger and more luxurious than its predecessor, which was available between 2004 and 2010 with a notoriously high-strung, Formula 1-inspired V10 powerplant, and the choice of a crisp-shifting automated manual gearbox or a traditional three-pedal stick shift setup. The 2013 BMW M5 reaches U.S. showrooms in summer, 2012.
"M" Stands for Modified, Among Other Things…
The latest M5 rests on a longer wheelbase than its predecessor, and is about 90 pounds heavier than a comparably equipped 550i. But don't let its heft fool you: BMW worked hard to trim down the M5, and this generation is far closer to its non-modified alternative than years past.
The chassis incorporates more aluminum for weight savings, and BMW engineers boast that everything from the steering wheel to the tires has been altered in the interest of providing more feedback to the driver. The 550i's fuel saving electric steering system has been replaced with a hydraulic unit, and the M-specific speed-sensitive Servotronic arrangement can be adjusted to one of three different settings.
Suspension tuning is far more aggressive in comparison to the more pedestrian 5-series, and dampers automatically adjust to speed and cornering forces, as well as three driver determined settings: Comfort, Sport, and Sport Plus. Power is routed to the rear wheels via a 7-speed dual-clutch automatic and a new electronic rear differential.
Though the official options list for the U.S.-spec M5 hasn't yet been released, the cabin will feature M sport seats, Merino extended leather upholstery, special "M5" badging, exclusive aluminum trim, and an Alcantara headliner. A centrally positioned 10.2 inch iDrive display will preside over the interior.
...But It's All About The Engine
M cars have a reputation for being lean-and-mean regarding performance, especially when they come in pint-sized packages like the 1 M Coupe. In order to counter its larger footprint, the M5 is endowed with a twin-scroll, twin-turbocharged 4.4 liter V8 producing an astounding 560 horsepower and 500 lb-ft of torque- an improvement of 60 hp and 117 lb-ft over the last-gen M5. The engine was altered from its X5 M and X6 M application for greater output through larger turbochargers and intercoolers, a different induction system, and beefier fuel injectors. The resulting tweaks help boost redline to 7,200 rpm, while peak torque starts at only 1,500 rpm, and doesn't start dropping off until 5,750 rpm.
The new powerplant offers an entirely different approach when compared to the dearly departed V10, with roughly 10 percent more horsepower and 30 percent more torque, both of which are available at considerably lower RPMs than before. Equally notable is the fact that the new M5 is approximately 30 percent more fuel efficient thanks to the wonders of direct injection, turbocharging, the dual-clutch transmission, and an Auto Start-Stop function that can be disabled by the driver. Though it's too early for official U.S. specifications, the transatlantic version of the M5 boasts a combined fuel economy rating of 23.6 mpg on the less stringent European cycle. When it reaches our shores, the 2013 M5 will also offer 50 percent greater cruising range thanks to the improved economy and an enlarged fuel tank.
The newest BMW M5 promises a more potent package that's also friendlier for everyday driving than its predecessor, which was a bit too performance focused for even some die-hard enthusiasts. Will the much-anticipated M5 live up to everything it seems to offer on paper? We'll have the answer soon in a full test that covers driving dynamics on both road and track.