Car News
First Look at the 2012 Mercedes-Benz SLK Roadster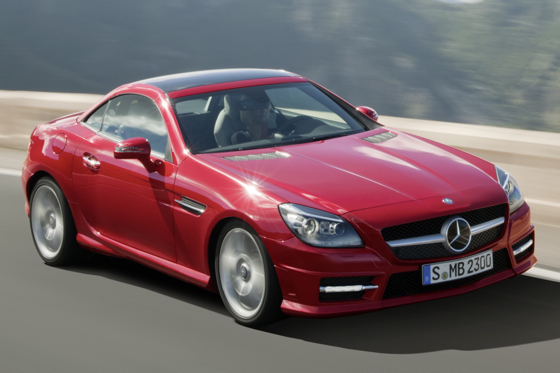 Mercedes-Benz has pulled the cover off its all-new 2012 SLK roadster. Set to hit showrooms this summer, the completely redesigned third-generation SLK will feature updated exterior styling, revised engines, and some unique new features.
Although the new SLK is totally refreshed inside and out, the most exciting change is to its roof. While the original SLK helped pioneer the retractable hardtop in 1996, the new model will offer an option that takes it one step further. Dubbed Magic Sky Control, the new system can adjust the transparency of the roof with the press of a button, allowing drivers to decide exactly how much sunlight to let into the cabin.
Of course, the new SLK offers more than just a nifty new roof. Gone is the previous SLK's entry-level model, the V6-powered SLK300. In its place, Mercedes-Benz will offer the SLK250, which features a 1.8-liter four-cylinder developing a potent 201 horsepower. While the 302-horsepower SLK350 remains unchanged, Mercedes-Benz hasn't confirmed the existence of an AMG model to replace the outgoing SLK55, which was discontinued following the 2010 model year.
The most immediately noticeable change to the SLK is its exterior styling, which has been described as resembling a "mini SL," referring to the automaker's recently-facelifted upscale SL convertible. With a more angular, aggressive front end, the new design is certainly a departure from the second-generation SLK's softer, more curvaceous treatment.
"The new SLK embodies the role of the trend-setter like no other car," said Dr. Dieter Zetsche, head of Mercedes-Benz cars and chairman of the board of management at Daimler AG. "I am convinced that with its passionate design, high-quality interior and its modesty at the fuel station it will continue to provide an enormous amount of fun on the road in the future, too, consolidating its status as a cult roadster."
Other new features for the 2012 SLK include torque vectoring to improve handling and improved sport suspension. While official pricing has yet to be announced, Mercedes-Benz is unlikely to stray too far from today's base prices of around $47,000 for the entry-level model and $52,000 for the SLK350.