Car News
Greater Focus - 2012 Ford Focus First Drive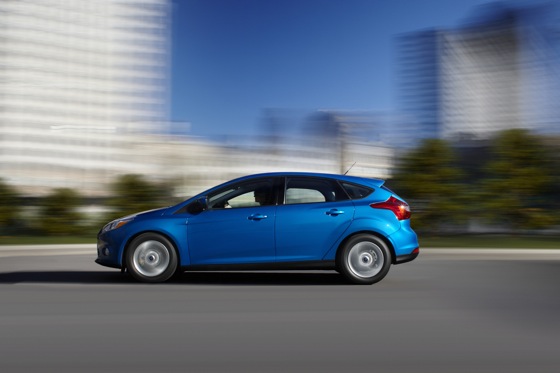 Every so often a new car or truck comes along that's so good it challenges established perceptions. Vehicles like the Toyota Prius, Nissan Leaf and more recently the Kia Optima have us expecting more, not only from those individual cars, but from all the cars in their class. The 2012 Ford Focus is one of those watershed cars.
Ever since the introduction of Ford's Sync in 2007, the Focus has had a lot going for it. It may not have been the most exciting or best looking compact, but it has certainly been compelling from a value and technology standpoint.
Thankfully, the tech part of the Focus is still there only more so. The excellent MyFord Touch system is available on the new Focus, and Sync continues, but in a more user friendly, streamlined form. Thanks to improvements in Sync's text to speech software, users can now have more control over more features and with fewer steps. Techies will love the new Focus thanks to standard and available features like dual USB ports, active park assist, in-car WiFi capability, HD radio with iTunes song tagging and an eight inch color touch screen.
However, the Ford Focus is now more than just a plain wrapper with lots of cool gadgets inside. The 2012 version of the Focus is a compelling car even if you don't care about touch screens and iPod connections. The exterior look of the car is dramatically different. It now looks like the kind of compact you might want regardless of price. Plus, that new body helps it slip through the air better resulting in improved fuel economy.
Ford's 2.0 liter four cylinder engine is almost entirely new and this is the only engine offered in the Focus until the plug-in electric version and the turbocharged ST model come along. New for 2012 is direct injection technology as well as twin independent variable cam timing. Because of this, expect the new Focus to get between 38 and 40 mpg on the highway. Another reason for the improved fuel economy is the available six-speed automatic transmission. It works a lot like a manual transmission without a clutch.
The base engine is good for 160 hp which provides the Focus with more than adequate acceleration. While the Focus is not underpowered, it certainly doesn't have an abundance of power either. Still, given the stellar fuel economy, ultra-modern interior look, plus tons of high-end options, the Focus could easily bee seen as a more affordable alternative to the compact Lexus HS250h hybrid.
One thing Ford got just right is the Focus' interior noise levels. Innovations like wind noise reducing doors and a more rigid body structure help give the Focus higher quality feel than the car's price would suggest. The 2012 Focus also has a noticeably sportier feel than before. This new Focus is actually fun and engaging to drive.
The dramatic improvements to the 2012 Focus don't really come at a substantial cost. It is possible to load up a new Focus to near $30,000 but most customers aren't looking for a $30,000 Ford Focus. The base S sedan model starts at just under $17,000, but most shoppers will likely be looking at the SE or SEL models. Priced from $18,000 to about $21,000, these versions offer the greatest value. The SEL comes standard with features like Sync, six-speed automatic transmission and 16-inch alloy wheels. Notable options include a 10-speaker Sony audio system, voice controlled navigation, leather, moonroof and an automated parking system that allows the car to essentially park itself.
With a great new look and features like automatic parking, Sony audio and a direct injection gasoline engine, the Focus accomplishes something the previous Ford Focus simply couldn't. It forces us to expect more, not just from Ford, but from all compact cars.