Just in case it wasn't obvious from my previous article, I thoroughly enjoyed my time at Radwood NJ! It got me thinking about what might be out there for low-mileage examples of cars from the 1980s. Obviously, Autotrader is filled with lovely museum-quality examples from Ferrari, Lamborghini and the like, but I wanted to focus on some cars with slightly less prestige. These are the kinds of cars you'd think no one would have preserved, and you don't typically find examples in pristine condition. But the five cars below are exactly that — with a total mileage on each that's less than a typical 3-year lease.
1988 Ford Thunderbird
The ad for this 1988 Thunderbird Turbo Coupe states that it's "quite possibly the nicest… in existence." When I looked through all of the exterior pictures of this bright red car, I found no reason to dispute this claim. It has only been driven 3,520 miles since it was built (an average of 113 miles per year), so perhaps its great condition is no surprise. The ad doesn't include any interior pictures, but presumably the condition inside is as beautiful as it is outside!
It's sad to think that this car, with its 190-hp turbocharged 4-cylinder and its 5-speed manual, probably won't see many more miles during the rest of its life. If you're shopping for a 1988 Thunderbird Turbo Coupe for your museum collection, it's hard to imagine finding a nicer example. However, if you're looking for one to drive and enjoy on the road, you could probably find a suitable daily-driver-condition car for significantly less than this car's $32,995 asking price. Find a Ford Thunderbird for sale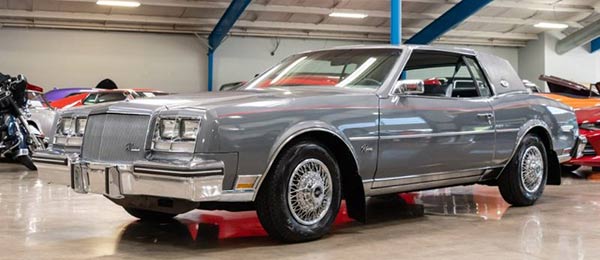 1985 Buick Riviera Coupe
If your dream car floats down the road like a pillow-top mattress, handles like one and comes with a 5-liter V8 that stuffs 255 lb-ft of torque through its front wheels — and it was designed in the 1980s — then fear not, your dream car is here.
Even though this car has only been driven 2,000 miles in its entire life, it's still just $13,800 — cheaper than a new Mitsubishi Mirage. Yes, that's right. This big coupe, with its V8 engine, power seats, automatic climate control and cruise control, is cheaper and better equipped than a brand-new car. You may cringe every time you have to stop and put gas in it, but with infinitely more style and presence than one of the cheapest hatchbacks on sale today, isn't that worth it? Plus, you'd be a hit at Radwood AND your favorite traditional car show! Find a Buick Riviera for sale
1987 Jeep Cherokee Pioneer
If you're like me, it's been a while since you've seen a Jeep Cherokee from this era that hasn't turned into a pile of rust by now. However, it would appear as though letting your Jeep spend its entire life on the small island of Catalina, off the coast of Southern California, and only driving it 287 miles per year will do the trick.
There are only three pictures in the ad, and while it may look less like a museum piece than other cars on this list, this Jeep still looks as rust-free and solid as any Jeep Cherokee left in this world. With the price and desirability of these cars increasing, the $9,795 asking price doesn't seem unreasonable. Find a Jeep Cherokee for sale
1987 Chevrolet Monte Carlo SS
Some time ago, I made a list of cars for which I still had a thing, despite a lack of love from the majority of people for the vehicles. I feel like the Monte Carlo was always stuck in the shadow of the Camaro, and it didn't get much attention as a result. To be fair, through the 1990s, the Monte Carlo wasn't anything more than a Chevrolet Lumina with two doors, and in the 1970s they were quite ugly. So, it's really only the 1980s car that you'd want, and unless you work at the GM Heritage Center, you aren't going to find a nicer one than this.
With its 4-speed automatic and its high-output 5-liter V8 pumping out an impressively low 180 hp, the performance is surely lackluster compared to modern cars. However, the aftermarket support for the engine is endless, so more power is just a few visits to Summit Racing away. With this car's asking price of more than $37,000, you could probably come close to rounding up all of the remaining Monte Carlo models in existence, but none of them will have traveled only 970 miles. It's a high price, for sure, but the opportunity to show up at the car show with the t-tops off, the tightest-fitting Bon Jovi t-shirt you can find and your mullet waving in the breeze is priceless. Find a Chevrolet Monte Carlo for sale
1988 Chevrolet Celebrity
When you're browsing on Autotrader to see what's out there for interesting cars that no one really got excited about when they were new, you expect to see some stuff that makes you go, "huh." What you probably don't expect to see is a Chevrolet Celebrity. And you certainly don't expect to see one that is entirely free of rust and from the more desirable Eurosport model line, which had an option package that added red badges inside and out, a black window trim and monstrous 14-in wheels. And yet, here it is.
While 18,000 miles is a high figure compared to those of other vehicles on this list, it would be low if the car were from 2018 — and it's 30 years older than that. The 2.8-liter V6 made (are you ready for this?) 130 rampaging hp! That may not be much, but it did at least put out something like 170 lb-ft of torque, so that's something. If you're looking for a low-mileage family car that perfectly encapsulates the best and worst aspects of the overlapping "Rad" and "Malaise" eras, is there anything that will better fit the bill?
If you're like me and find some joy in the nostalgia of these mundane but impressively well-preserved older cars, do a search for cars from 1980 to 1989 with a maximum of 20,000 miles. You'll be pulling up old memories from "back in the day" and going "really, one of those?" all day. Find a Chevrolet Celebrity for sale
MORE FROM OVERSTEER:
Bargain Alert: The 2016 Mercedes-Benz S-Class Maybach Has Lost More Than Half Its Value
Autotrader Find: 2009 Pontiac Solstice GXP Coupe
Video | I Bought the Cheapest Fiat 500 Abarth in the USA