I'm a sucker for a V8 -- but with three offspring, 2-door sports cars aren't in the cards. Even if they're a bargain. Unfortunately, the number of new V8 sedans on the market today is small, and the ones that are available are typically pretty expensive. However, if you go used, you can get some great V8 sedan bargains right here on Autotrader.
Chevrolet SS
As my main man Nelly crooned in the hit E.I., you can't go wrong with a black SS with the nav-i-gaa-shon. If you want the fantastic -- but labeled for dead -- Chevy SS, you'd better hurry. There are under 1,000 new SS sedans nationwide on Autotrader right now. Want a manual? Well, you'd better move -- that drops the number down to 219 new cars available. The highest price for the 6.2-liter V8 sedan is $62,500, the lowest a very reasonable $42,903.
Fear not, the used market has some more. The highest used price is a still-expensive $53,800, with the used-car average being $38,302. However, rumor has it that the remaining new cars are seeing as much as a 20 percent discount, which may make your V8 sedan decision a bit more challenging.
Dodge Charger Hellcat
Ah, everyone's favorite 707-horsepower super sedan, the Charger Hellcat. Want one? Of course you do, and you can have one, brand-new, for a price. Someone is selling, or attempting to sell, a new Charger Hellcat for $99,999. But if you're diligent, you can find one for as low as $59,622, bringing the average new-car price to $70,258. Still a lot of car for the cash.
Go pre-owned and you can get some deals -- just make sure someone hasn't binned it like Doug almost did in its cousin, the equally ridiculous Challenger Hellcat. Prices are pretty reasonable, in the $50,000-$60,000 range, with one private seller hoping and praying that someone will pay him $100,000 ... without a photo of his vehicle. Don't be that guy -- but do buy a Charger Hellcat and let me borrow it.
Cadillac CTS-V
If you haven't noticed, the CTS-V is now a 6-figure car. I should know, as I've got a press loaner next month that has an MSRP of $103,260. Autotrader has 247 new sedans currently on the market, advertised between $80,472 and $105,590.
Revert back to the previous generation, like that beauty above, and prices are plummeting. How about $40,000 to $45,000 for 6.2 liters of fury producing 556 hp? And some of those are certified! This could be my next car. And if you want to go further back in time, the first-generation CTS-V is an even better deal.
Audi RS 4
If you want a cool German super sedan, the RS 4 is certainly one, and there are some here on Autotrader! Prices start at just $17,495 for a 10-year-old car with just 171,552 miles. That's just getting warmed up in Audi-land! Just kidding, please don't buy one of these unless you have a really good mechanic or are Tyler Hoover. The cool banana above is a 2008 with under 60,000 miles on the clock, and the seller is asking $33,999.
Mercedes-Benz C63 AMG
When it comes to ridiculous V8 bonkers sedans, Mercedes Benz will always have a special place in my heart. The awesome 2016 C63 pictured above can be yours for just $60,000. That's a lot of mostly new car -- and a lot of horsepower -- per dollar. (Specifically, a twin-turbo 4.0-liter V8 with 503 hp). Roll back the clock to 2010 or so and they're more like $20,000. Safe purchase, go ahead!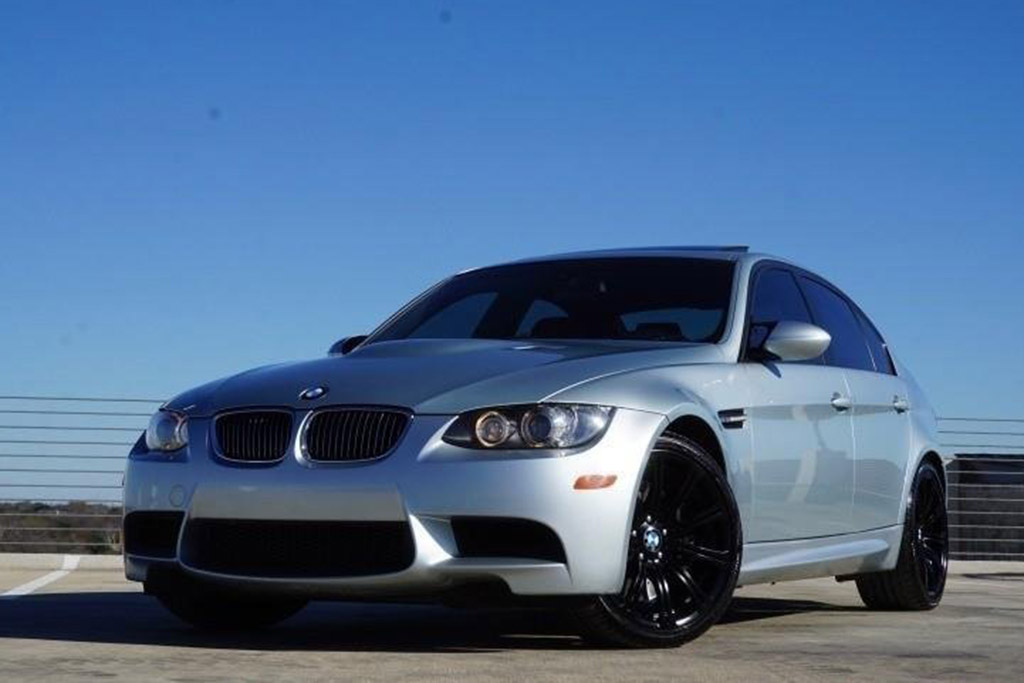 BMW M3
I've pined for this 4.0-liter 414-horsepower Bavarian bombshell for years, and the used prices are finally dropping down to reasonable levels. You can pay sub-$24,000 for one of these fine machines, but expect a 6-figure odometer reading. However, you can still find great examples with less than 50k miles for under $30,000. Good times!
So let me know in the comments which ones you're heading out to buy. And let me know what you'd like to see me do in a 640-hp CTS-V next month!
Based in Northern Virginia, William is professional writer and editor and acts as the Editor-in-Chief of Right Foot Down. He misspent most of his youth on tracks in the Mid-Atlantic, as well as killing cones in parking lots, and he once taught at a teen performance driving school.
MORE FROM OVERSTEER:
An Idiot's Guide to LS-Swapping a Porsche 911: Part 1
The Cross-Country Drive Is the Best Way to Cross the USA
Should a Nearly New Used Car Be an Immediate Red Flag?