When talking about great interiors, quality of materials and beautiful design is what comes to mind. Manufacturers like Audi, BMW, and Lexus are at the forefront of this. I drove a 2019 Lexus ES350 a few weeks ago, and I had mountains of compliments about the new design. Something that is forgotten, though, is functionality. This is where the Honda Element takes the cake, as it can easily haul it wherever you need to go — and it can also bring along basically whatever you need to bring.
Released for the 2003 model year, the Honda Element was a quirky design put together by a group of young R&D engineers. Built on the CR-V chassis, the Element was intended to be the perfect Sports Utility Vehicle for an active crowd — and the real party piece is the interior. Honda's designers put together one of the most ingenious interiors of any car I have seen — not due to the quality of its materials, but rather the functionality of everything.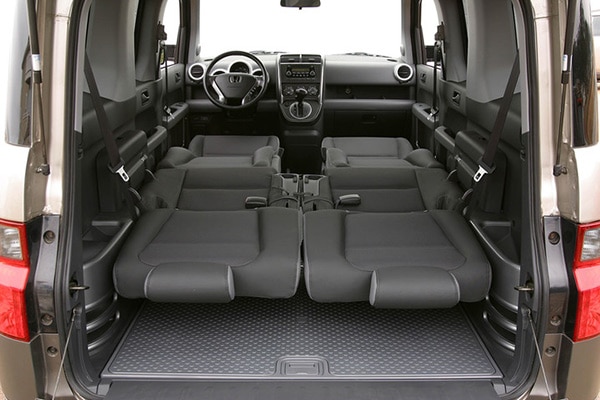 As you can see from these pictures, the seats can be moved in seemingly endless ways, creating nearly the perfect vehicle for any need. Do you need to haul four people? Perfect, there are four seats with seat belts. Do you need to haul a dresser? Perfect, all the seats will fold to the side, creating a rather large floor! Do you need to crash for the night, and there are no hotels nearby? Perfect, all of the seats will fold flat — making a great bed.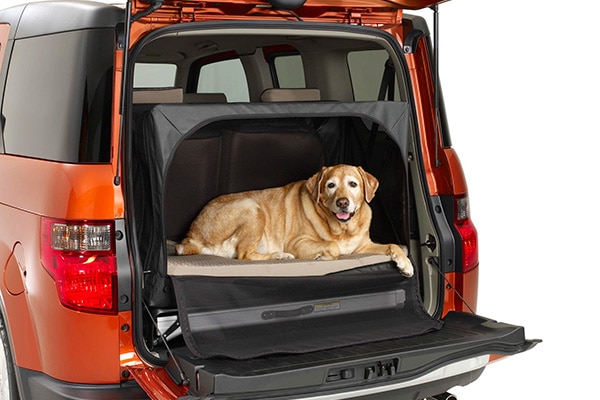 To further the usability of the vehicle, Honda made the floors out of scratch resistant thermoplastic polyolefin, and then covered them in stain resistant fabric. This obviously makes it great for dogs, a fact that was reinforced when the Element was awarded the "Dog Car of the Year" award from Dogcars.com in 2007. To celebrate, Honda made the Honda Element "Dog Friendly Concept Car" for the 2009 New York Auto Show, which turned into a $995 "Dog Friendly" dealer installed package that included a custom fitted soft sided crate, a 12V fan in the cargo area, a portable ramp, dog-patterned seat covers and floor mats, and special paw print badges for the fenders and tailgate.
The seats were also designed to be easily removed. This somehow makes the Element even better, as cargo capacity can be expanded to an insane 128.7 cu ft. For comparison, a Chevrolet Suburban with the second row seats folded down has 121.7 cu ft. of cargo room. That's seven less cubic feet, while also transporting the same amount of people! And unlike the Suburban, the load floor is actually at a comfortable height. And the boxy shape of the vehicle makes for an area you can put almost anything in, including motorcycles and scooters that could be too tall for anything else.
People have even gone to the great lengths of modifying their Element for whatever they need.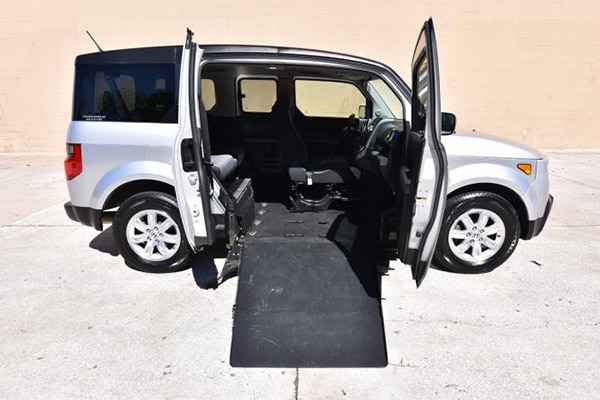 Clearly, the Honda Element is as versatile as almost any vehicle ever made. And the interior isn't the only good part. The clamshell doors allow for easy ingress and egress for both the front and rear passengers. And you could get one with all-wheel drive and a manual transmission, for peppy performance. Unless you have a family of five, I don't see any reasons not to own one. If you agree, click here to find one on Autotrader near you. If you come across a Dog Friendly version, let me know. My greyhounds would appreciate it.
MORE FROM OVERSTEER:
Here's Why the Koenigsegg Agera RS Is Worth $10 Million
I Bought the Most Unreliable BMW Ever Made
Autotrader Find: 1990 Subaru Legacy With a Landau Roof