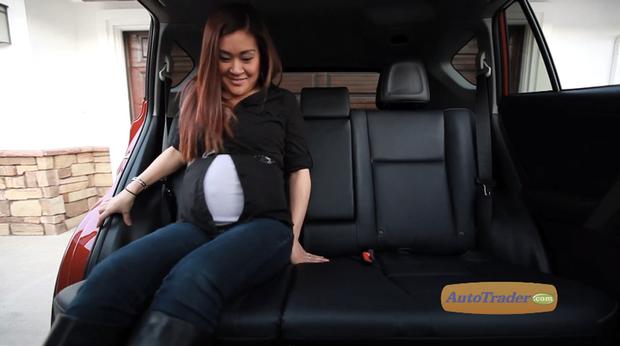 When we asked how to test the roomy interior of the 2013 Toyota RAV4, your suggestions included honey badgers, sumo wrestlers, and a mountain lion. We chose something more practical (and a lot safer for us) to check out the RAV4's rear seat comfort: one very pregnant woman.
The RAV4's rear seat easily accommodated our test subject thanks to 42 inches of rear legroom. She was also impressed that the seats could be adjusted up to an inch forward and back. The RAV4's rear seats also recline.
Cargo volume is also a strong suit, since the RAV4's rear seats fold down in a 60/40 split. In all, the 2013 Toyota RAV4 boasts 25 percent more interior volume than last year's model -- a big boost for carrying cargo or people.
See more Toyota RAV4 reviews & videos
Want to learn more about the new Toyota RAV4? Tell us what you want to know in the comments below.