Car News
Hyundai Accelerates Donations to Childhood Cancer Research
It's been spied on the road in Boston and LA and everywhere in-between. You probably wouldn't miss it if you saw it. And if one stops in your city, count your city lucky.
What is it? A white Hyundai Santa Fe covered with colorful handprints, a symbol of Hyundai Motor America's Hope on Wheels Tour. The handprints represent childhood cancer patients from all over the country.
In its 12th year of commitment to supporting childhood cancer research efforts, the Hyundai Hope on Wheels Tour has logged thousands of miles to deliver more than $14 million to children's hospitals nationwide—and has collected hundreds of handprints from children fighting cancer.The Hyundai Hope on Wheels Tour has logged thousands of miles to deliver more than $14 million to children's hospitals nationwide.
This summer, the Hope on Wheels Tour will travel to 44 children's hospitals across the country to donate more than $2 million in grants to fund training and research in childhood cancer. Additionally, the automaker just revealed to AutoTrader.com on Friday a new nationwide initiative to raise even more funds in support of National Childhood Cancer Awareness Month in September.
"We are furthering our commitment to the cause by donating an additional $6 million in the month of September," announced Zafar Brooks, Director of Government Relations and Diversity Outreach for Hyundai.
Hyundai dealers have pledged to donate a total of $3 million dollars to Hope on Wheels based on vehicles sold during the month of September, and those funds will be matched by Hyundai Motor America. The $6 million contribution will go to children's hospitals and other non-profit organizations across the country in the form of "Hyundai Hope Grants," which will fund childhood cancer research projects as well as survivorship programs and other resources designed to improve quality of life for children with cancer.
"This September, our goal is to raise more awareness of this issue than we ever have before to support the fight against this dreaded disease with the hope of seeing more children go on to live long, happy lives, free of cancer," said John Krafcik, President and CEO of Hyundai Motor America.
By the end of the year, through this new initiative and on-going fundraising, Hope on Wheels will have awarded more than $22 million dollars to support the fight against childhood cancer since it became involved with this cause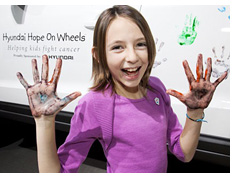 Originally started by a small group of dealers in New England, Hope on Wheels quickly grew into a nationwide effort. Today, every time a new Hyundai vehicle is sold in the U.S., $5 is donated to the foundation. Hyundai Motor America uses the money to award research grants to pediatric oncologists, known as "Hyundai Scholars," in every single dealer region.
"We encourage our dealers to reinvest and give back to their communities," said Brooks. "And we believe this is an important public policy issue."
The "Hyundai Scholars" chosen are typically near the beginning of their careers, so these grants fund what is often a rare opportunity for these doctors to further their research in hopes of creating a protocol, a clinical trial or a new drug. The cash donations provide investment seed money for these junior doctors, said Brooks.
"Who better to research a cure than those who have the passion, ideas and energy," said Brooks. "Let's give them the opportunity to explore the work, and within those fresh minds a cure might exist."
If the doctors are the face of the cure, then the children are the face of the cause. Hyundai appointed 12-year-old Brianna Commerford as the Hope on Wheels National Youth Ambassador. Commerford battled Stage IV Hodgkin's Lymphoma when she was just ten years old. Now healthy and 18 months into her remission, she has joined the Hope on Wheels Tour to share her story and to help bring hope to other children facing cancer. Her set of handprints are represented on that white Hyundai Santa Fe.
So if you happen to spy a Hyundai Santa Fe covered in red, green and blue handprints in your town, you'll know that it represents the fight against childhood cancer.