Car News
Lamborghini Aventador LP700-4: Upholding Lambo's Supercar Tradition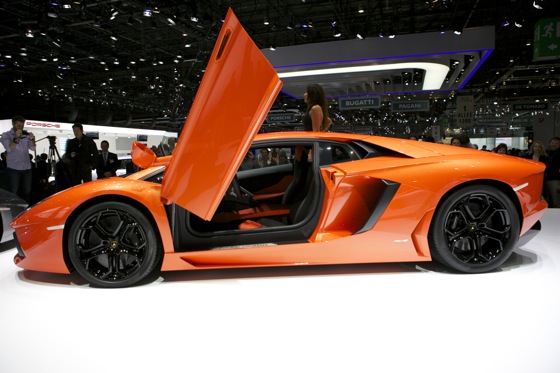 The latest in a long line of swoopy supercars, Lamborghini's striking new Aventador LP700-4 fills the shoes vacated by the likes of the curvy Miura and the wedge-shaped Diablo. But instead of re-skinning the outgoing Murcielago, Lamborghini created an entirely new vehicle that CEO and President Stephan Winklemann told journalists here at the Geneva Motor Show was the equivalent of a two-generation leap in technology. As for its performance, Winklemann claims the driving the Aventador feels like nothing short of "skydiving or "bungee jumping."
Not having experienced seat time in this just-unveiled flagship, here are a few highlights about Lamborghini's wild new ride. While the Murcielago's understructure was composed of a tubular frame chassis, the Aventador's new monocoque helps achieve a weight loss of just under 200 pounds. The carbon fiber structure incorporates three different types of compositions for different purposes; high visibility areas like the roof use a formulation that's exceptionally smooth, creating a surface that enables a glassy paint finish. More structurally crucial areas like the A-pillar and rocker panel incorporate a braided weave designed to absorb inertia in the event of an accident. In order to avoid unnecessary noise, vibration and harshness, foam inserts are inserted in key areas of the chassis.
A 6.5 liter V12 engine is housed midships beneath louvered glass, offering a spectacle that's visual, aural, and wildly accelerative; its 700 horsepower of thrust enable 0 to 60 mph jaunts in only 2.9 seconds, and a top speed of 217 mph. But despite its staggering terminal velocity, Winkelmann told AutoTrader that Lamborghini's priorities are shifting more towards athletic handling and higher power to weight ratios, rather than top speed–characteristics that are brought about through weight loss, chassis stiffness and suspension tuning. Incidentally, fuel consumption and carbon dioxide emissions have been reduced by 20 percent.
Beneath its faceted exterior, a new seven-speed transmission snubs the dual-clutch trend du jour in favor of a system which enables the next gear to start engagement while the previous cog is being disengaged; shifts require 50 milliseconds, a mere 10 milliseconds slower than the ultraquick transmissions found in multimillion dollar Formula 1 race cars. The engine communicates with the transmission using a one ECU that controls both units, and this is the first time in its VW-owned history that Lamborghini has built and assembled both engine and gearbox at their Sant'Agata, Italy headquarters. The Aventador's suspension is a pushrod system inspired by F1 exotica, and brakes are massive 400mm front and 380mm rear units designed to bring this 3,472 pound beast to a halt.
When the Lamborghini Aventador LP700-4 becomes available later this year, it will be priced at $379,700.