Editor's note: You may want to read more of Autotrader's model vs. model comparison car reviews as well as the 2016 Honda Pilot long term review, the 2017 Honda Pilot review and the 2016 Acura MDX review.
We're guessing quite a few people are contemplating this pair of popular 3-row crossovers, corporate cousins with more than their fair share of mechanical similarities. Sure, the range-topping 2017 Honda Pilot Elite trim level actually costs $3,000 more than the most basic 2017 Acura MDX, but realistically, we think it's quite likely that folks will be wondering how a new Pilot compares to a used MDX. How are they similar, how are they different and could one be a better choice for your family? Let's take a look.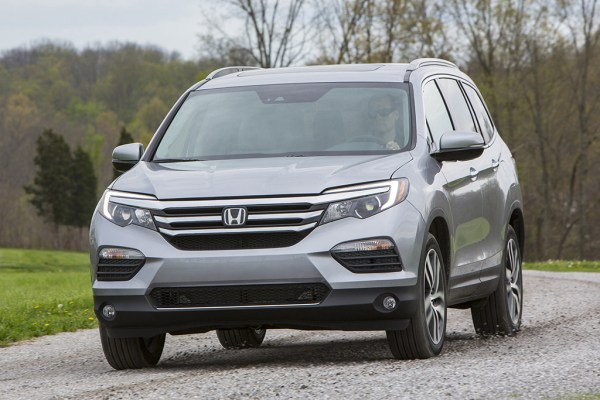 2017 Honda Pilot
After a complete and thoroughly agreeable redesign last year, the Pilot cruises into 2017 with a single change: Apple CarPlay and Android Auto added to those Pilots equipped with an 8-inch touchscreen. See all 2017 Honda Pilot models available near you
Used Acura MDX (2014-2016)
The MDX received its first set of substantial updates for 2017 since being completely redesigned back in 2014. As such, a used version will be pretty similar to a new version, but there will be key differences. The styling was changed slightly (note the different grilles) and the standard features list was enhanced to include an electronic parking brake, additional USB ports and the AcuraWatch suite of accident-avoidance tech that was previously optional. It's also now available with popular features not available on a used MDX: 20-in wheels, a surround-view camera system, a heated steering wheel and second-row captain's chairs. See all 2016 Acura MDX models available near you
Reliability
Since its introduction for 2014, the current-generation Acura MDX has enjoyed a pretty clean reliability record, though there have been some complaints about its audio system and hyperactive responses from its forward-collision warning and braking system (we share them). It's still too early in the Honda Pilot's current model cycle to provide a definitive verdict, but so far it's been in keeping with its nameplate's strong reliability history. It too has drawn its fair share of infotainment complaints, but those have had more to do with design than reliability.
Fuel Economy
Both the 2017 Pilot and 2014-2016 MDX come with a 3.5-liter V6 engine: The Honda's produces 280 horsepower and 262 lb-ft of torque, while the Acura's betters it slightly by 10 hp and 5 lb-ft. Front-wheel drive is standard on both and all-wheel drive is optional, although the Acura's is a slightly more advanced system. Fuel economy differences are a similar wash.
The Pilot LX, EX and EX-L trim levels have a 6-speed automatic transmission, while the Touring and Elite have a 9-speed automatic transmission. Fuel economy with the 6-speed and front-wheel drive is 19 miles per gallon in the city, 27 mpg on the highway and 22 mpg in combined driving. The 9-speed's estimates are 20 mpg city/27 mpg hwy/23 mpg combined with front-wheel drive. All-wheel drive lowers each of those estimates by 1 mpg. However, despite the difference in estimates between the two transmissions, you're unlikely to see an actual difference in real-world driving. Indeed, you're more likely to be irritated by the 9-speed's dim-witted reactions to driving inputs.
That very 9-speed transmission was added to the 2016 Acura MDX, which suffered from the same lack of refinement displayed in the so-equipped Pilot. Fuel economy also wasn't improved year-to-year — it was essentially the same as it was with the standard 6-speed automatic for 2014 and 2015: 20 mpg city/28 mpg hwy/23 mpg combined with front-wheel drive. All-wheel-drive models took a bigger dive with the 6-speed, however — a 2 mpg combined reduction rather than a 1 mpg reduction.
Safety
The 2017 Pilot received a 5-star overall crash rating from the federal government, along with a 4-star frontal rating and a 5-star side rating. The 2014-2016 Acura MDX received 5 stars across the board. The nonprofit Insurance Institute for Highway Safety gave both SUVs Top Safety Pick + ratings.
In terms of standard safety features, a new Pilot and a 2014-2016 MDX are equally equipped apart from the Acura's standard knee airbag. Both are eligible for the same safety options, including lane-departure warning and keeping and a forward-collision warning and automatic braking system. Unfortunately, in the 2014-2015 MDX these require the Advance & Entertainment package, which may be difficult to find on a used lot. The 2016 MDX had them optional on every model, while the Pilot's are available on all but the base LX trim.
We should note that both of these SUVs' forward-collision warning systems can irritate. They consistently alert (and startle you) at times when a collision is clearly not likely. The adaptive cruise control system included with forward-collision warning is also too eager to slam on the brakes when a vehicle emerges ahead and then too slow to speed up when it clears.
Technology
Most 2017 Pilot trim levels include extra USB ports, Apple CarPlay and Android Auto connectivity, features that were never available on the MDX model years under consideration. Effectively, those are the only items you won't be able to find by going with a used MDX. Not exactly a deal breaker.
When it comes to electronics control, the Pilot and MDX are different in terms of the interfaces they use but similar in their frustrating functionality. Every MDX has a confusing dual-screen setup: The bottom touchscreen controls some elements, mostly audio-related, while the upper display screen is controlled by a knob and several buttons below the touchscreen. It's confusing to learn and distracting to use even when acclimated. All but the base Pilot LX comes with a single touchscreen interface, which suffers from slow responses, a convoluted menu structure and a lack of a volume knob or dedicated menu/function buttons.
Interior Space
The 2017 Honda Pilot offers more interior space than the Acura MDX, especially in the third row. A pair of adults can actually fit back there and there's even a third seat belt that should allow a trio of kids to fit. The MDX's aftmost row is best suited to kids only and is restricted to two of them at that. It has about 2 fewer inches of legroom and about 3 fewer inches of headroom. To be fair, the MDX is more spacious that most other 3-row luxury SUVs.
Ditto its cargo capacity, although the MDX does fall considerably short of the Pilot's capacity. According to Honda/Acura specifications, the MDX has 68.4 cu ft. of space in total, with 38.4 behind the second row and 15 behind the third. The Pilot has 83.9 total, 46.8 behind the second and 16.5 behind the third. These differences are considerable, and you'll be able to tell the Pilot is the far more utilitarian choice.
Interior Quality
The MDX displays a higher degree of interior construction and materials than the Pilot, but honestly, the MDX isn't exactly the most overtly luxurious SUV out there. It's pretty unremarkable compared to, say, a Lexus RX 350. At the same time, the Pilot features some of the best materials and construction in its segment, while being pretty darn luxurious in its top trims. So while you'll certainly be getting a more premium environment by opting for the Acura, the differences between the two aren't that great.
Value
You can expect to find a certified pre-owned 2014 Acura MDX with fewer than 30,000 miles for between $30,000 and $35,000. A 2015 or 2016 seems to add $2,000 to $4,000. Value-determining factors include mileage and the presence of optional all-wheel drive and/or the Technology package. You can also shave at least $2,000 off by getting a noncertified used MDX, but you'll be sacrificing the assurance of that certification plus 12 additional months of limited warranty coverage and 7 years of powertrain coverage from the time of the original purchase (a new Pilot has 3-year limited and 5-year powertrain warranties)
Essentially, these 2014-2016 MDX prices mirror those of a new Pilot. You should be able to get a better equipped and more luxurious used MDX for the price of a Pilot LX or EX. At the same time, you should also be able to get an MDX with the Technology package for about $4,000 less than a new, comparably equipped Pilot Touring.
Autotrader's Advice
So, how much do you value utility, advanced safety tech and the most warranty coverage possible? If the answer is "a lot!" then a new Honda Pilot is probably for you. If, however, you want a higher-quality and better equipped interior, the added cachet of a luxury badge and likely a lower price, you should probably seek out a used Acura MDX. Just remember, if you go that direction, even certified pre-owned examples differ from car to car. As such, always do your own inspection and make sure the dealer fixes everything.
Find a Used Honda Pilot for sale