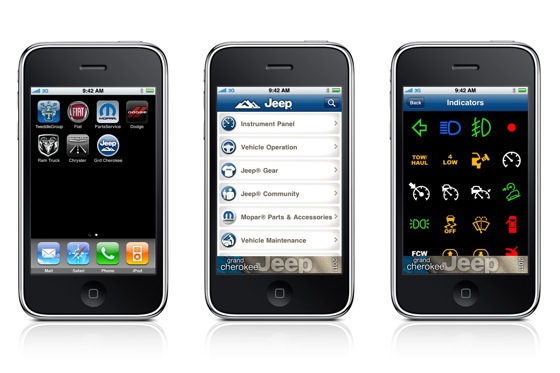 New smartphone apps are making it easier than ever to own a Dodge. The brand's new Mopar apps give customers electronic information at their fingertips, allowing them to connect with their vehicles, learn more about the brand, and even keep up with other owners.
The apps, available now for the iPhone with the Blackberry and Android soon to follow, provide customers with maintenance and warranty information, product demonstration videos, and 24-hour roadside assistance. For social butterflies, the apps even allow owner to connect with each other on the brand's social media sites. Each model's owner's manual will also be included on the apps, giving Dodge the ability to update the manuals in real-time.
"Dodge vehicles feature the latest technology to keep our active customers connected and on the move," said Ralph Gilles, Chrysler's head designer and Dodge's president and chief executive. "This is an example of how we are better connecting with our Dodge owners, responding to their needs, and growing our relationship with them."
Currently available only for new owners of the Dodge Charger sedan and Durango SUV, the apps are expected to be available soon for Avenger, Grand Caravan, and Journey owners. Other models from the Chrysler brand will also receive the apps, which have been available for the Jeep Grand Cherokee since last summer. Apps for the Chrysler 200, 300, and Town & Country were released earlier this month, while the Ram Truck series joined on at the end of last year.
"Dodge's new vehicle information application is part of our company's customer care initiatives and creates a convenient, on-demand channel of communication with our customers," said Pietro Gorlier, president of Mopar, Chrysler's parts and service arm. "This communication will enhance our customer experience with a source for owners and potential owners to learn about Dodge products."
Other features of the apps focus heavily on Mopar, including a section to check out the brand's parts and accessories. Also included in the apps will be a marketplace for Dodge gear and other brand merchandise.