It's no coincidence that St. Patrick's Day and the color associated with it comes just as winter gives way to spring. Green is the color of rebirth as well as the Emerald Isle. But green also occupies an odd place within the automotive world.
Many people think green is an unlucky color for a car. A quick trip around the internet unearths anecdotes from past owners of green cars, saying their rides developed odd rattles, got them into accidents. Some have even lost loved ones because of such accidents. But in a world where black, grey and silver make up the top three car colors (according to DuPont), green – which accounts for only two percent of cars sold in the United States (again, DuPont's figures) – can be a hip alternative. And car makers have come out with some cool green hues over the years. Here are some favorites:
British Racing Green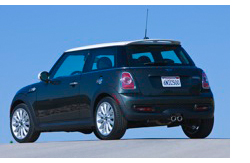 If we subscribe to the theory that color choice says something about our personalities, a dark green car would signify a steady type, trustworthy and traditional. British Racing Green originates from the early days of motorsport. Many racers risked (and often forfeited) their lives driving as fast as possible – before the invention of crash helmets and safety belts. So whether they were steady sorts is debatable. These days, the 2011 Mini Cooper comes in a metallic BRG, and Mazda made a similarly-shaded 2001 MX-5 special edition, so there's still a fun element, but both cars are excellent choices.
Porsche greens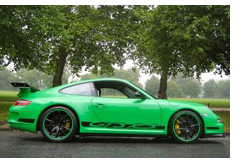 The 1970s was a great time for car colors. Even brown was fashionable then. Porsche adorned some of its 911 models in Speedway Green, a rich shade smack in the middle of the spectrum, but one never found in nature – except perhaps for canned peas. The famed Carrera RS ducktails of 1973/74 came in a lighter Viper Green and the ultra-fast 911 GT3 had the option of an almost florescent Signal Green. Highly visible, but when driving at the speeds the GT3 can reach, that can only be a good thing.
Lamborghini Verde Ithaca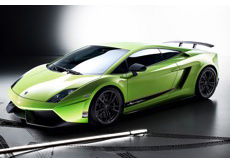 Lamborghini cars are styled in such a way that they look pretty darn awesome in any color. But a 2011 Gallardo LP-570-4 in Verde Ithaca with all-black alloy wheels makes the scarlet of that other famous Italian sports car company seem unimaginative.
Lexus Fresh Green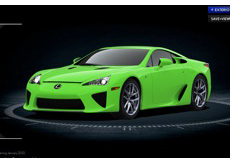 No, this isn't for the usual conservative sedan fare at which Lexus excels. Fresh Green is an exterior option for the 2012 LFA supercar, that 560-hp machine which will cost $375,000. There are no publicity shots of such a version. Many companies don't let photographers anywhere near their green cars, but Fresh Green is similar to Porsche's Signal Green.
Ford Lime Squeeze Metallic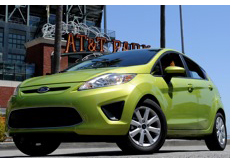 Most greens seem to have come from racing, or at least high-performance cars. But the 2011 Ford Fiesta, which can get 40 mpg on the highway, has an acid-drop kind of green called Lime Squeeze Metallic. It could just be an old wives' tale that people who choose lighter green cars are lively and faddish, but that seems to be the audience Ford is going for with its new subcompact.