Car News
Rise of the Luxury High-End Hatchback and Wagon
In this great country that is home to so many creeds, colors and cultures, it would not be unreasonable to surmise that station wagons and hatchbacks might enjoy a decent-sized niche. After all, they can be handsome, practical and fast – wrapped into one package. But for several decades, this body style has been the eccentric uncle of the automotive family, quirky and largely ignored, while SUVs and minivans moved to the mainstream, always invited over for Thanksgiving.
A change is due. Despite the evolution of SUVs into car-based crossovers rather than truck-based behemoths, they can still guzzle gas and cost a lot when the time comes for new tires. It's a similar story with minivans, and neither vehicle can be called aerodynamically efficient. There is also a trend toward downsizing, not just because of fuel prices, though with $4 gas that would be reason enough, but from the standpoint of wishing to reduce our footprint. Yet we still want to retain some practicality and that touch of luxury. The time is ripe for wagons to roll again.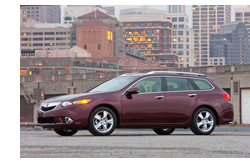 2011 Acura TSX Sport Wagon
The TSX is the first wagon Acura has ever produced. That it does so now is not coincidental. Naturally, the company has followed other makers and tried to hide its true nature with a cool-sounding name. BMW calls many of its wagons Touring models; Audi has coined the term "Avant." But we can all see what it is, a luxurious yet useful vehicle (61 cubic feet of cargo space) with a lower center of gravity and less weight than an SUV. So its 201-horsepower, 2.4-liter four-cylinder engine can feel sprightly while still ensuring 26 mpg on the combined cycle. Pricing starts at $31,820 including destination.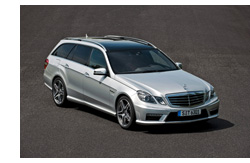 2012 Mercedes-Benz E-Class Wagon
The E-Class luxury sedan is already an impressive vehicle, with cutting-edge safety and convenience features, a sleek exterior, and appropriate levels of performance. When the AMG tuning division gets involved, a 518-hp twin-turbo, 5.5-liter V8 takes over the engine bay, the suspension and brakes are upgraded to cope with the extra muscle, and those long highways seem to become much shorter. Now imagine all those attributes along with 69 cubic feet of space. In other words, the ability to carry a precious antique wardrobe, or take a load of ski gear up to the mountains, combined with mind-blowing speed. The 2012 Mercedes-Benz E63 AMG Wagon is coming to the United States later this year, with an optional performance package that bumps things up to 550 hp.
2011 Cadillac CTS Sport Wagon
If there's one American car that can give the E63 AMG wagon a run for its money, it's this. The Cadillac CTS-V enjoys a well-earned reputation as a world-class sport/luxury machine. A supercharged 6.3-liter V8 endowed with 556 hp results in the performance of a dedicated proper sports car, but this thing can also swallow bicycles and snowboards – thanks to 54.3 cubic feet of cargo volume. It starts at $69,585 and is made to order, so yours will have an extra air of exclusivity.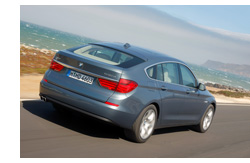 2011 BMW 5 Series GT
Now we reach the slippery slope between wagon and hatchback, the slope that delineates its roofline. As already mentioned, BMW makes wagon versions of the 3 and 5 Series called the Touring, but the boys from Bavaria saw that these weren't selling well Stateside and came up with a compromise: the Gran Turismo, or GT. This is essentially a hatchback and so far it's only available as a variant of the 5 Series. However, according to industry buzz, the 3 Series is set to get the same treatment later this year. Right now, though, the 5 Series GT offers a choice of two excellent engines: the 535i has a 3.0-liter, turbocharged straight six with 300 hp, while the 550i has a mighty 4.4-liter V8 making 400 hp. Along with those famed BMW driving dynamics, each version has a capacity of 60 cubic feet, but the dipping roof rather limits the shape of its contents. The 2011 535i GT starts at $56,500 and can cover 30 highway miles on one gallon of gas. Americans can still buy a wagon version of the 3 Series for now, but that may change once a GT version becomes available.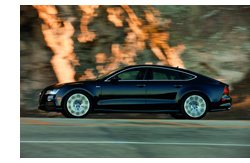 2012 Audi A7 Sportback
Some practicality is sacrificed in the name of style with the elegant 2012 Audi A7 Sportback. Well, quite a lot really – since its maximum cargo space is 49 cubic feet – but the aesthetic rewards are arguably worth it. Everything about the car has that unmistakable Audi air of sophistication, all for a price of $59,250. There is only one model so far: the 3.0T Premium Quattro. That means a turbocharged 3.0-liter V6 making 310 hp, which is then sent to Audi's highly respected all-wheel drive system. Audi has just unveiled its wagon version of the new-generation A6. These Avants are popular in Europe (where wagons in general find wider acceptance) and this latest model will no doubt be welcomed there with open garage doors. Unfortunately there are no current plans to bring it to the United States.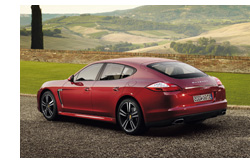 2011 Porsche Panamera
When Porsche decided to make a vehicle that could take more passengers than a Boxster sports car, but not be so big as a Cayenne SUV, it knew the United States would be an important market. The company was brave enough to make the Panamera a five-door and not a typical sedan. The gamble has paid-off, it's the second best-selling Porsche this side of the Atlantic, after the Cayenne. The lesson we might take from this is that if it looks pretty good inside and out and drives well then American buyers will not shy away from a premium hatchback. It starts at $74,400, which buys a 300-hp 3.6-liter V6 (with optional V8 and turbocharged V8 engines available). With the rear seats folded down, 44.6 cubic feet becomes available for cargo.