Car News
SXSW Road Trip: Hybrid SUVs from VW and Lexus Compete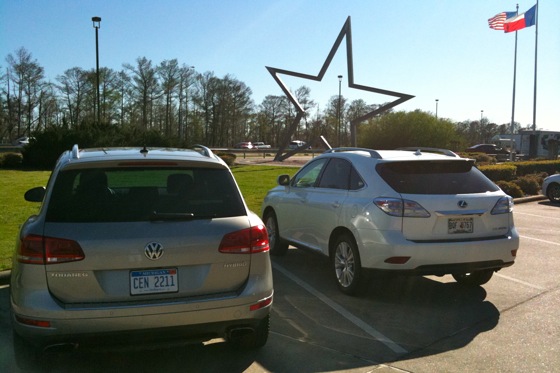 Exactly how "green" can a green SUV be, and does badging a car with the word "Hybrid" really translate to saving money at the pump? This marks our first-ever vehicle comparison.
The drive from Atlanta to Austin, by way of New Orleans, is just less than 1,000 miles and lasts just under 16 hours. We packed our bags, grabbed a few snacks and loaded the AutoTrader team into two luxury hybrid SUVs. The first car, a Lexus RX450h, came equipped with all-wheel drive, the upgraded leather package and a $55,000 price tag. The Volkswagen Touareg Supercharged Hybrid was priced at $61,000 and was similarly equipped, with the addition of an enormous glass roof (the most beautiful sunroof we've seen to date).
The roads out of the piedmont and into the bayou consisted of smooth, rolling hills and long bridges over marsh and swamplands. By the time we arrived in New Orleans, there was a clear victor in the "green" category. The Lexus averaged a respectable 26.3 miles per gallon, and was a gentle, pleasant way to spend eight hours. The Touareg Hybrid was a totally different kind of animal, but not in a bad way. We soon realized that Volkswagen had built the car for performance, rather than economy (it shares the same DNA as the Porsche Cayenne Hybrid S). Despite the mediocre fuel economy at 23.6 MPG, the Touareg Hybrid had a spunky demeanor that the Lexus lacked. Fast acceleration and nimble handling made the car fun to drive, but expensive to refill.
The RX450h's fuel tank holds 17.2 gallons of premium gasoline, and the full thousand-mile trek to Austin cost us four stops and right around $200. One of the conveniences about the Touareg Hybrid is its massive 26.4-gallon fuel capacity, which was able to get us all the way to New Orleans on a single tank, and again to Austin the same way. Though we spent less time at the pump, each refill cost nearly $85, and we spent a total of $250 in fuel between Georgia and Texas.
Now that we're in Austin for SXSW, our green journey is going to shift its scope to three different ways to save at the pump. Later this week, we'll have the opportunity to spend an afternoon in the Chevrolet Cruze Eco, GM's newest entry-level gasoline car that claims more than 40 MPG highway, as well as the much buzzed-about Chevrolet Volt. Chevrolet is one of the festival's super-sponsors, and they've set up test drives, free taxi services and a lounge to recharge both you and your devices on the go.