Car News
The 2011 Honda Odyssey First Peek - Longer, Leaner and More Cupholders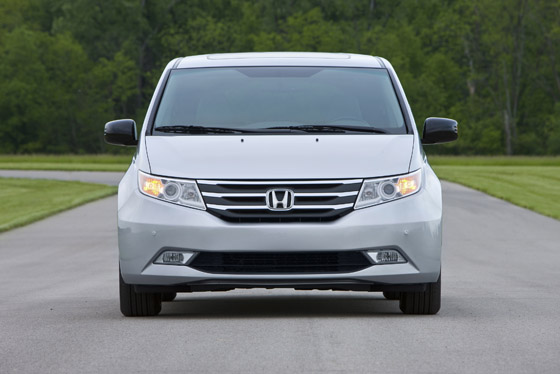 Honda showed a concept of its upcoming 2011 Odyssey minivan at the Chicago auto show back in February that drew a generally positive response for its more stylish looks.
Yesterday, (June 17) Honda unveiled the production car to its dealer body and to nobody's surprise it looks remarkably like the concept vehicle.
It's immediately obvious that the vehicle is wider than the old model, but not so noticeable is the fact it is one inch lower and one inch longer. The expanded dimensions give the all-important second and third row seat passengers much more leg and shoulder room. Indeed Honda promises that three adults can sit comfortably in the third row. In addition, the side windows for the third row are also lower making it less claustrophobic for occupants.
The vehicle's chief engineers say they spent time concentrating on making the vehicle even more functional for families and those taking long road trips. The vehicle was designed in America by Americans for Americans and is only being built in this country. The vehicle's chief engineers say they are all long time owners of Odysseys and they spent time concentrating on making the vehicle even more functional for families and those taking long road trips.
For example there is a cold box under the center of the dashboard that can hold six soda cans or four 24 oz bottles along with snacks. The center console is big enough to hold a purse while a small hidden tray in the dash, with nearby electric outlets, holds cell phones and MP3 players.
Of course there are plenty of cup holders – 15 in all. What's more the designers have included a fold out support at the rear of the center console that will accept a plastic grocery bag for use as a trash bag. "No more excuses for kids to leave burger wrappers on the floor," said one engineer during the presentation.
Honda has no plans to offer a 4-cylinder model but it does point out that due to some weight savings and refinements the 3.5-liter i-VTEC V-6 engine with Variable Cylinder Management will deliver better economy. It says the EPA ratings for the Touring Elite model will be 19/28 mpg, an improvement of 2 mpg in the city and 3 for the highway ratings. Honda says this is better than that achieved by 4-cylinder models from its competitors.
The current Odyssey has been the best selling minivan for the past year or so, eclipsing the spot held for a long time by the Dodge Caravan. Apparently there are still plenty of people who appreciate the roominess and comfort of a minivan as the Odyssey sells as well as the best selling crossovers.
The 2011 Odyssey will go on sale in September and will be available for review in August. Pricing will not be announced until then but it is expected to be similar to the cost of the 2010 models.