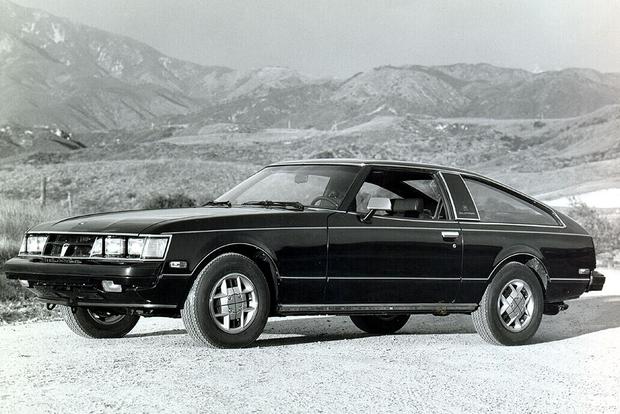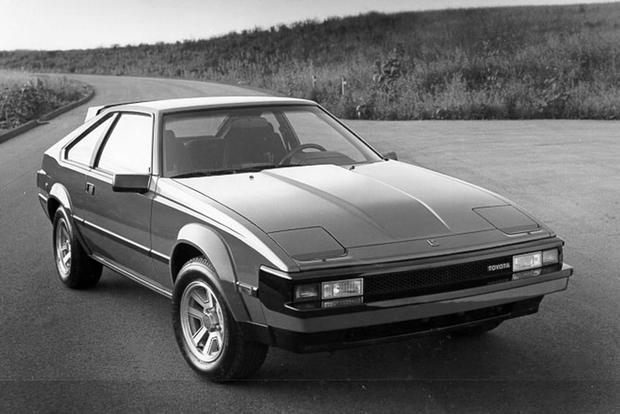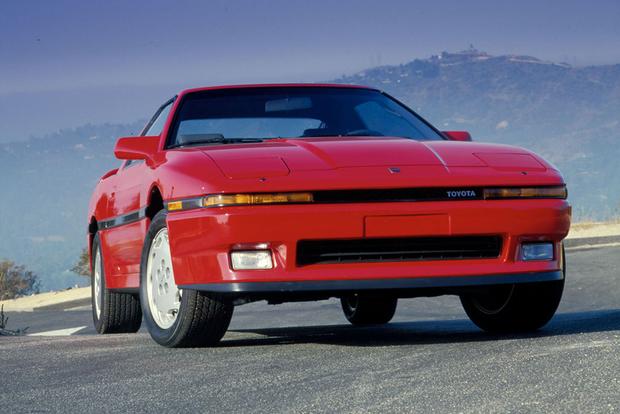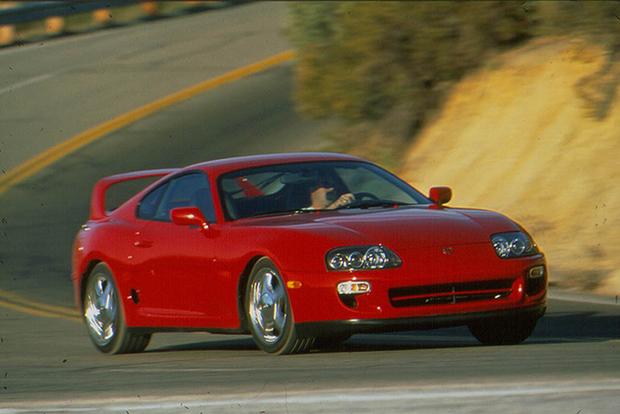 Rumors are swirling that the Toyota Supra coupe may soon be making a comeback. According to recent media reports, Toyota has filed to trademark the Supra name with the European Union for either the 2018 or 2019 calendar year, and test mules have been spied running their paces at the Nurburgring. Although compact and midsize SUVs are currently dominating the market, strong sales of affordable high-performance sport coupes like the Ford Mustang and Chevrolet Camaro are a good sign it may be the ideal time for a Supra comeback. A sleekly styled, high-powered rear-drive coupe would certainly enhance Toyota's image, not to mention lure in buyers who remember or once owned a Supra.
The Celica Gets an Upgrade
The first Supra debuted in 1979 and was based on the popular Celica liftback. The Celica Supra was slightly longer and wider than the base Celica, with an additional five inches added up front to accommodate the 2.6-liter inline 6-cylinder engine. With an output of 110 horsepower, the Supra's 6-cylinder was a big part of its appeal, along with the choice of a 5-speed manual or 4-speed automatic transmission, a 4-link rear suspension and 4-wheel disc brakes. The Supra was better-equipped than most compact imports of the day, offering buyers power windows and door locks, cruise control, a sunroof and a limited-slip rear differential. Toyota hoped the Supra would be enough to challenge Datsun's 280ZX, but many buyers saw the Supra as more of a small personal luxury coupe than a performance demon. With sales surprisingly strong, Toyota made only cosmetic changes to the 1980 car, with a revised interior and center console, standard aluminum alloy wheels (previously optional), leather seating and automatic climate control.
1981 saw a major upgrade in the form of a new 2.8-liter I6 engine that bumped output to 116 hp. When equipped with the 5-speed manual, the Supra could dash to 60 mph in just over 10 seconds. Although this time may seem slow by today's standards, it was record-breaking for a Toyota. 1981 would be the last year for the original Supra, as well as the last time an 8-track tape deck would be offered in the car.
The Supra Finds Success
In 1982, the Celica line was completely redesigned, including the Supra. The '82 Celica Supra was offered in two trims: Luxury (L-Type) and Performance (P-Type). A bold departure from the original car, it was the Performance trim, with its sharp, angled lines, wide wheel flares and aggressive hatch-mounted black sunshade, that caught the public's attention. Looking as though it had been chiseled from a single steel block, the new Supra was a massive sales success, finally becoming the competitor to the Nissan 280ZX that Toyota executives had always envisioned.
Performance trims featured multiway adjustable sport seats with 3-way inflatable lumbar support. Other standard features for the Supra were power windows, power locks, power mirrors and cruise control. Options included a power sunroof, a rear spoiler, two-tone paint and an AM/FM/cassette stereo with a 7-band graphic equalizer.
1982 carried over without much change, while the 1983 model saw only a modest increase in horsepower. A power antenna and headlight washers were added, and the P-Type could now be equipped with a leather interior.
1984 brought some major changes to the second-gen Supra. Cars equipped with the 5-speed manual saw horsepower jump to 160, while exterior modifications included revised front-bumper turn signals and a color-keyed rear hatch (it was painted black on previous years). The AM/FM/cassette deck with the built-in graphic equalizer was now standard.
The 1985 Supra added minor power and styling tweaks, with a less-pronounced rear sunshade and spoiler, a new factory alarm and automatic headlights. The 1986 Supra was to be all-new, but production delays saw the '85 model carry over into the 1986 sales year, and so it was assigned a 1986 model year designation.
The Supra Goes Solo
The third-generation Toyota Supra was longer, wider and heavier than the second-gen model. It was also more powerful and more expensive. Released midway through 1986, the 1986.5 Supra ditched the Celica prefix, becoming its own model. Horsepower increased to 200 courtesy of a new 3.0-liter I6 engine, the first in a Supra history to use a 24-valve DOHC configuration. The new double-wishbone front and rear suspension design was augmented by an electronically adjustable rear suspension, and anti-lock brakes were made available for the first time. Sales surged to a record 33,283 units.
In 1987, Toyota introduced the first turbocharged Supra, increasing the 3.0-liter's horsepower to 230. 1988 saw only minor changes, but in 1989 a monochromatic White Package was offered and the Supra's headlight washers were deleted. The 1990 Supra got a new steering-wheel design and front airbags. Regrettably, a weakening dollar forced the Supra's price out of the reach of many buyers, and sales fell that year to just 6,419. By 1992, sales had nosed-dived to 3,623, and by 1993, the last year for this body style, sales in North America totaled a mere 1,193 cars.
Saving the Best for Last
The fourth- and last-generation Toyota Supra ran from 1993 to 1998, although it continued to be sold in Japan until 2002. The final Supra was considered by many to be a true performance car, with a curvaceous low body, fixed headlights, a massive rear wing and an available twin-turbocharged 3.0-liter V6 that produced 320 hp. The Supra's 0-to-60 mph time was now less than 5 seconds, cutting by more than half the time it took the first Supra to make the same run. Base models used a normally aspirated 3.0-liter V6 good for a respectable 220 hp and a 5-speed manual transmission, while the turbo models were equipped with a Getrag 6-speed manual. A 4-speed automatic was available with either engine. To keep the Supra light on its feet, Toyota used a good deal of aluminum in the car's hood, targa top, front cross members and some front suspension pieces. As a result, the '93 Supra was some 200 pounds lighter than the outgoing '92 models.
While the Supra's exterior was widely praised, its interior was another matter. A rather controversial dash design used an arch-shaped black plastic face under a large hood. Gauges, vents, HVAC controls and the radio were all set into the design with no delineating bins or consoles to separate them. Although the design was very driver-friendly, it left the passenger with very little say over temperature or music choices.
The Supra remained largely unchanged until 1996. With sales falling and prices soaring, Toyota offered a stripped-down version of the base car called the SE and made the targa top standard on the turbocharged model. New federal emissions rules this year forced the turbo model to drop its manual transmission, as Toyota couldn't get it to meet the tough new OBD-II requirements. The Getrag 6-speed returned in 1997, however, just in time to celebrate the Supra's 15th anniversary.
1998 marked the final year for the Supra in the U.S. The 5-speed manual was dropped from the base car and Toyota's variable valve timing (VVT-i) system was added. The turbo model carried over unchanged, although sales were halted in states that adopted strict California Air Resources Board (CARB) emissions standards.
Next Generation
Over the past couple of years, Toyota has been showing a concept called "FT-1." Smart money says this will be a new Toyota Supra. Awhile ago, Toyota and BMW announced a partnership that included the "joint development of architecture and components for a future sports vehicle," and we can now say with reasonable confidence that the FT-1 is Toyota's half of the deal.
A lot of Toyota fans have been concerned that the FT-1 wouldn't live up to the legend of the 1990s Supra, just as the Mazda RX-8 (Mazda's follow-up to the twin-turbo RX-7) was regarded as an inferior sequel. But now we're talking about a pure sports car infused with BMW chassis wizardry and Toyota hybrid powertrain know-how. Suddenly, the FT-1 sounds like pure awesome. If it employs the hybrid system's electric motor as torque fill until the turbo kicks in, a la the McLaren P1, it might even give owners a taste of supercar status for what's expected to be a fairly attainable price (Corvette money, we're thinking).
Of course, much of this is still speculation, but with Toyota and BMW putting their collective heads together to make a sports car, it's hard to imagine the result being anything short of amazing.