Editor's note: The 2019 Acura MDX was named to Autotrader's 12 Best New Cars for 2019.
Celebrating its 30th anniversary this year, Acura may not be the oldest luxury-car brand sold worldwide, but it's certainly one of the most respected. Born of Honda's success in the 1980s, the Acura division was a radical and daring leap into a segment long dominated by such lofty names as Mercedes-Benz, Volvo and BMW. Created to sell the new V6-powered luxury sedan being developed by Honda, Acura was at first derided by critics who thought a company known for its economical small cars had no business in the upscale luxury market. But on March 27, 1986, a limited number of Acura dealerships opened across the country, and the public got its first taste of Japanese luxury in the form of two uniquely different vehicles, the luxurious Legend and sporty Integra.
Within a few years, the Acura division had taken a significant chunk of the luxury market away from competitors who foolishly underestimated both Honda's skill at building cars, as well as the public's appetite for better reliability and a more pleasant buying experience. As the '90s approached, Acura continued to dominate the segment, introducing new products including their first supercar, the NSX.
Here's a look back at some cars that helped turn an upstart luxury brand into a powerhouse that changed the industry.
Legend
When the Legend debuted, skeptics were critical and the Europeans scoffed, but consumers fell in love with the car's clean styling, exceptional build quality and attractive price, making the Acura Legend instantly legendary. Although some of the Legend's luxurious trappings were owed to a joint collaboration between Honda and British automaker Austin Rover, the car's V6 engine and most of its mechanical bits were purely Japanese. Upon its arrival in 1987, the Legend was unique in that it offered only one trim and one option: a choice between a manual or automatic transmission.
A stunning coupe soon followed, highlighted by its uncommon power retractable rear windows. In 1990, the second-generation Legend was introduced. The new car was larger and even more luxurious than the original, with a more powerful V6 engine and more trim levels. Features such as dual front airbags, heated front seats, automatic climate control and even a hands-free telephone placed the Legend ahead of its competitors by leaps and bounds. Increasing competition from new luxury brands such as Lexus and Infiniti, as well as a recession in the mid-'90s, forced Acura to make changes to its luxury lineup. In what might be seen as one of the greatest blunders in branding history, the company inexplicably dropped the Legend name in the U.S., replacing it with the RL sedan in 1996.
Integra
Alongside the Legend sedan, Acura introduced a smaller car intended to challenge the likes of the Volkswagen GTI, the BMW 3 Series and the Audi 80 and 90 cars. Starting at just under $10,000, the Integra was an instant hit with young buyers, delivering excellent handling, features and power from a Honda-based platform. Sold as a 3- or 5-door model and powered by a 113-horsepower, 1.6-liter dual-overhead-camshaft 16-valve engine, the Integra was no speed demon, but it was extremely agile, got great fuel economy and proved to be highly reliable over time.
Upon its debut, the Integra made Car and Driver's 10Best list. In 1990, the second-generation car blossomed into a bona fide BMW killer, with a new double-wishbone suspension, available anti-lock brakes and, later in the model run, a 160-hp GS-R trim with an 8,000-rpm redline. The third-generation Integra ran from 1994-2001, and although more powerful and refined, this generation lost some visual appeal offered by previous generations. As it did with the Legend, Acura dropped the beloved Integra name, replacing it in 2002 with the RSX.
Find an Acura Integra for sale

NSX
Just when everyone thought they had Acura's game plan all figured out, the company tossed an unexpected curve ball in the form of a high-performance, midengine 2-seat supercar. The 1991 Acura NSX wasn't just revolutionary for its time — it literally changed the way exotic performance cars were built and priced.
With styling influenced by modern jet fighters and input from Brazilian Formula One racing legend Ayrton Senna, the NSX was destined for greatness from the get-go. The world's first mass-produced aluminum body car, the NSX was light yet strong, allowing its 270-hp 3.0-liter midmounted V6 engine to rocket it to 60 miles per hour in less than 6 seconds. Over its 14-year run, the NSX gained such notable features as a removable targa roof panel, a sequential-shift automatic transmission and a more powerful V6. But slow sales and a too-lofty price tag brought production to an end in 2005.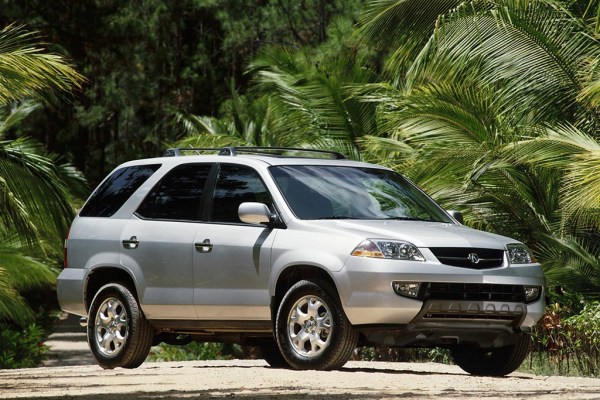 MDX
Having conquered the luxury automotive side of the business, Acura next set its sights on the growing luxury-crossover segment. The company wanted to build a 7-passenger luxury SUV that, like its cars, would be known for its precision, quality and reliability. In 2001, the MDX rolled into U.S. Acura showrooms and was greeted warmly by both the public and the press. Based on the Honda Odyssey minivan, the first MDX was powered by a 240-hp 3.5-liter V6 and introduced Acura's VTM-4 all-wheel-drive system. VTM-4 automatically engages all four wheels only when slippage is detected or under hard acceleration. The system can also be electronically locked into a low gear that mimics the operation of a locking rear differential.
Acura offered the MDX as a nearly loaded model, with notable standard features that included leather seating, a power sunroof, tri-zone automatic climate control and a 7-speaker audio system. Options were included in the higher Touring trim and included a power passenger seat, Bose audio, navigation and a rear-seat DVD entertainment system. By the end of its first year in production, the MDX walked away with numerous accolades and awards, including Motor Trend's SUV of the Year.
RDX
Having proven it could build a large luxury SUV, the next logical step was to prove it could do the same thing on a smaller scale. Introduced in 2007, the RDX was powered by a turbocharged 2.3-liter engine, a novelty in the world of Honda engineering. Although pulled by its front wheels, the RDX offered the option of Acura's Super Handling All-Wheel Drive (SH-AWD). SH-AWD not only assists in poor weather conditions, but it's also activated when enhanced performance is required — such as during hard cornering — by controlling front-to-rear torque distribution.
True to the proven Acura formula, the RDX came pretty well loaded with features that were optional on most of its more expensive European rivals. A Technology package offered navigation, a rearview camera and the 10-speaker Acura ELS Surround audio system.
A Different Legend Returns
Despite its many successes, Acura cars of late haven't lived up to the standards set by the originals. Playing it too safe for some, cars like the TSX, the ILX and even the RL didn't excite customers the way newer Lexus, BMW and Cadillac cars did. But Acura's 30th anniversary seems to have awoken the brand's inner giant — the automaker is delivering a spectacular new NSX that is not only jaw-dropping to behold but is also a technological tour de force.
Designed in Acura's Ohio-based design center, the 2017 NSX employs a twin-turbocharged V6 coupled with three electric motors (one between the engine and 9-speed transmission and two at the front axles) delivering an astounding 573 hp. This $160,000 supercar may be out of reach to most buyers, but if its sleek design and cutting-edge technology end up influencing future Acura sedans, coupes and SUVs, the competition will once again be shaking in their CV boots.