Despite all of the daunting news clouding our feeds today, for us car enthusiasts, a shining ray of hope has broken the smoke and storm-filled skies by way of the
Nissan Z Proto,
which we will likely see finalized next year as the 2022 Nissan 400Z. In a time where automotive niches are getting smaller, and many specialty models are disappearing from rosters, this nicely stylized coupé is not just a concept or a design study subject to change, but a near-production version of what will be hitting the streets in the near future. Getting a new Z car isn't unexpected, as the current 370Z wears sheet metal dating back to 2009, and with just 2,384 Z's sold in 2019 (that's pre-recession, folks!), the current Z offering surely isn't a top seller these days. With hot competition from Toyota and their Supra, Nissan needs a hit to convince us that it's worth the wait. Let's take a look.
Exterior Design
Retro cues are back across the automotive board, and the
Nissan Proto
is no different, joining the ranks of the Ford Bronco and Land Rover Defender, which both harken back to their storied, original iterations. While the originals are stalwarts amongst enthusiasts, automakers have put a lot of effort into preserving this magic, and it shows on the Nissan Z Proto. In terms of style, the pronounced crease along the body, large rear window, c-pillar
Z,
and trunk-mounted
Fairlady
badges are all obvious nods to the original Datsun Fairlady, but they didn't go "full-retro." It's more like a car that encapsulates all that several generations have loved about the Nissan Z.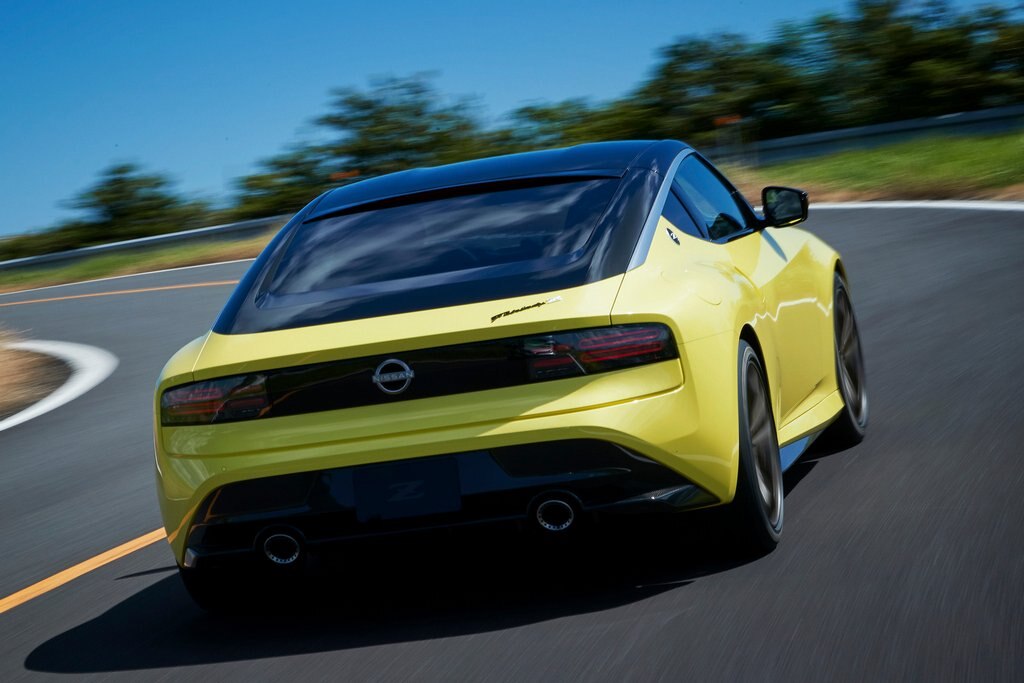 For example, the blacked-out taillight cluster is an attractive cue from the 300ZX, and in this iteration, it shows some influence to the tail-end from the Ford Mustang. The flush door handles are a departure from the bulky, overly-stylized handles from the past two generations, and bulging rear arches and side-skirts similar to those seen on the Aston Martin Vantage round off an overall attractive and sporty exterior.
Interior Design
Peek inside the driver-centric interior, and you'll find an ergonomic steering wheel begging to be gripped, as well as supportive, well-bolstered sport seats that can do double-duty on a daily drive or a track day. We also like the body-matched striping on the seats and hope it translates to all paint colors on the upcoming Z. There is a digital display replacing the clunky analog speedo and tachometer on the current generation, and three driver-facing auxiliary gauges are mounted above the center console, a nice attribute retained from the original Z. A sleek, streamlined touchscreen replaces the current button plagued interface of the 370Z, with many controls seemingly moved to the steering wheel in a format similar in appearance to Mercedes-Benz. As nitpicky as it may seem, one issue observed on the Z Proto is the inclusion of just one cup holder, spelling disaster the moment you peel out of the drive-thru with a friend in tow. This seems like a sacrifice made only for the sake of appearance.
Performance
Generations of Z have been built around six cylinders, and the Nissan Z Proto stays in line with its predecessors. Power on the Z should be plentiful with 300 and 400 horsepower twin-turbocharged V6 engines sourced and modified from Infiniti; it will be more than capable of keeping up with not just the Supra, but also some of Detroit's muscle. While it won't be quicker than everything coming from Detroit, you can definitely expect the next Z to handle better, and not just put power in a straight line.
True gearheads who prefer to row-their-own will be excited to see three shiny pedals on the floor, which I see as a missed opportunity on the competition's behalf. While manual transmissions today account for a small percentage of overall new car sales, it certainly adds to the old-school appeal of the Z, and it is undeniable that a higher percentage of buyers would opt for the manual here than in a high-volume crossover or SUV. Nissan may even scoop up a few sales by those put off by Toyota's decision to go automatic only on the Supra.
Price
While there is no word yet on pricing, the current 2020 370Z starts just over $31,000, and we should expect development costs and the premium engine to yield a higher asking price this time around. Although the 400 HP version will surely come at a premium and may even wear a NISMO badge, it shouldn't dissuade many potential buyers. Nissan seems to know what they have. In a time of great change across the auto industry, among Nissan's recent controversy and a failed merger bid to be a part of the largest proposed automaker in the world, Nissan, along with us car enthusiasts around the world, are in need of good news at this time.